Haunting Video Shows Crew of Sunken Indonesia Submarine Singing 'Goodbye' Song
A haunting video shows the 53 crew members of the sunken Indonesian submarine singing a "goodbye" song.
According to Agence France-Presse (AFP), the video, which was captured a few weeks before the vessel sank, shows the crew singing the Indonesian song "Sampai Jumpa," which translates to "goodbye."
"Even though I'm not ready to be missing you, I'm not ready to live without you," the sailors can be seen singing in the video. "I wish all the best for you."
Indonesian military spokesman Djawara Whimbo told AFP that the video was recorded as a farewell for the navy submarine corp's outgoing commander, whose successor took over the role in March, AFP reported.
News of the video comes shortly after the Indonesian navy announced that all members of the sunken KRI Nanggala 402 submarine had been declared dead.
"Based on the evidence, it can be stated that the KRI Nanggala has sunk and all of its crew have died," military chief Marshal Hadi Tjahjanto told reporters on Sunday, according to Al Jazeera.
Indonesia's navy chief of staff Yudo Margono said, "There were parts of KRI Nanggala-402—it was broken into three pieces...The hull of the ship, the stern of the ship, and the main parts are all separated, with the main part found cracked," Al Jazeera reported.
The submarine first went missing last week. The Indonesian navy reported that the military lost contact with the vessel, which was conducting a torpedo drill in the area north of Bali.
After the military lost contact, it sent a distress signal to the International Submarine Escape and Rescue Liaison Office and asked the Singapore, Australian and Indian navies for assistance in finding the missing vessel.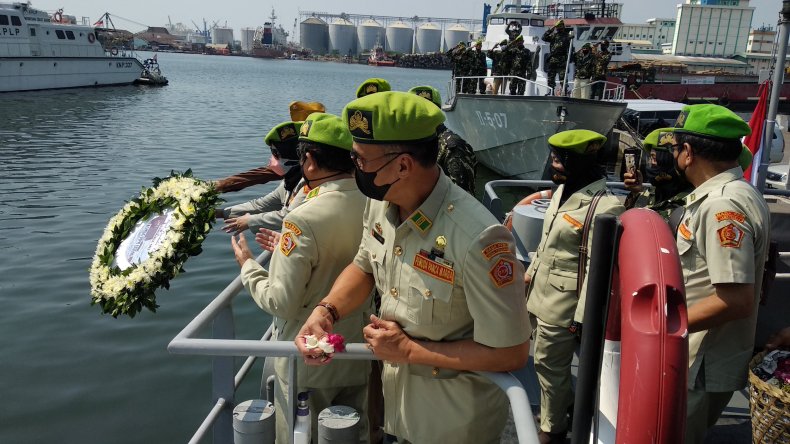 The U.S. Department of Defense also joined the search mission. "Indonesia is a good friend and strategic partner," John F. Kirby, the Pentagon's press secretary, told reporters on April 23. "We were all deeply saddened to see the reports about their submarine and our thoughts and our prayers are with the Indonesian sailors, the Indonesian navy, and of course all their families."
According to a Defense Department statement, the U.S. Navy was using a P-8 Poseidon to help with the search. The maritime patrol aircraft is "specially designed to look for things, in particular for submarines," according to the department.
In a statement posted to Twitter, Indonesian defense minister Prabowo Subianto offered his condolences to the families of the crew members.
"The deepest condolences for the tragedy that befell KRI Nanggala 402. All the soldiers who died were the best sons of the nation. Hopefully, the family will always be given strength and fortitude. KRI Nanggala 402, safe sailing towards immortality," the tweet said, translated by Google.
Newsweek reached out to the Indonesian navy for comment but did not receive a response in time for publication.