Have CNN's Ratings Fallen? Donald Trump Says 'They Dropped Off the Folder'
President Donald Trump has gone on the offensive against cable news networks CNN and MSNBC after Attorney General William Barr said the Mueller report found no evidence that his presidential campaign had conspired with the Russia to influence the 2016 election.
Speaking on Fox News's The Sean Hannity Show, the president attacked the ratings of the two cable TV networks, saying viewers had turned away from CNN and MSNBC because of their lack of credibility during coverage of the Mueller invstigation.
Referring to both networks as "so horribly fake" and "fake news," Trump said CNN and MSNBC had seen their ratings fall and welcomed the development. "The good news is I heard their ratings last night, both of them, were—they dropped off the folder," the president said.
"They dropped to a level that no one believes because now that they see the Mueller report, where you look at their finding...their finding was very, very strong—no collusion, no Russia, no nothing. It's great," he added.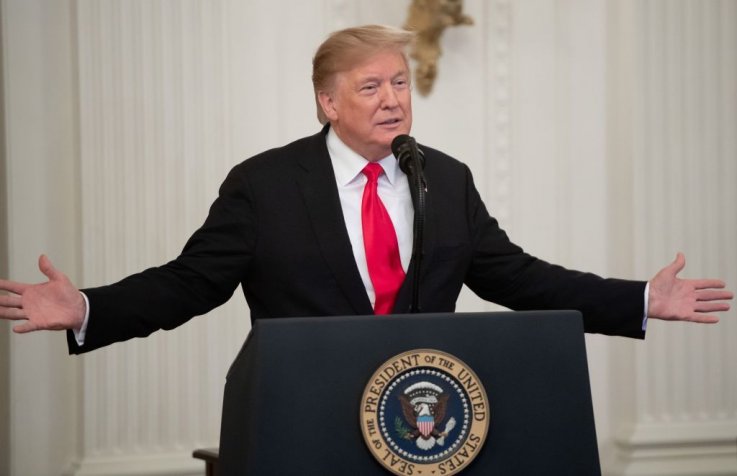 Trump, who is a frequent viewer of Fox News, also praised Hannity and his colleagues for their coverage of the Mueller report and their coverage of his administration more generally. "And your record...I noticed you had virtually record ratings last night," the president said. "That's because you have credibility. I want to thank Fox."
According to The Associated Press, Hannity has seen his ratings soar after Barr released a four-page synopsis of the report by special counsel Robert Mueller on Sunday. Barr said in his summary that Mueller's investigation had found no evidence that either Donald Trump or his campaign "conspired or coordinated" with the Russian government to influence the 2016 presidential election, but it did not determine whether the president had obstructed justice.
On Monday, Hannity's audience increased by 4 million viewers, a 32 percent increase from his average. Fox anchors Tucker Carlson and Laura Ingraham also saw above average audiences, while prime time hosts for CNN and MSNBC saw their audiences drop.
MSNBC's Rachel Maddow Show saw its numbers dive Monday. Her audience of 2.5 million was 19 percent lower than average, dropping to 2.3 million Tuesday.
The Associated Press analysis explained how audiences rise and fall when news reflects well on their own political camp. According to CNN's own figures, during Michael Cohen's damning testimony to the House Oversight and Reform Committee this month, more people watched CNN in key demographics than on any other network.
Last month CNN reported its third-highest February in terms of viewership in 10 years, with Cuomo Prime Time growing its audience by more than 28 percent, illustrating that while the network may have taken a knock following the publishing of the Mueller report, ratings will continue to fluctuate as neworks ride the continuing waves of political turbulence.
Have CNN's Ratings Fallen? Donald Trump Says 'They Dropped Off the Folder' | U.S.