Have Lakers Fans Already Turned on LeBron? James Roasted after Missing Free Throws
LeBron James is still looking for his first win in Los Angeles as the Lakers slumped to 0-3 after losing 143-142 to the San Antonio Spurs in overtime on Monday.
The four-time MVP missed two free throws to extend the lead to three points and Patty Mills seized the opportunity to steal the game for the Spurs, landing the winning jumper with just seven seconds remaining in overtime.
LeBron has built his glittering career around a seemingly innate ability to deliver the goods in clutch moments and his unusual mistake from the charity stripe clearly left a number of Lakers fans unimpressed.
Predictably, Twitter was awash with comparisons between the three-time NBA champion and Kobe Bryant who, according to large sections of the Lakers fan base, would have converted at least one, if not both free throws.
In 2013, while playing against the Golden State Warriors, the Black Mamba famously scored two free throws despite tearing his Achilles and the incident was brought up again in the aftermath of the Lakers' loss to San Antonio.
While Kobe was unquestionably the sort of player one could rely on to come through in a pivotal moment, the criticism aimed at LeBron appears both misguided and largely premature. The 33-year-old had 32 points, 14 assists and eight rebounds in 43 minutes on the court and inspired a comeback that saw the Lakers overhaul an eight-point deficit with just over a minute left in regulation.
In overtime, it was again LeBron who had the Lakers' offense purring, feeding Josh Hart at the hoop and Lonzo Ball for a three-pointer. Ultimately, however, it all counted for nothing as the 16-time NBA champions surrendered a six-point lead and lost a second consecutive game on home court.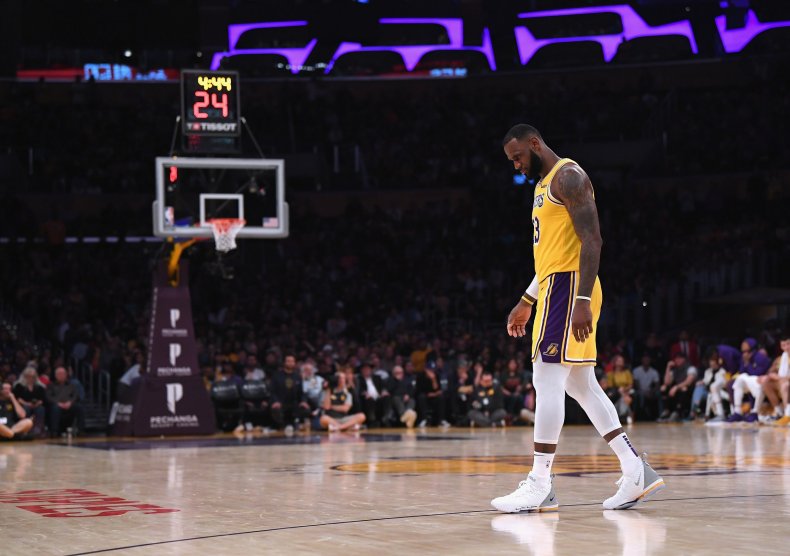 While LeBron's arrival in California made Los Angeles the center of the basketball universe again off the court, the Lakers are finding out things are not remotely as easy on the floor. At the same time, a period of adjustment—perhaps a rather lengthy one at that—was always going to be required for LeBron to adjust to the Lakers, as much as for the Lakers to adjust to him.
Comparing him to Kobe after three games is an incredibly short-sighted approach and there are no doubts the Lakers will eventually become LeBron's team. Conversely, however, until that happens even the best player of his generation will have to live with the uncomfortable shadow of the five-time NBA champion hanging over him.
The Lakers return to the court on Wednesday, when they take on the Suns in Phoenix.