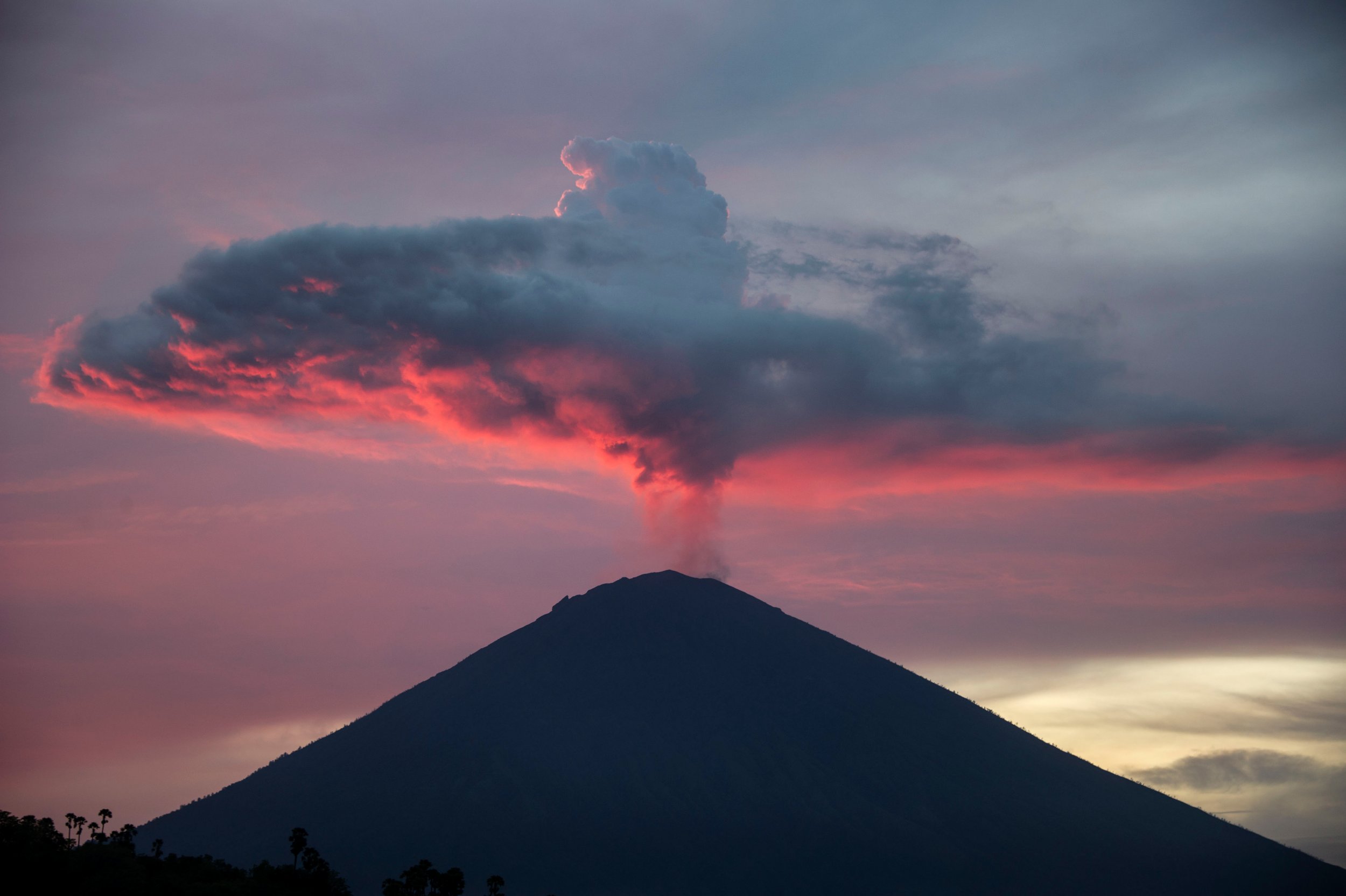 Volcanologists in the Indonesian island of Bali are looking for an expensive drone that disappeared while flying near the crater of Mount Agung volcano on Tuesday.
The active volcano, whose alert level is at its highest, erupted four consecutive times on Tuesday morning, but the ash cloud could not be observed as the mountain was concealed by thick clouds.
The AI 450 drone was sent on a flight mission to the volcano later that evening carrying tools to sample volcanic gases, Tribun Bali reported, battling strong winds along its way. Contact was lost around midnight, Sutopo Purwo Nugroho, spokesman for Indonesia's Disaster Mitigation Agency (BNPB), tweeted.
The official appealed for information about the unmanned aerial vehicle (UAV), showing a map of the drones' trajectory before it disappeared at an altitude of 9,360 feet—about 1,000 feet below the volcano's crater, within the exclusion zone.
Worth 600 million Indonesian rupees ($45,000 USD), the drone had performed several flights around the mountain since the volcano resumed its activity in August. Without the drone, Bali volcanologists are now unable to analyze the volcanic gases, from which scientists can better understand why and how a volcano erupts.
The Bali Volcanology and Geological Disaster Mitigation Center (PVMBG) was given the multigas sensor equipment from the U.S. Geological Survey agency. PVMBG volcanologist Devy Kamil Syahbana told local media the agency asked USGS to send over new tools to continue their monitoring missions.
Mount Agung exploded in a series of deadly eruptions in 1963 to 1964, but it had since remained quiet until it began rumbling again in August, forcing the evacuation of hundreds of people. The 10,000-feet mountain is a popular hiking spot and one of nearly 130 active volcanoes in what is known as the Pacific Ring of Fire, an area where tectonic plates meet.
The area has recently been affected by a series of eruptions this month, such as Mount Kadovar on one of Papua New Guinea's volcanic islands, Japan's Mount Kusatsu-Shirane and Mount Mayon in the Philippines.
The series of eruptions prompted the U.N. Office for Disaster Risk Reduction to warn that the ring of fire is "active," but that's no breaking news to volcanologists. "It's not referred to as the 'ring of fire' because it sits there doing nothing. It is a constantly-moving, very active (and huge) area full of faults and active volcanoes. It is normal to have so much activity," wrote U.S.-based volcanologist Janine Krippner on Twitter, adding that what changes is the perception of how frequent eruptions are, as news of such events is covered more often, more widely.