Kilauea Volcano Lava Bomb Hits Hawaii Lava Boat Tour, at Least 23 Injured
A tour boat in Hawaii was hit by a Kilauea lava bomb in the early morning hours in the waters surrounding the island, the Hawaii County Fire Department confirmed Monday. The tour boat was a lava tour boat, according to a statement from the department.
The lava bomb hit the boat and punctured the roof. After it hit, it left a large hole in the roof, a photo showed and the department's statement confirmed. A railing on the boat was also damaged when the lava bomb hit. The time and location of the actual incident is unknown.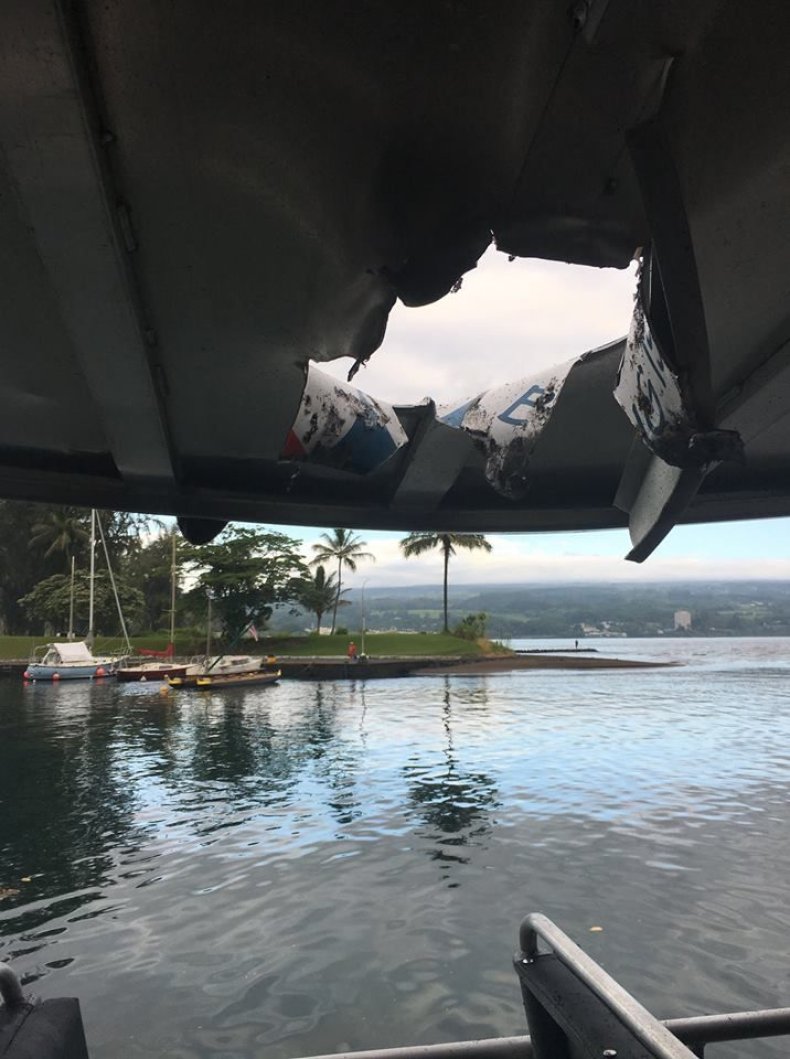 At least 23 people in total were injured, 10 of whom were treated for superficial injuries at the harbor. The other 13 were treated at the Hilo Medical Center following the bomb hitting the boat, according to the Hawaii Department of Land and Natural Resources (DLNR).
Four were taken to Hilo Medical Center via ambulance once the boat docked back in Wailoa Harbor in Hilo at 7 a.m. Hawaii Standard Time, said a statement from the fire department. The other nine passengers drove themselves to the hospital. It is unclear how many people were on board the boat at the time of the lava bomb, said the fire department.
Of the four people who were transported to the hospital in ambulances, one was in serious condition with a fractured femur. That passenger was identified as female and in her 20s. The other three were in stable condition, but their ages and genders were not known, according to the fire department.
The boat was operated by Lava Ocean Tours, the company confirmed to Newsweek. It said that tours were continuing on Monday.
There are several types of lava bombs including breadcrust bombs, spindle bombs and more, according to the United States Geological Survey. Although it's unclear what type of lava bomb hit the boat, all lava bombs are blobs of lava that are ejected into the air from a volcano or volcanic flow, according to the Universities Space Research Association.
Lava from the Kilauea volcano in Hawaii has been flowing from a fissure on land through a channel of lava and into the ocean where Kapoho Bay was before it filled with lava. The point of entry for the lava is a dangerous area, according to the USGS. It's possible that the violent reaction from the hot lava hitting the cold water could have created the lava bomb that hit the boat.
The DLNR is conducting an investigation into the incident to obtain further details.