Hawaii Kilauea Volcano Update: Boat Ramp Still Standing, Lava Advancing
The lava flowing from Hawaii's Kilauea volcano was expected to reach a boat ramp in Isaac Hale Park last week, but it has held off.
The lava was less than a tenth of a mile from the Pohoiki boat ramp on July 24 and remained about 575 feet from the ramp as of Monday night, according to the United States Geological Survey. Although the lava was flowing, the southern edge of the flow field was not expanding or advancing in the direction of the ramp.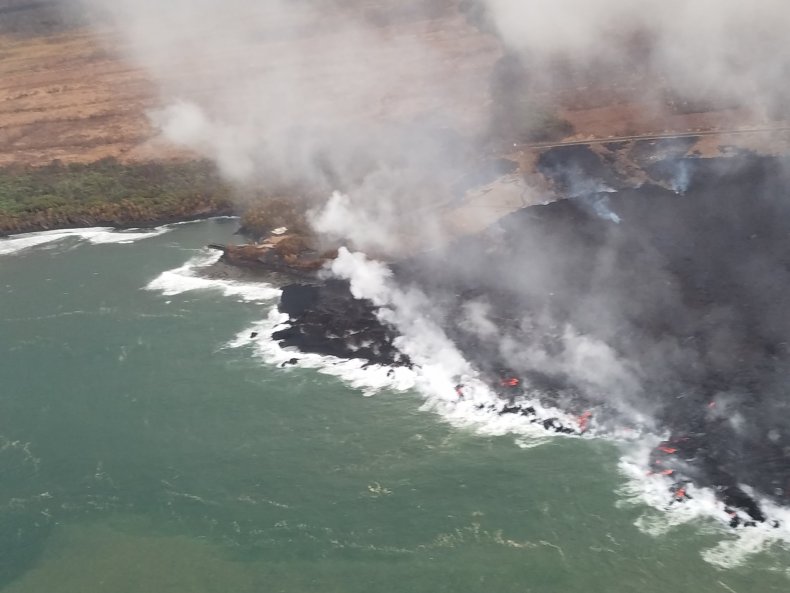 The lava was actively entering the ocean at a few points, indicated on the map of the flows from July 30. Lava was flowing from Fissure 8 on the island and sustaining a channel of lava that was heading northeast from the vent.
Even though the lava is flowing, the levels of lava present in the channel, or lava river, were lower than they have been throughout most of the eruption. The low levels of lava have kept overflows of the lava at bay as well. When the lava first reached the ocean, it was entering at Kapoho Bay, which quickly filled with lava. Once the bay was full of lava, it continued to flow out to the ocean, where it extended the coastline.
That lava has added more than 700 acres of new land since the lava reached the ocean. The ocean-entry point, where the lava is reaching the water, is dangerous. During a boat tour of the lava's ocean entry, 23 people were injured when a lava bomb hit the boat they were on earlier this month.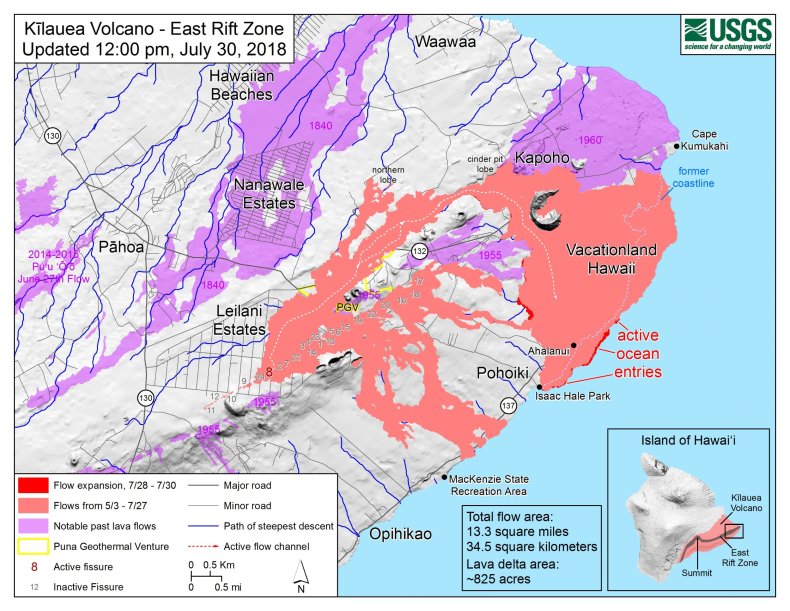 The ocean entry point has created a large laze (or lava haze) plume that is dangerous, according to a release from Hawaii Civil Defense. That plume has hydrochloric acid in it that can be harmful to the skin, eyes and lungs of anyone who gets too close to it.
Besides Fissure 8, there were no other active fissures causing lava to flow actively. Collapse events at the summit of the volcano were still causing earthquake-like shakes across the island. There was work planned for Highway 11 on Tuesday between noon and 1:30 p.m. HDT for investigative purposes, said Civil Defense. That work would shut down the highway from Kukui Camp Road to North Kulani Road. Drivers were also asked to stay on the pavement of the highway and be aware of any conditions that might change quickly.