Hawaii Cop Who Asked Detainee for Sex in Exchange for 'F***ing Up' Testimony Gets 30 Months
A Hawaii police officer accused of asking a woman he arrested for sex in exchange for providing false testimony at trial was sentenced to 30 months in federal prison.
Brandon Saffeels, a former cop with the Maui Police Department, previously pleaded guilty to several counts of honest services wire fraud and admitted that he solicited sex from a woman he arrested hours earlier in exchange for throwing his testimony, Hawaii NewsNow reported.
U.S. District Court Judge Leslie Kobayashi said during sentencing that Saffeels abused the power of his position and exploited a vulnerable victim.
The victim, an unnamed woman from Kahului who was arrested on July 25, 2019, spoke during the Wednesday hearing.
"Am I still scared? Very. Do I worry about retaliation still? Yes," said the woman. She broke down several times during the sentencing but Kobayashi encouraged her that it was okay to take her time.
The woman is a single mother and reported feeling trapped and intimidated when Saffeels began sending her text messages and calling her soon after she was arrested for drunk driving.
"I will f*** up my testimony so that u get off," Saffeels wrote in a message after inviting the woman to his home. He had been employed with the Maui Police Department for four years when the incident occurred.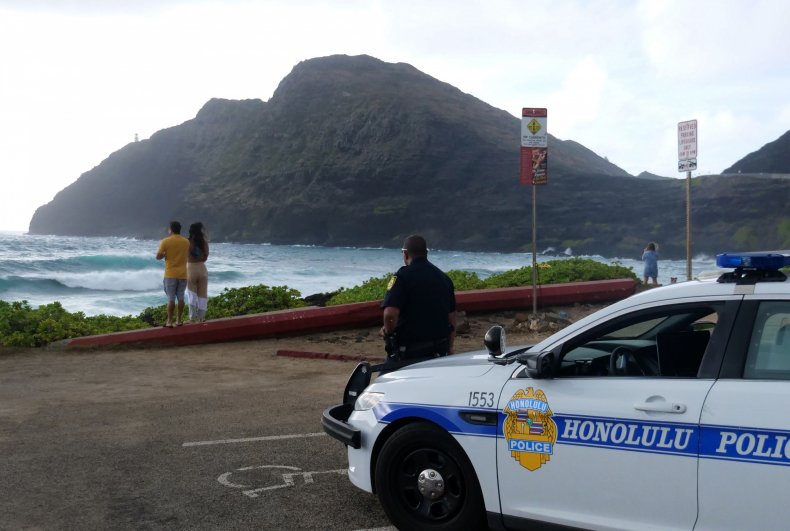 The woman was arrested at about 3:30 in the morning on July 25 by Saffeels, according to Hawaii NewsNow. Around 1:58 p.m., the woman received a text asking how she was doing. She replied asking who was texting her to which they replied "Brandon."
Although the woman knows someone that Safeels used to be neighbors with, she told local media that she is not friends or acquaintances with the cop and was shocked when he reached out.
She told him that she was worried about what would happen to her three children if she went to jail. The officer replied that she will be okay and just needs a shoulder to cry on and someone to hold her. He then invited her to his home and the woman ignored his request.
The woman told the news station that the officer continued to text her over the next few days, invited her to his home and offered to assist her with the DUI case.
"I can completely f*** up that whole trial to where they will throw it out or find you in favor," Saffeels texted the woman.
When the officer continued to text her, she asked him to call her and he repeated the offer of throwing his testimony during the 13-minute recorded conversation.
"It's all based off of my, my testimony. If I choose to stumble on my words, answer s*** incorrectly it's not going to get me in trouble but it will discredit my statement," a man deemed to be Saffeels said in the recording. He continued to pressure the woman to visit him saying, "Anytime you wanna come over like I work nights, but I am always working in Wailuku, Kahului so I just go home when I want."
The woman feared that Saffeels was attempting to coerce her and would retaliate against her if she didn't comply with her advances. She reported the encounter to the local media instead of the police because she felt the matter would be covered up.
A criminal investigation was launched and more women came forward with similar accounts after Hawaii NewsNow reported the initial story. The Maui Police Department is now facing suits from four of the women.
"These women were emotionally in terrible, terrible shape," said Attorney Micahel Green, who represents some of the women. He added that his clients often fear retaliation when they see police cruisers.
Kobayashi issued the harshest sentence against Saffeels, ordering him to serve the maximum suggested time of 30 months in prison. The officer apologized to the woman and the judge when he appeared in court.
Saffeels will serve time in Oregon and must self-surrender on January 7.
Newsweek reached out to the Maui Police Department for comment.