Hawaii Coronavirus Cases Rise 36 Percent in a Week Amid Plans to Reopen Tourism
Novel coronavirus cases in Hawaii reached a new record Tuesday, with 41 new infections reported in a single day, the highest daily case count since the outbreak began, Hawaii Gov. David Ige confirmed in a statement Tuesday.
Of the new cases reported Tuesday, 38 were in Honolulu, two were on the island of Kauai and one was on Hawaii Island, the statement confirmed.
A total of 154 new cases were reported in Hawaii in the last week from July 1 to 7. The past week's tally was an over 36 percent increase on the total new cases seen the previous week, when 98 new infections were reported from June 24 to 30, according to data compiled by Johns Hopkins University.
The latest spike comes amid the state's plans to welcome tourists from August 1, when out-of-state travelers who show proof of a negative COVID-19 test result will not be subject to the state's 14-day quarantine mandate.
Hawaiian Airlines announced last week that it will begin operating a "reduced schedule between Hawaii and most of its U.S. mainland gateway cities on Aug. 1," in a statement.
The state's latest case count includes more than a dozen infected Hawaiian Airlines flight attendants, the airline confirmed Tuesday.
The workers tested positive after attending a training session at the carrier's headquarters in Honolulu, which has since been canceled, according to a statement from the airline, FOX 11 reported.
"Once we resume training, there will be more rigorous protocols. Face masks will be required, instead of strongly recommended, rooms will be disinfected with hospital-grade electrostatic spraying, and time between hands-on activities will be increased to minimize close interactions," a spokesperson for the airline told FOX 11.
While the governor noted the latest rise in cases was "concerning," he added, "We are tracking this very closely and it is manageable right now," in the Tuesday statement.
Ige was said to be considering whether certain high-risk businesses should be closed again and whether the planned modification of the 14-day quarantine rule from August should be delayed, Hawaii News Now reported.
The director of Hawaii's Department of Health, Bruce Anderson echoed the governor's concerns, calling Tuesday's spike a "wake-up call," and claimed there is growing evidence of widespread community transmission of the virus in the state, Hawaii News Now reported.
"These high numbers are a concern for the department," Anderson said. "The trends are very disturbing. The clear message is to wear a mask and stay away from others."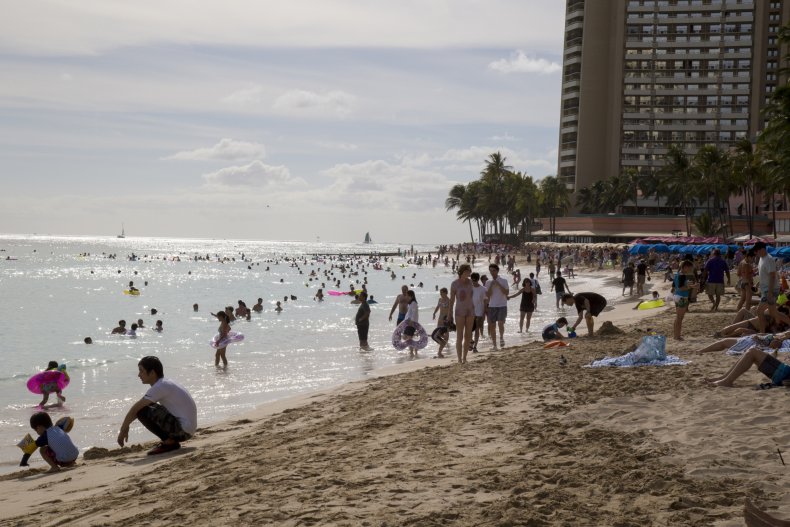 Honolulu Mayor Kirk Caldwell also said Monday: "I am concerned about opening up on August 1. I think there's risk involved because we're inviting people back to our shores from major markets like California, where we see huge spikes in cases," in an interview on Hawaii News Now Sunrise.
However, Ige noted: "We are not in a situation where the number of cases that we've seen today or in the recent past threatens the health care system in any way," at a press conference Tuesday.
"We are monitoring the conditions we see across the country," Ige said, adding that hospitals in Hawaii have not reported capacity issues and those requiring a test are able to access it.
"We have the ability to test people we need to test, and DOH (Department of Health) has significantly increased the number of people available to trace the contacts of positive cases," Ige said in the statement.
The latest spike brings the state's total confirmed infections to 1,071 according to the latest report Wednesday from Johns Hopkins University.
The novel coronavirus, first reported in Wuhan, China, has spread to more than 11.8 million people across the globe, including over 2.9 million in the U.S. Over 6.4 million globally have reportedly recovered from infection, while over 544,700 have died, as of Wednesday, according to the latest figures from Johns Hopkins University.
The graphic below, provided by Statista, illustrates the spread of COVID-19 in the U.S.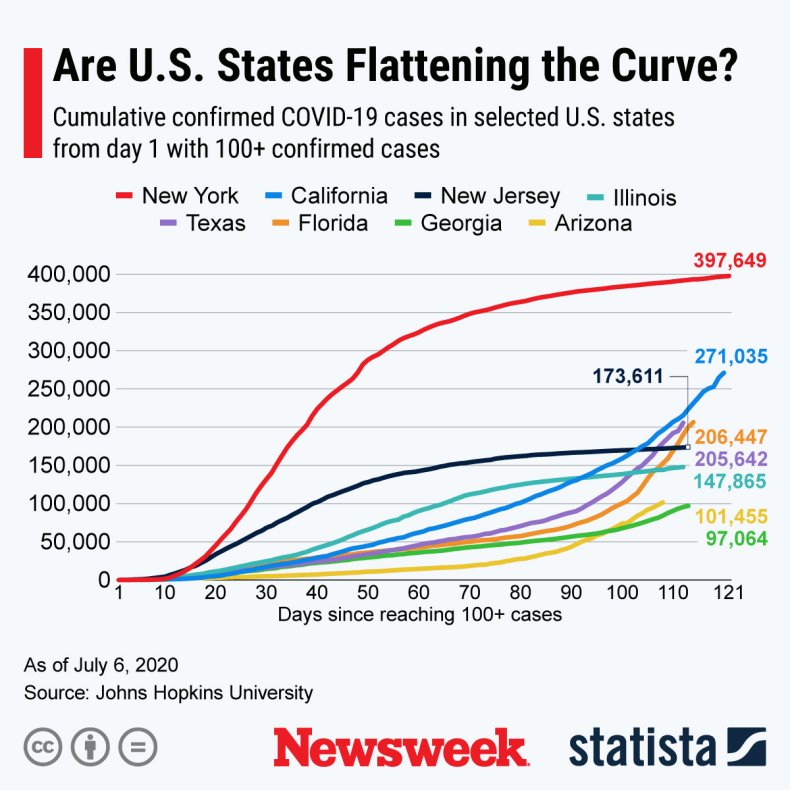 The graphic below, provided by Statista, illustrates countries with the most COVID-19 cases.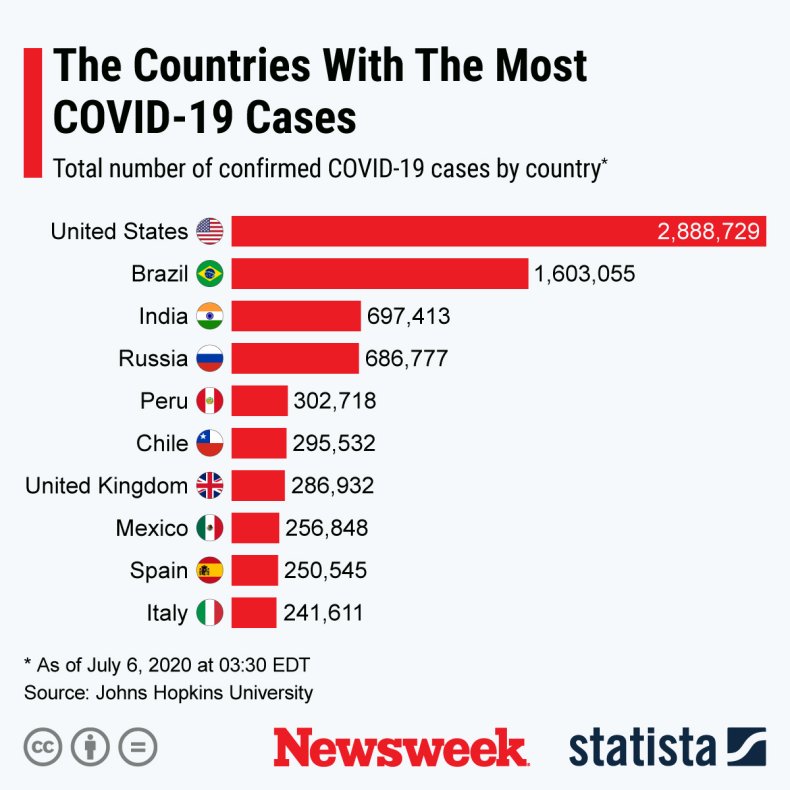 The graphic below, provided by Statista, illustrates the seven-day rolling average of new COVID-19 cases in the U.S. and European Union.