Hawaii Lahaina Fire on Maui Causes Evacuations, Shelter Relocation During Hurricane Lane
While residents on Hawaii's Maui were bracing for the impacts of Hurricane Lane, a brushfire broke out in Lahaina, on the western coast of the island.
The fire started at around 1 a.m., Maui Now reported, and prompted officials to move an evacuation center from a school in the area to the civic center. In addition to the change in the shelter's location, there were a number of road closures and traffic alerts.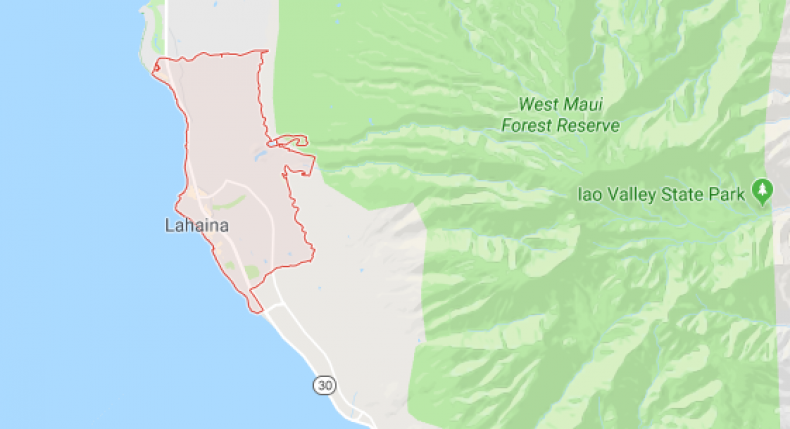 The Maui Police Department posted news of the closures on Facebook on early Friday morning to let residents know where they should avoid traveling. Parts of Honoapiilani Highway in the area were closed, specifically Maalaea to Shaw Street in both directions, according to Maui County.
Police also asked that residents stay away from the Kauaula Valley area, where the fire was reported to be actively burning. About 100 homes were evacuated due to the fire, according to Maui Now.
Just before 6 a.m. HST, the county of Maui posted an update on the fire conditions on Facebook. "Fire officials have reported that the fire has jumped Honoapiilani Highway near Dickenson Street and is approaching Aloha Gas Station," it said, adding that the highway was still closed in the area and advising against motorists trying to drive there or on Kahekili Highway.
The National Weather Service (NWS) in Honolulu updated the outlook for Hurricane Lane Friday at 5 a.m. The storm was downgraded to a Category 2 storm with maximum sustained wind speeds of 110 mph, and the storm was moving in the direction of the islands of Hawaii at just 5 mph.
Even though the storm had yet to reach the islands it was already causing "catastrophic flooding" on Big Island, with heavy rains and wind impacting other islands as well.
The biggest impacts of the storm were expected Friday and into the weekend on islands where wind gusts were expected to reach highs of 75 mph, and 10 to 20 inches of rain were expected in most areas, with some seeing 30 to 40 inches, according to the NWS. Excessive rain could help put out the brushfire, but the winds could help it spread.