'Hawaii Five-0' Season 9 Spoilers: McGarrett's Ex-Girlfriend Is 'a Big Bad'
Rochelle Aytes will recur in Hawaii Five-0 Season 9 as McGarrett's ex-girlfriend and a Big Bad, TVLine reported Wednesday. She will first appear in the premiere, which will honor the original series' pilot.
"A character named Greer was introduced in that first episode, and she had a relationship with McGarrett 'back in the day,' when he was in uniform," showrunner Peter M. Lenkov said to the publication about the "dangerous and not to be trusted" CIA operative. "She's going to be a Big Bad in the first couple of episodes."
The CBS procedural drama is a modern take on the classic series Hawaii Five-O about an elite task force led by Steve McGarrett (Alex O'Loughlin). It premiered in 2010. Jack Lord, who played McGarrett in the original series, appeared through the use of CGI (computer-generated imagery) in the reboot's Season 7 premiere.
Hawaii Five-0 is going to pay tribute to the original series again in the Season 9 premiere for its 50th anniversary. The original premiered in 1968 with the two-hour movie, "Cocoon," which was re-edited as a two-part episode. McGarrett believed a friend did not drown and looked into his death. His investigation led him to a ship with a deprivation chamber.
Lenkov confirmed H50 is "redoing" the episode "honoring the original and creator Leonard Freeman" with a video from the set of a chamber and someone in a suit on August 6.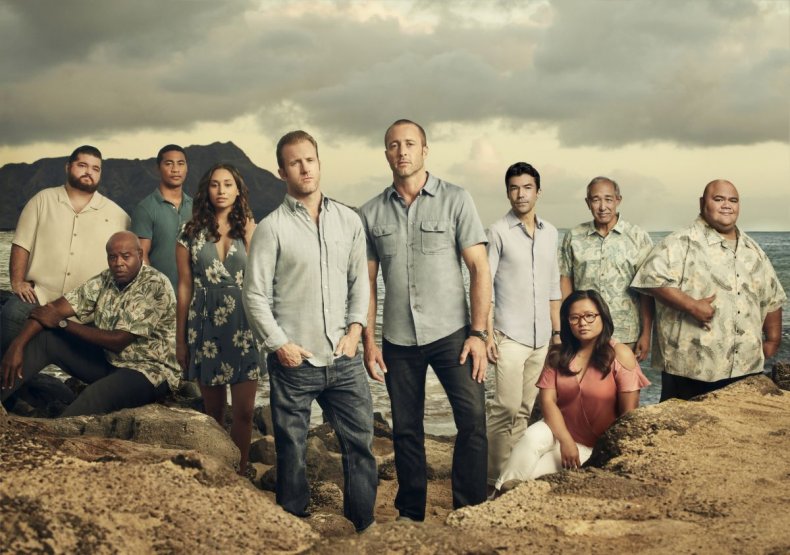 The showrunner also shared the poster for the annual "Sunset on the Beach" event in Waikiki, Hawaii on Instagram on August 14. Its celebration of the season's premiere will include a tribute to 50 years of the franchise and a special performance by Cyndi Lauper, along with the premiere of the new CBS series Magnum P.I. on Friday, September 14. Lenkov also serves as showrunner on that reboot.
Lenkov announced Hawaii Five-0 and Magnum P.I., which both take place in Hawaii, will be crossing over at San Diego Comic-Con in July. H50's medical examiner, Dr. Noelani Cunha (Kimee Balmilero), will appear in the Magnum P.I. pilot (airing Monday, September 24), and Kamekona (Taylor Wily) will guest star in episode 2.
"We'll introduce characters we know from Five-0 in Magnum, get everybody acclimated to the idea these two worlds co-exist, and then we'll do a genuine, bona fide crossover at some point," Lenkov said at the panel. "The plan is to ultimately introduce [Thomas Magnum, played by Jay Hernandez, and McGarrett], have them in a crossover episode and have them at least have known of each other."
Hawaii Five-0 Season 9 premieres Friday, September 28 at 9 p.m. ET on CBS.