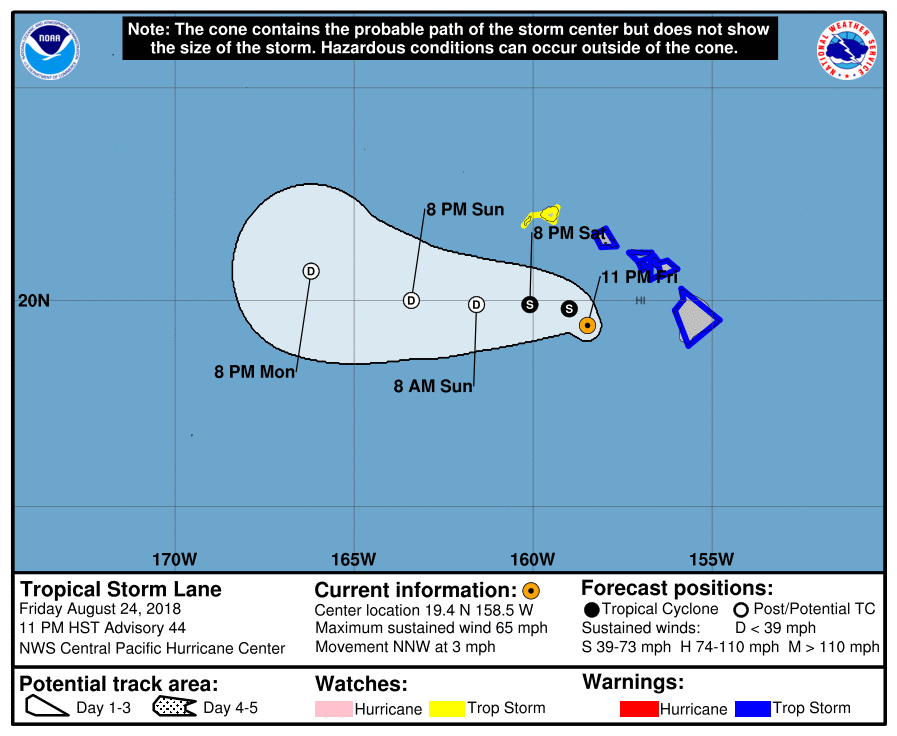 As Hurricane Lane morphed into Tropical Storm Lane overnight, flooding rain from the slow-moving storm continued piling up in Hawaii, particularly on the Big Island where some areas have received almost 3 feet the past 48 hours -- and it's still pouring down Saturday morning.
A flash flood warning remained in effect for Hilo, Hawaii and all of the Big Island early Saturday, with very heavy, flooding rain falling on areas that have already received 40 inches or more. (See the latest Hawaii Hurricane Lane rainfall totals update below.)
"At 1135 PM HST, radar and rain gages showed extremely heavy rainfall persisting over the Kau and Puna Districts," the National Weather Service reported. "Persistent rainfall rates of 2 to 3 inches per hour have been observed for several hours, and extreme flooding impacts are being reported by Big Island Civil Defense. Numerous road closures are in place including Highway 11 between Keeau and Hawaiian Paradise park, near Pahala at Kawa Flats, and on portions of Saddle Road."
Meanwhile, on the island of Oahu, there is relief since the disintegrated storm did not deliver a hurricane blow – and as rains from outer bands kept coming down in the Big Island, some areas around Honolulu, on Oahu, received between a trace to an inch at most and may not get much more.
"The good news is Lane got weak and fell apart. We dodged a bullet," Honolulu Mayor Kirk Caldwell said at a news conference on Friday.
But on the Big Island early Saturday rain is pouring down from Tropical Storm Lane's outer rain bands, which have fixated on Hawaii's Big Island for days. By late Friday night, here were the Hurricane Lane rainfall totals, according to the National Weather Service.
To monitor additional Hurricane/Tropical Storm Lane rainfall the past 24 hours, with updates every 3 hours, you can visit this National Weather Service link.
Consider these totals below through Friday night, noting that the Big Island remains under a flash flood warning Saturday morning, with some areas received 2 to 3 inches per hour – thus, the totals will likely quickly expand.
Island of Hawaii Rainfall Totals Through 9 p.m HAST Friday :
Waiakea Uka: 42.81
Piihonua: 42.69
Saddle Quarry (USGS): 38.77
Waiakea Experiment Station: 37.91
Mountain View: 36.49
Glenwood: 27.42
Papaikou Well: 26.90
Hilo: 25.34
Kulani NWR: 22.90
Pahoa: 19.46
Keaumo: 19.23
Kawainui Stream (USGS): 14.13
Puu Mali: 12.42
Island of Maui
West Wailuaiki (USGS): 16.82
Puu Kukui (USGS): 9.18
Haiku: 7.50
Hana Airport: 4.50
"Waiakea Uka, located just south of Hilo on the Big Island, has picked up 44.88 inches of rain since Wednesday. Piihonua picked up 42.69 inches of total rainfall through 9 p.m HST Friday," the Weather Channel reported.
"Hilo has picked more than 25 inches of rain since early Wednesday morning. This has resulted in more than 31 inches of rainfall for the month, setting a new record for the wettest August."
Tropical Storm Lane is located south of Hawaii Saturday, delivering more rainfall on the Big Island that may cause landslides and mudslides, while closing roads and causing further evacuations.
"Most of this deep convection is in outer rain bands across the eastern and central Hawaiian Islands," the Central Pacific Hurricane Center said late Friday. "Needless to say, severe flooding is occurring due to this, especially over the Big Island where over 40 inches of rain have fallen along parts of the windward sections."
The heavy rain on the Big Island has led to mudslides, road closings and rescues.
Five tourists were rescued Thursday from a Hilo rental home on the Big Island as Hawaii County firefighters safely removed them from the house with no injuries.
"It was quite an experience because we weren't planning to have a hurricane during our vacation time," Suzanne Demerais, a rescued tourist, told the AP.
The AP also reported that six people and a dog were removed from a flooded home in Hilo that had waist-high water.