Hawaii Hurricane Warning, Latest Path Map for Tropical Cyclone Erick As Hurricane Flossie Follows Close Behind
Hurricane Erick and Hurricane Flossie are set to hit Hawaii from Friday, according to the latest alert from the National Hurricane Center (NHC) and the National Weather Service (NWS) at Honolulu, Hawaii.
According to the NWS, Hurricane Erick will weaken as it approaches the island State from the east, however, wet conditions will spread from east to west across all the islands from tomorrow into the weekend. The center of Hurricane Erick is set to pass just south of the Big Island on Friday.
Additional impacts from Erick such as high surf, strong winds and heavy rain are possible, however much of these impacts will depend on the intensity and track of this approaching tropical cyclone. Swells generated by Hurricane Erick will arrive over the next couple of days, potentially producing dangerous surf conditions, mainly along east facing shores, according to NWS Honolulu.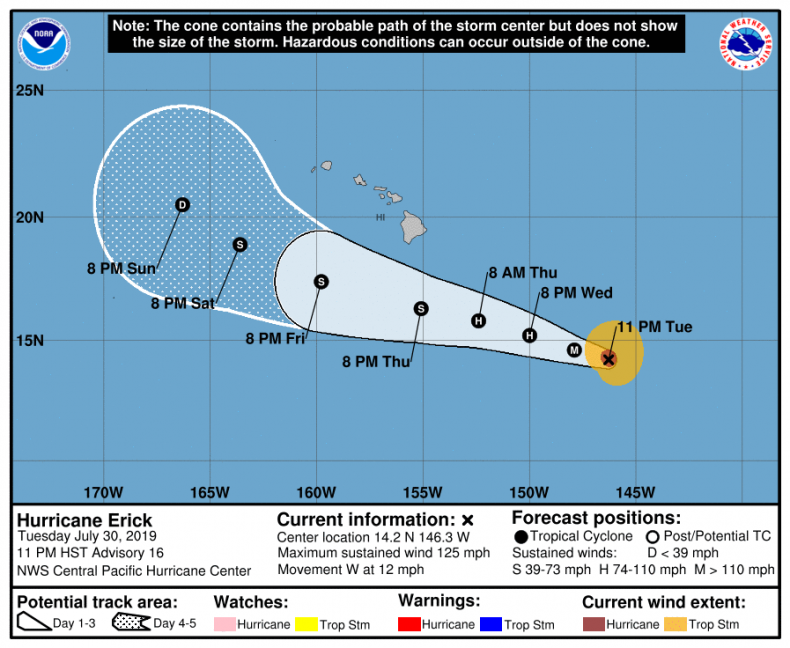 As it stands, Hurricane Erick is moving toward the west at near 12 miles per hour (19 kilometers per hour), with maximum sustained winds near 125mph (205kph). It is currently a category 3 hurricane on the Saffir-Simpson Hurricane Wind Scale, with its winds extending outward up to 30 miles (45 kilometers) from the center of the storm. The central pressure is 954 millibar, which is nearly 30 inches of mercury.
The second tropical cyclone, Hurricane Flossie, will move into the area by early next week, according to the NWS, and will potentially bring additional weather impacts to the islands. The hurricane is moving west northwest near 15mph (24kph) and is expected to continue on this path until Friday.
Maximum sustained winds currently sit at near 80mph (130kph) with some strengthening forecast over the next two to three days. Its winds extend outward up to 30 miles (45 kilometers) to the northeast of the center, with its minimum central pressure currently at 990mb, nearly 30inHg.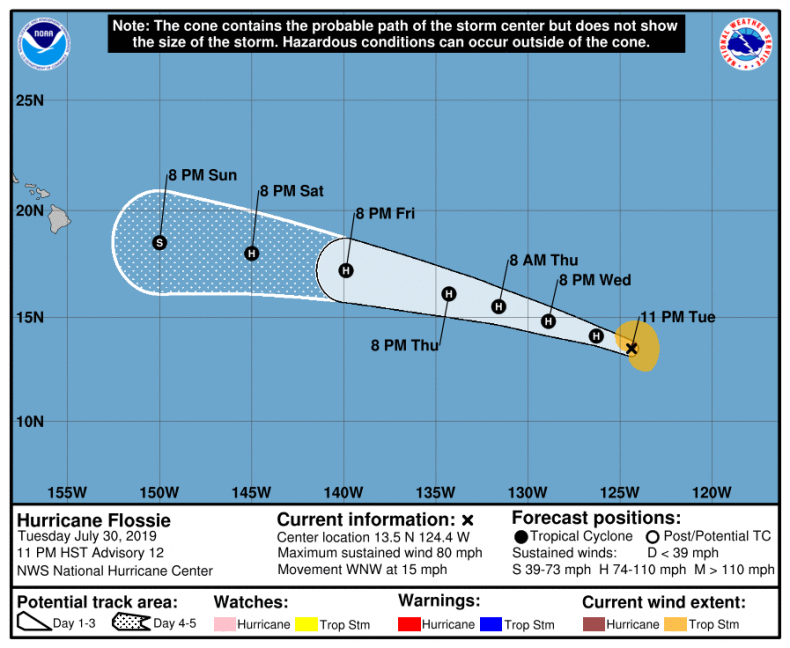 While the hurricanes are not expected at this point to affect the mainland, NWS has warned that Hawaiian offshore waters beyond 40 nautical miles out to 240 nautical miles, including the portion of the Papahanaumokuakea Marine National Monument east of French Frigate Shoals, will be affected. Individual waves may be more than twice the significant wave height, it said in its latest hurricane warning.
Hurricanes are a type of tropical cyclone, which is a generic term used by meteorologists to describe a rotating, organized system of clouds and thunderstorms that originates over tropical or subtropical waters and has closed, low-level circulation, NOAA explained.
Pre-existing weather disturbance as well as warm tropical oceans, moisture, and relatively light winds normally contribute to the phenomenon and if they are sustained for a longer period of time, they combine to produce violent winds, large waves, torrential rains, and floods.
According to NWS, hurricane season officially runs from June 1 to November 30, with 97 percent of tropical cyclones occurring during this time period.