Hawaii Kilauea Volcano: Trump Approves Disaster Assistance to Those Who Lost Homes
The governor of Hawaii, David Ige, requested federal assistance on Wednesday for those who had their homes destroyed by the Kilauea volcano. It took just one day for President Donald J. Trump to approve the request and grant the individual assistance.
Since the volcano began erupting May 3, more than 450 homes have been destroyed by lava, the request stated. Of those, 192 of them were the primary dwelling for the people who lived there.
As of Wednesday, when Ige signed the request for assistance, the state said it was completely reliant on "the county government, state agencies, and a large network of nonprofit organizations." Ige's request asked for help from all of the federal government's individual assistance programs for counseling, shelter, unemployment and legal matters.
Each assistance case will be reviewed on an individual basis, the governor said.
A second release from Ige said that there would be a Federal Emergency Management Agency (FEMA) center set up Friday at Kea'au High School. There, residents who lost their homes or property could register with FEMA, and the agency could begin the review process necessary for giving assistance. The Disaster Recovery Center is scheduled to be open daily at 8 a.m. HST and stay open until 8 p.m. in the school gym.
The fissures on the island were still active Friday and the Hawaii Civil Defense Agency was still urging residents to take precautions while traveling.
An alert issued Thursday evening said the activity from the volcano hadn't changed much and that Fissure 8 was still producing a "large channelized flow" spreading all the way to the ocean. That lava was entering the Pacific's cool water at Kapoho Bay, causing a lava haze or "laze" byproduct. Laze is a form of hydrochloric acid that, when mixed with water vapors and other volcanic ash particles, can cause lung damage and irritation to the eyes and skin. Residents should avoid the laze plume and be aware that it can move easily with the wind.
In addition to homes and possessions destroyed on the island, lives have been completely disrupted and tensions are running high as a result of the volcano's eruption. In late May, a man allegedly drew a gun on and shot at a neighbor who was checking on his destroyed home in Leilani Estates on the island.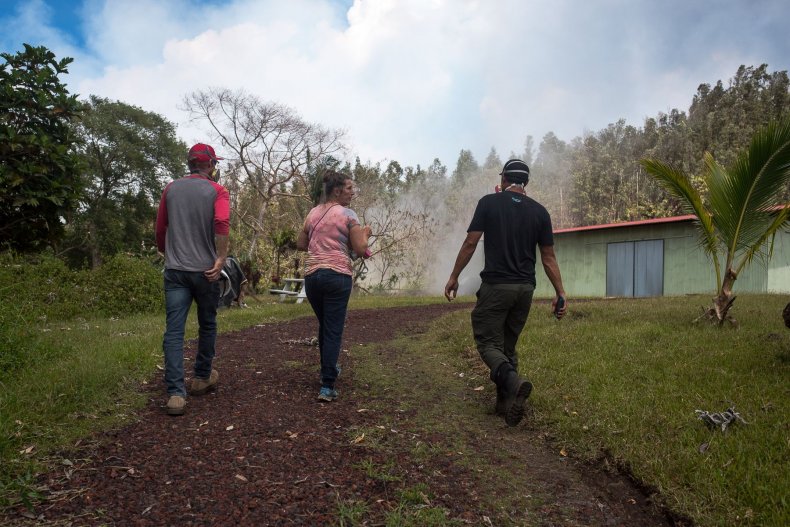 ​​
SaveSave