Hawaii Kilauea Volcano Eruption Photos and Videos Show Lava Lake, Smoke, Ash
Photos and videos capturing the eruption of Hawaii's Kilauea volcano on Sunday evening showed lava spewing from the volcano, and smoke and ash rising into the sky.
The U.S. Geological Survey recorded a magnitude 4.4 earthquake located beneath the volcano's south flank on Sunday at around 10:36 p.m. local time, the organization confirmed in a press release.
The eruption prompted the USGS and the National Weather Service (NWS) in Honolulu to issue warnings and advisories for potential ash falling from the sky.
Shortly after the eruption, many social media users shared photos and videos of Kīlauea, which is located on Hawaii's Big Island. Standing at 4,091 feet, Kīlauea is one of the most active volcanoes and has erupted a number of times from 1983 to 2018.
"2020 is wild: Earthquake and volcano erupting tonight on the Big Island of #Hawaii. Video by Ken Boyer captures the eruption from the Halema'uma'u pit crater of the #Kilauea caldera at Hawaii Volcanoes National Park," Twitter user KZCazares wrote with a video that showed the smoke and ash from the volcano rising into the night sky.
Twitter user Kai Kahele wrote, "10:36pm Sunday night our home in Hilo got rocked with a 4.4 magnitude earthquake. Halema'uma'u Crater in the Hawai'i Volcanoes National Park has erupted. Just when you thought 2020 couldn't get any worse now we have lava & embedded falling ash to deal with."
USGS Volcanoes also shared a number of photos on their website, showing different stages of the eruption. One photo, shown below, shows "multiple fissures opening on the walls of Halemaʻumaʻu crater."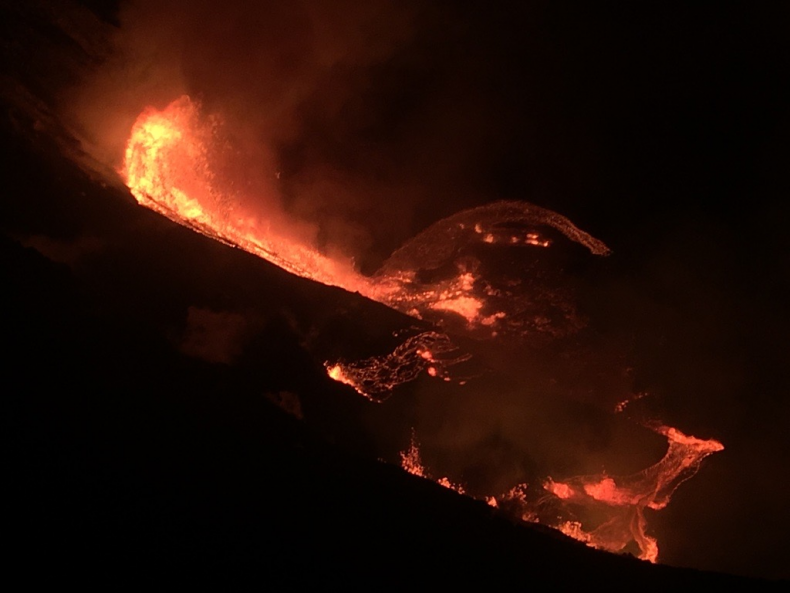 Another USGS photo shows a "steam and gas plume from the eruption."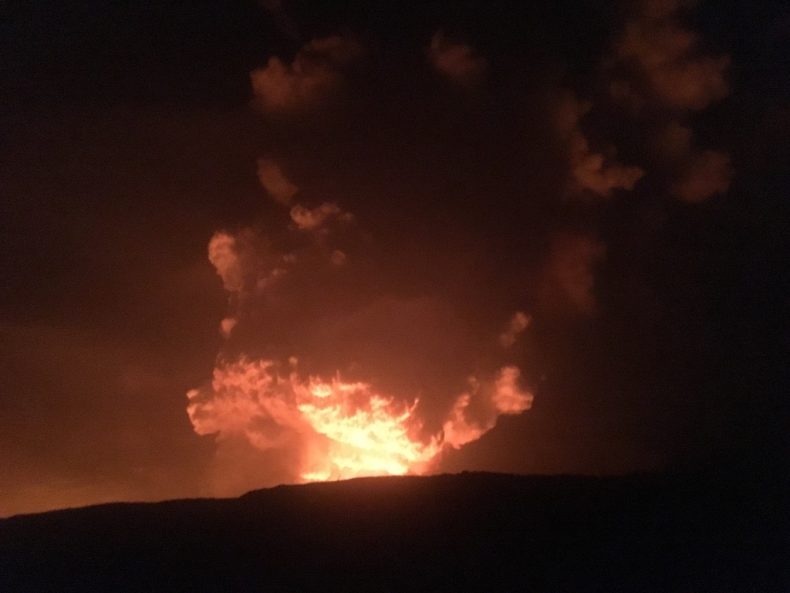 "View from the western rim of Kīlauea Caldera. Lava is erupting from a fissure in the NW wall of Halemaʻumaʻu crater and cascading into the deepest part of the crater, which had been occupied by a water lake (now replaced with a growing lava lake)," a tweet from the USGS Volcanoes account read.
Some other photos of the eruption came from the Hawaii Volcanoes National Park Service (NPS) Twitter account.
"Happening now: a new eruption of Kīlauea inside Halemaʻumaʻu," one tweet read, showing smoke plumes flow into the sky.
The eruption also prompted the Hawaii County Civil Defense Agency to urge residents to stay indoors to avoid "embedded ash" pushed by "trade winds."
"The Hawaiian Volcano Observatory reports an eruption at the Halemaumau Crater of the Kilauea Volcano. Trade winds will push any embedded ash toward the Southwest. Fallout is likely in the Kau District in Wood Valley, Pahala, Naalehu and Ocean View. Stay indoors to avoid Exposu," a tweet from the Civil Defense Agency read.