Hawaii Kilauea Volcano Update: Collapses, Explosions at Summit, Lava Flows Continue
The Kilauea volcano in Hawaii is approaching its second month of explosions and activity—and it shows no signs of stopping. Over the weekend, the volcano suffered several explosive events along with collapses at the summit on Hawaii's Big Island.
Saturday and Sunday both saw explosions and collapses on the volcano: Saturday afternoon at 4:34 p.m. Hawaii standard time there was a collapse or explosion event at the summit of Kilauea. It registered a magnitude 5.3 on the Richter scale but didn't cause a tsunami, according to the Pacific Tsunami Warning Center.
The explosion could have caused debris to travel hundreds of feet in the area above the summit, according to the United States Geological Survey. Just before that explosion occurred, the USGS tweeted that there was a high earthquake rate in the area around the summit that could cause rockfalls and ash plumes.
There was another explosion Sunday, this one at Halemaumau Crater inside of the caldera at the summit of Kilauea. The explosion took place at 4:12 p.m. HST and, while nobody was in immediate danger, the Hawaii Civil Defense Agency recommended that people in the area check their gas, water and electricity connections after the quakes to ensure they were not damaged.
Get your unlimited Newsweek trial >
The explosions were releasing volcanic gases and debris into the air. Residents downwind of the summit and the explosions were warned to limit exposure to the gases that contain sulfur dioxide, and irritants that can cause respiratory problems.
In addition to the earthquakes and explosions, Fissure 8 was still highly active and flowing through the weekend and into Monday. The lava erupting from the fissure was creating a "full channel" flowing to the ocean and entering at Kapoho. That lava was flowing into the cool ocean water and creating a lava haze called laze, which contains volcanic glass and hydrochloric acid that can damage the skin and lungs.
The Hawaii Civil Defense said there was no immediate threat from the channel of lava but that residents should be ready to follow orders from officials should conditions change.
Those who have lost property to the volcano can apply for aid. There is a Disaster Recovery Center set up at the Keaau High School where residents can apply and get help. There's also free medical, dental and eye care set up at the school.
Get your unlimited Newsweek trial >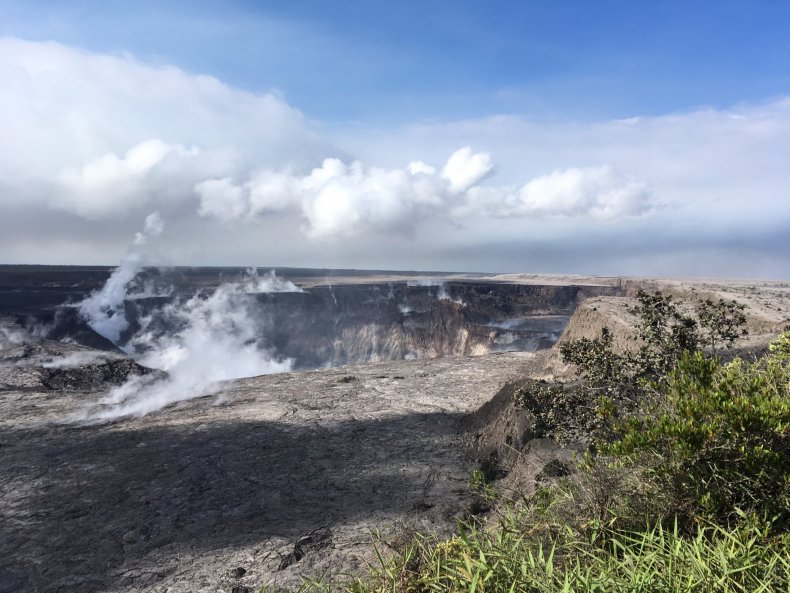 Hawaii Kilauea Volcano Update: Collapses, Explosions at Summit, Lava Flows Continue | U.S.