Hawaii Kilauea Volcano Update: School, Park Destroyed by Lava, Collapse Events Continue
The Kilauea volcano in Hawaii continues to cause disruptions in daily life for the people on the island. Near-daily collapse events that feel like earthquakes are rocking the island where some people have lost homes since the volcano started erupting in early May.
Lava is continuously flowing from Fissure 8 and a channel, or river, of lava has formed that leads from the fissure to the ocean. That ocean entry point filled an entire bay with lava. A map from the United States Geological Survey shows where the coastline was before it was covered with lava.
That map, which is up to date as of Thursday, also shows that while there were two entry points where the lava was entering the ocean earlier this week, there is now only one.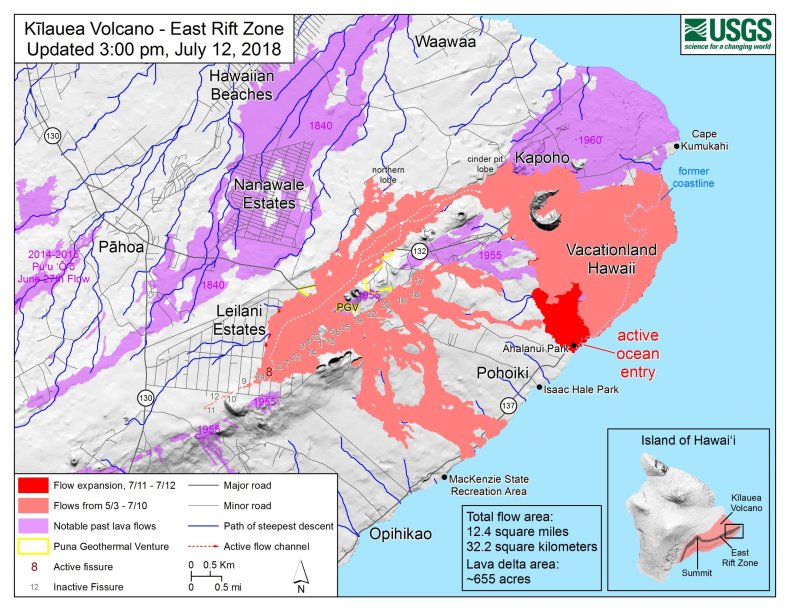 The channel of lava that formed from Fissure 8 was experiencing some blockages and consequent overflows earlier this week, which have since stopped. On Thursday afternoon, the caldera of the volcano, or the area above the magma pit that's been feeding the fissures, experienced a collapse event. These events have been fairly common at Kilauea, but each one causes what feels like an earthquake on the island.
Thursday's collapse event caused an increase in activity from Fissure 8, but the lava didn't significantly overflow the edges of the channel due to the collapse, according to the USGS. Typically after each collapse, the seismic activity around the summit decreases for a few hours before ramping back up until the next collapse event. Hawaii Civil Defense recommends that residents "check their utility connections of electricity, water and gas after earthquakes."
One of the most recent island locations to be overrun with lava was Ahalanui Beach Park and the Kua O Ka La Public Charter School along Highway 137, the Hawaii Tribune-Herald reported.
In addition to the danger hot flowing lava presents, there are also gases being released into the air from the lava and the summit of the volcano, as well as where the lava is meeting the ocean.
The ocean-entry point created a lava haze, or laze, plume that is made up of steam and hydrochloric acid and which can cause lung damage to anyone who gets too close. The reaction of the cold water meeting the hot lava can also produce explosive episodes that are potentially dangerous.
The volcano itself was releasing sulfur dioxide and volcanic ash and glass, which can cause irritation to the eyes, skin and lungs.