Hawaii Kilauea Volcano Update: Lava Flow into Ocean Expanding, More Collapse Explosions at Summit
The Kilauea volcano that's been disrupting the lives of Hawaii residents was still highly active Thursday. More than 650 homes have been destroyed by the ongoing eruption and flowing lava that's spread across more than 6,000 acres of land.
In addition to the lava covering more land, it's expanded in the area where it has been entering the ocean. The lava flow was originally entering at one point, where Kapoho Bay used to be, but it filled with lava.
As of Wednesday morning, the lava was flowing into the ocean through an area about half a mile wide. The lava was flowing at several different spots at Kapoho Beach Lots, according to the United States Geological Survey (USGS), an area it hadn't previously been flowing from.
When the lava enters the cool ocean, it creates a lava haze plume, called a laze plume, a mix of water vapor and hydrochloric acid that can damage the lungs.
Residents who have homes near Kapoho and the lava flow were not allowed into their homes as of Wednesday afternoon. The homes were overcome by the large laze plume and too dangerous for people to go near.
In addition to the flow into the ocean, Fissure 8 was still erupting more lava into the channel feeding the ocean entry. The eruptions coming from the fissure were also releasing volcanic glass, ash and gases into the area that could be potentially dangerous.
A map from the USGS shows where there is active ocean entry and where the coastline was before the lava expanded it by flowing into the ocean.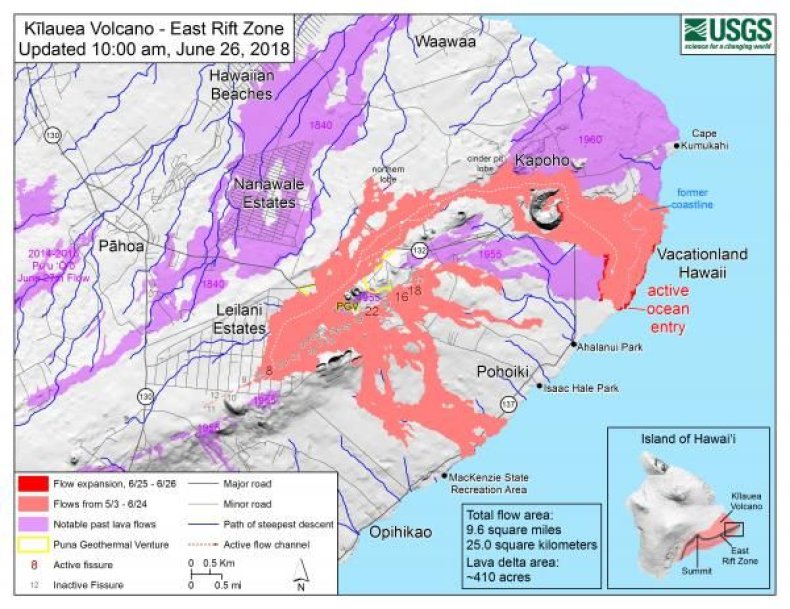 At the volcano's summit, there was plenty of seismic activity. A collapse explosion at the summit occurred Tuesday night, which caused an ash and steam plume that reached 1,000 feet into the area above the summit before the wind blew it southwest.
Before the explosion happened, the activity was high, with about 25 to 35 earthquakes occurring every hour at the summit. Once the eruption happened, that number dropped to about 10 and then spiked back up within the next 12 hours, the USGS said in a release.
The collapse events at the summit have caused an old parking lot and USGS equipment to fall along with the crater's collapsing floor.