Hurricane Lane Hawaii Path Update: Track Takes Category 4 Storm South of Big Island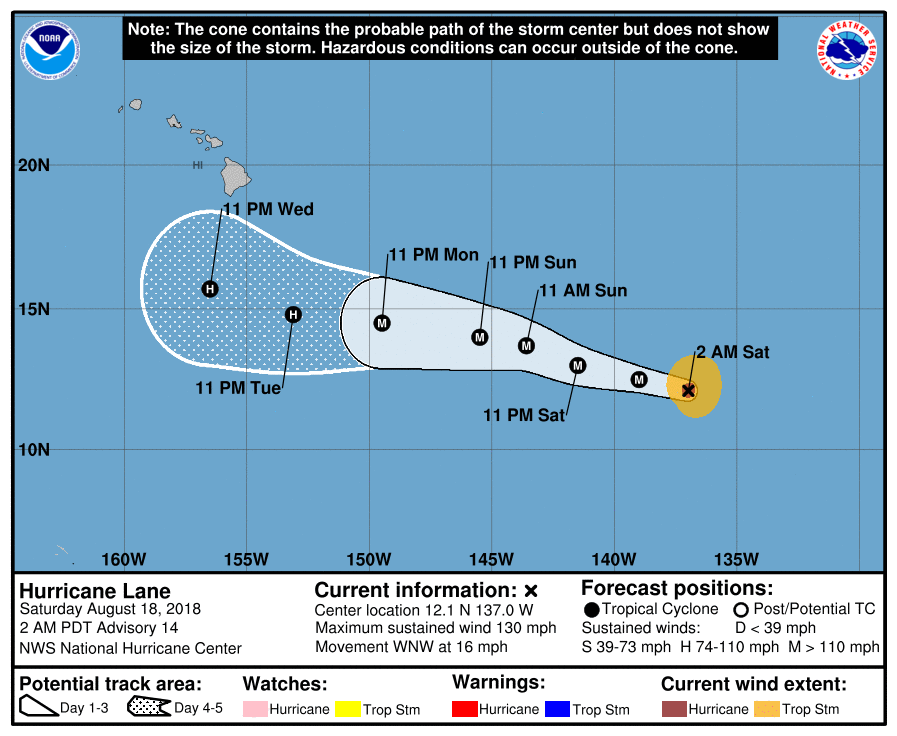 Hurricane Lane is a powerful category 4 storm today, tracking in the Pacific to the west in the direction of Hawaii. But the latest forecast updates today suggest that Hurricane Lane will pass South of Hawaii, giving the state a brush with significant swells.
"At this time, we expect the center of Lane to pass about 200 miles south of the southernmost tip of the Big Island Tuesday evening Hawaii time," said AccuWeather Hurricane Expert Dan Kottlowski.
Hurricane Lane is forecast to deliver the same impact to Hawaii that Hurricane Hector did two weeks before. The latest forecast from the National Hurricane Center suggests Hurricane Lane path will take it South of Hawaii's Big Island late Wednesday night.
The impact will be rough surf for swimmers and surfboarders, Accuweather said.
"Surf may become too rough and dangerous for most bathers and boarders along the south- and east-facing beaches of the islands by next week," with showers and gusty squalls on the South side of the Big Island.
"The satellite presentation of Lane has improved significantly during the past several hours with a distinct eye surrounded by very deep convection and symmetric outflow," The National Hurricane Center reported this morning. "The hurricane is moving within an environment of light shear, and this should allow some additional strengthening during the next 12 to 24 hours. After that time, the guidance suggests that a slight weakening should begin perhaps to a modest increase in shear. The NHC forecast does not weaken Lane as fast as indicated by the intensity guidance."
In other words, Hurricane Lane is forecast to remain a strong storm but its track is not expected to take a major northerly shift, threatening Hawaii.
"Since the steering pattern is not expected to change much, this general motion should continue during the next 3 to 5 days," the NHC said. "An expected weakening of the trades should result in a small decrease in the hurricane's forward speed. Track models are tightly clustered during the first 72 hours, and this increases the confidence in the forecast."