Hawaii Loses Half of Economic Recovery Amid Second COVID Lockdown as Cases Spike
Hawaii has lost roughly half of the economic recovery it made since April, as state officials and residents deal with ongoing lockdowns and a spike in coronavirus cases.
The economic data comes from a gauge, created by University of Hawaii researchers, which displays weekly levels of improvement or decline based on the effects of the coronavirus pandemic. Metrics include counts of open businesses, payroll processing volume, unemployment benefit claims and arrivals into the state by airport, the Honolulu Star-Advertiser reported.
"You want information where you are right now," Peter Fuleky, a research economist with the University of Hawaii Economic Research Organization (UHERO), told the Star-Advertiser. "Making good business and public policy decisions in such a rapidly changing environment requires data that is as timely as possible."
Hawaii's economy began showing a gradual recovery in May, according to the UHERO Economic Pulse, which gives readouts as percentages of how much the local economy has improved. By late June through mid-July, the state regained around 35 percent of economic activity that had been lost since its low point in April, following the state's first lockdown, the Star-Advertiser reported.
This was a result of businesses reopening and federal aid through the form of added unemployment benefits, Paycheck Protection Program loans and one-time direct payments to households, Fuleky told the Star-Advertiser.
But after enjoying relatively low COVID-19 case numbers, hospitalizations and deaths, Hawaii experienced a surge of new cases in August. The island of Oahu, Hawaii's largest, took the hardest hit, forcing Honolulu Mayor Kirk Caldwell to impose a second lockdown beginning August 27.
The "stay-at-home/work-from-home" order, which was just extended through September 23, is eerily similar to the one many state officials enacted in March, where businesses deemed essential are allowed to remain open. Salons and gyms, which had previously been allowed to operate in the state all summer, were shuttered and restaurants could remain open only for takeout, the Star-Advertiser reported.
Hawaii currently has the most COVID-19-related restrictions of any U.S. state and Washington, D.C., according to a study published Tuesday by WalletHub. The finance website examined states' restrictions over a four-month period, showing that Hawaii officials had imposed some of the strictest measures in the country with the effects still lingering as of May 5. But by August 11, the state had eased its policies, placing 37th out of the 51 possible localities.
On Tuesday, Hawaii had jumped back into its place as the state with the most restrictions, according to WalletHub, which based its scores on several metrics including face-covering requirements, travel restrictions and nonessential business reopenings.
The new restrictions caused economic activity in the state to take a nosedive, reversing Hawaii's recovery as of September 5 to be only 19 percent of what was lost since April, according to the Star-Advertiser.
"So we've lost roughly half of our recovery since the end of June," Carl Bonham, UHERO's executive director, told the state House Select Committee on COVID-19 Economic and Financial Preparedness in a presentation Monday.
The economic decline is directly related to the second stay-at-home order, Roy Amemiya, Honolulu's managing director, told Newsweek in an email. He added that the economy began to decline, however, after peaking at the end of June.
"The Stay at Home order, while extremely difficult for our local economy, achieved its goal of bringing down the transmission of COVID-19," Amemiya wrote. "The decline the UHERO Economic Pulse Index predates the issuance of the second Stay at Home order, and while there are likely impacts from the order, the data shows that the disease activity itself has an impact on economic activity."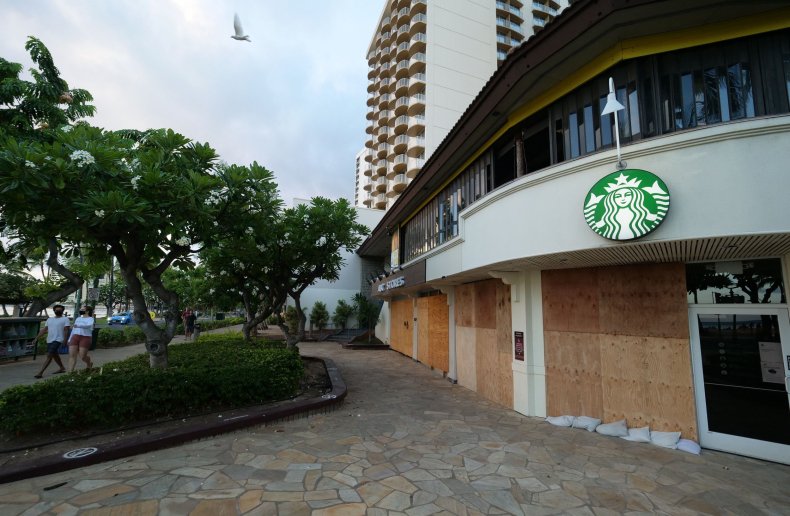 Honolulu City Council members expressed their frustration with the second lockdown, arguing that the pandemic has gone on long enough for officials to understand how to reopen the economy safely while also mitigating coronavirus case numbers.
"We cannot be in the business of behavior modification at this point. We are beyond the point of having conversations even about this. The businesses have been in limbo for seven months now," said Councilwoman Heidi Tsuneyoshi. "There are generational businesses that have closed down, and we're sitting here hearing about behavior modification."
To most people, Honolulu's pattern of closing and reopening "makes no sense at all," Tsuneyoshi said. Amemiya and Hiro Toiya, the city's director of emergency management, said that the city was taking a "conservative" approach to flattening the curve and avoiding a possible third lockdown, the Star-Advertiser reported.
"The No. 1 reason why we're having the orders in place…is for public health," Toiya said. "The goal really is to reduce high-risk encounters, and how do we do that? It's through behavior modification."
The second lockdown appears to be working, Amemiya told Newsweek.
"Fortunately, the shutdown appears to be very effective in reducing the virus transmission and if this trend continues, along with robust testing, contact tracing and isolation/quarantine unit capacity, we can safely reopen island businesses and public venues," he wrote. "We look forward to doing so, we need our local businesses to reopen."
Hawaii has a total of 10,951 reported coronavirus cases. The county of Honolulu accounts for nearly all of those, as it has reported 9,839 cases since the pandemic began, according to a New York Times database. The second imposed lockdown appears to be working, however, as officials reported 64 new cases on September 15. This marks a significant decrease from the state's record high last month, when 354 were reported on August 13.
Update (09/17/20, 10:19 a.m.):This article has been updated to include comments from Roy Amemiya, Honolulu's managing director.