Hawaii Shark Bites Female Surfer's Board 150 Yards off Shore: 'She was Stricken with Fear'
A female surfer in Hawaii had a close encounter with a shark this week and was lucky to escape without injury after the ocean predator bit the back of her board.
Authorities responded to Kīhei, Maui, shortly after 9 a.m. yesterday after receiving reports of a surfer in distress approximately 150 yards off shore, the Honolulu Star-Advertiser reported. On social media, the local police department advised all beachgoers to avoid the area.
At the scene, a woman told fire officials the shark responsible was between six and seven feet long, said Rylan Yatsushiro, chief of the county's Department of Fire and Public Safety.
"The victim was reportedly shaken, but unharmed," he told Maui Now. "Ocean Safety personnel on a jet ski cleared the waters of ocean-goers in the immediate vicinity and continued patrolling the area."
Newsweek subscription offers >
It was not immediately clear what type of shark was responsible. The state government's website says a slew of species call the waters home, including tiger sharks, great whites, blacktips and sandbars.
The Maui Police Department confirmed on Facebook yesterday that Hawaii's Department of Land and Natural Resources (DLNR) had closed the beaches from Cove beach to VFW Post 3850 due to a suspected "shark attack."
An eyewitness called Amy Langlotz Weis told media outlet KITV the victim was shocked by the shark's presence but made it back to the shore before authorities arrived. "She screamed so loud," Weis said. "I paddled over to her slowly and made her come toward me. She was stricken with fear and needed to be helped and cheered on to paddle towards the shore."
According to the DLNR, full-scale shark attacks are rare. In most cases, sharks do not bite humans 'repeatedly or viciously" and much of their behavior remains mysterious, it says.
The DLNR says on its website: "It's important to keep these incidents in perspective, and to remember that in Hawai'i the chances of being bitten by a shark are less than one in a million.
"The chances of being seriously injured by a shark are much less than that. But considering the tendency of some media to sensationalize sharks, and the fact that shark bites are such unusual events, it's probably not surprising that when they occur they often generate attention out of proportion to the risk itself," it added.
While fatal attacks are rare, bruising encounters are less so.

On September 18, a person swimming with sharks in Oʻahu suffered puncture wounds and cuts to their right hand from a Galapagos shark with a length of between five and nine feet. On August 20, a person treading water in Kealakekua Bay was bitten on the back of the lower torso. The same month, another surfer escaped without injury after a shark bit the nose of their board.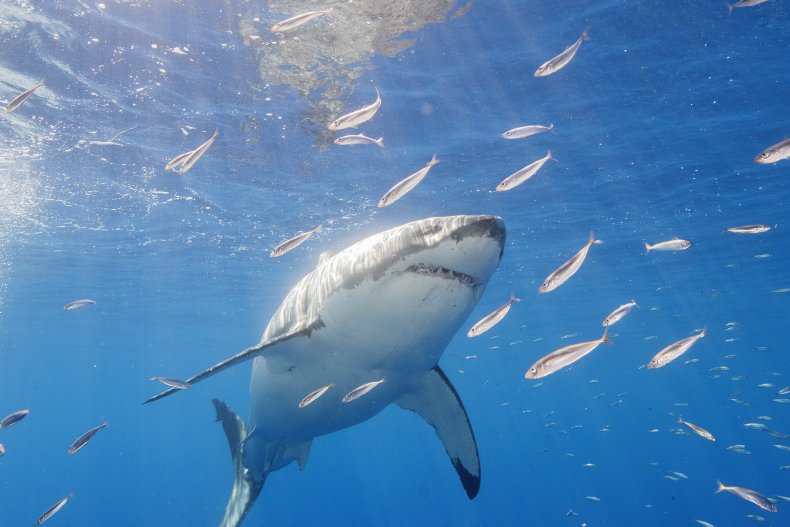 Hawaii Shark Bites Female Surfer's Board 150 Yards off Shore: 'She was Stricken with Fear' | News