Hawaii Severe Weather Live Updates: Shelters With Food, Medication, Bedding Open Across Hawaii
Hawaii is now a under a flood watch after heavy rain left parts of the state under the threat of "significant and life-threatening flooding," according to the National Weather Service.
The live updates for this blog have ended.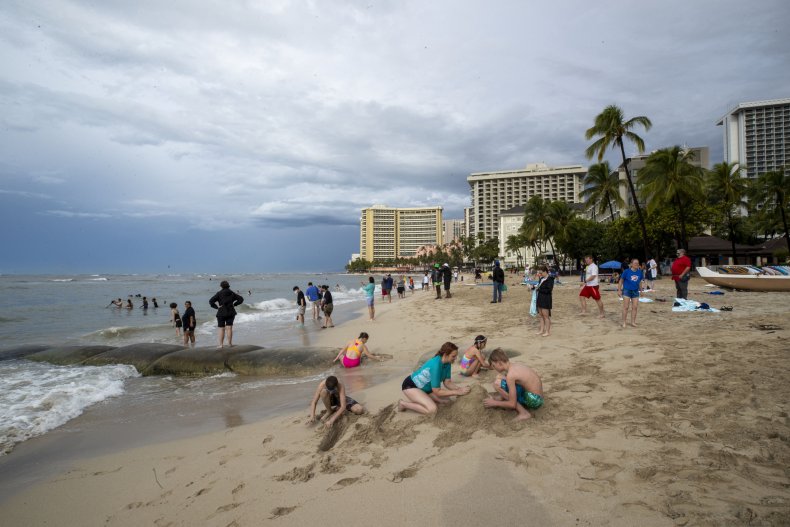 Catastrophic weather caused water rescues
The Oahu Department of Emergency Management reported cases of vehicle rescues, water evacuation requests, inundated homes and road closures.
"The H-1 freeway and several roads in town are experiencing considerable flooding, so limit travel wherever possible," the department said.
Red Cross shelters open for those in need during storm
The Hawaii Red Cross shelters in Oahu and Hawaii Island remain open Tuesday for those in need of assistance during the heavy rainfall.
The shelters have emergency kits with medication, PPE, food and bedding.
Slow moving storms continue to threaten the Hawaiian state
After Hawaii Govenor David Ige issued a state of emergency on Monday night, weather officials warned that slow-moving thunderstorms, high winds and heavy rains could persist through Wednesday.
This came after power provider Hawaiian Electric was reported a significant electricity outage due to the severe storm in downtown Honolulu Monday evening.
Honolulu receives record rainfall levels Monday
Honolulu experienced record-high rainfall this week.
The island received 7.92 inches of rain Monday.
According to ABC meteorologist Ginger Zee, the average December rainfall for Honolulu is 2.18 inches.