Hawaii Shutting Down Entire Freeway to Use as COVID-19 Testing Site
Hawaii's Department of Transportation (HDOT) announced Thursday it would shut down an entire freeway in an effort to accommodate a surge in coronavirus testing as cases continue to rise.
The city and county of Honolulu, located on the island of Oahu, will partner with state agencies to provide a testing site for Hawaii's largest community. The HDOT and other partners will coordinate the full closure of the H-3 freeway, a 15-mile-long interstate that runs across the eastern end of the island.
"This surge testing will help us flatten the curve once more," Hawaii Governor David Ige said in a press release. "We're all working together for the health and safety of our whole community. Use of the H-3 will provide space to allow as many people as possible to be tested."
The closure is planned to take place on September 1 and 3 from 7:30 a.m. to 6 p.m., but residents will be notified in advance once the dates are confirmed, the release stated. During testing hours, officials will use the inside lanes of the H-3 at its Tetsuo Harano Tunnels to line up the vehicles of those waiting to be tested.
Testing stations will be set up at both the eastern and western ends of the freeway, in Kaneohe and Halawa, according to the release. The HDOT is already encouraging those who might need to use the H-3 during the planned closures to seek alternate routes.
"Testing on the H-3 is a historic, first-ever endeavor that will make a significant difference in getting more people tested," Honolulu Mayor Kirk Caldwell said in the release.
Newsweek contacted the HDOT for comment but did not hear back in time for publication.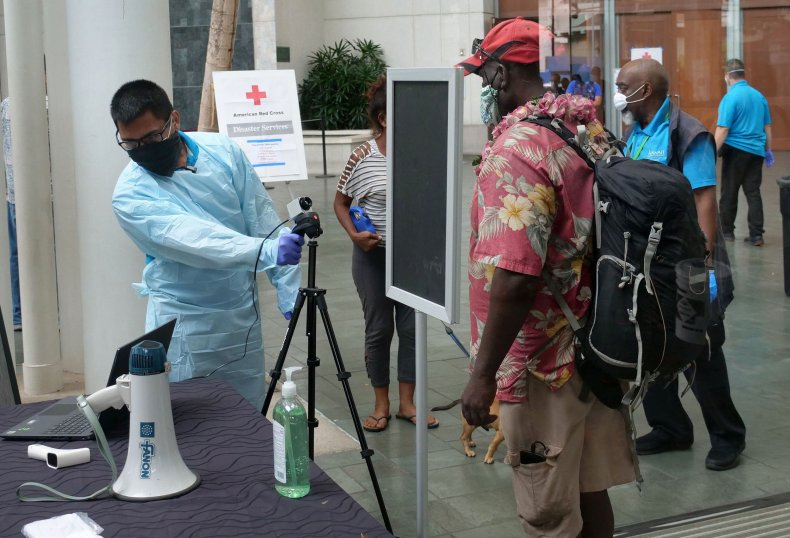 Hawaii is dealing with a surge in new coronavirus cases, which some experts say was caused by a combination of the state's relaxed approach to testing and unclear guidance during the pandemic's early days.
Dr. Jonathan Dworkin, an infectious diseases doctor, wrote in an August 23 column for the Honolulu Star-Advertiser that the state's health department had "no intention of ramping up its testing to anything close to a sufficient level" when Hawaii was hit with the virus's first wave. Now, state officials are playing catch-up, he said.
"To have a successful reopening, you need to seek out the virus, trace contacts in a timely way, and establish effective isolation and quarantine," Dworkin wrote.
Hawaii enjoyed relatively low case numbers throughout most of the spring, particularly when compared with the mainland states. As recently as four weeks ago, Hawaii had reported just 1,688 coronavirus cases since the beginning of the pandemic, according to an NBC News analysis.
But as of August 27, the state is reporting 7,566 cases and 55 fatalities, with the majority of cases in Honolulu County. While these numbers are much lower than those on the mainland, they are worrisome given the state's case history, as numbers have skyrocketed within a short period.
"The numbers here are staggering. There's no excuse for them," Dworkin wrote in his column. "It's failure on an immense scale, and it can't be hidden or deflected."
In response to the rising cases, Ige announced that a second "stay-at-home, work-from-home" order would begin Thursday for Oahu and will remain in effect for two weeks. Similar to the one issued in March, the emergency order says that only essential businesses will be allowed to stay open. Beaches and parks will also close.
"In March and April, we were successful in flattening the curve," Ige said Tuesday at a news conference. "We need to get that back under control."
During a news conference Thursday, Caldwell compared Hawaii's battle with coronavirus to a war.
"Let's get real. We are at war. We are on war footing now in fighting this virus," he said. "We don't have all the tools, but we're building more. And today is about building those tools."
His comments came the same day the health department reported four new COVID-19-related deaths statewide, the most in a single day since the crisis began. Caldwell was joined by Ige and U.S. Surgeon General Jerome Adams, who, along with the federal government, is supporting Hawaii's surge-testing efforts.
Both Adams and Ige warned residents to expect coronavirus case numbers to rise as the mass-testing efforts continue, particularly in the next one to two weeks.
"I really want to prepare people for those numbers," Ige said. "We are putting additional contact tracers in place so we can follow up with those positive cases."