Hawaii Kilauea Volcano Red Alert: Major Eruption 'Imminent' as Ash Cloud Rises 12,000 Feet in the Air
The U.S. Geological Survey (USGS) has issued a red alert for aviation, its highest-level warning, for the first time since the Kilauea volcano on Hawaii's Big Island began erupting 12 days ago.
The decision was taken after National Weather Service radar and pilot reports indicated the ash cloud rising from the volcano's Halemaumau crater reached heights of 10,000 to 12,000 feet above sea level on Tuesday, the USGS's Hawaii Volcano Observatory (HVO) said in a statement. A red alert, according to the agency, means a "major volcanic eruption is imminent, underway or suspected, with hazardous activity both on the ground and in the air."
The eruption has so far mostly affected the lower Puna area, where 19 fissures spewing lava flows have emerged around Pahoa and the area of the Leilani Estates. (The most recent one opened on Tuesday.) The air quality is deemed dangerous to health in some areas due to the release of sulfur dioxide from the fissures.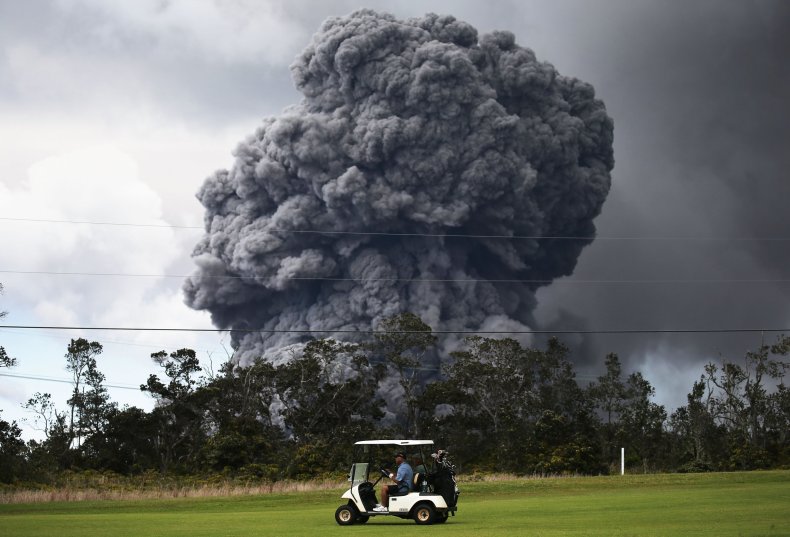 Newsweek subscription offers >
The ash cloud was moving in a southwestern direction, prompting an "unhealthy air" advisory in the Pahala community, 18 miles from the summit, Reuters reported.
The ash isn't toxic but it can irritate the eyes, the nose and airways. It presents a new hazard for the islanders, who have already had to deal with volcanic gas and lava that forced the evacuation of nearly 2,000 residents and caused the destruction of 37 homes in the past 12 days.
Kilauea is one of the world's most active volcanoes. The HVO warned the current eruption could become more violent as "ballistic projectiles may be produced should steam-driven explosions occur," but their impact would be limited to the area around the crater.
Related: Kilauea volcano eruption: Dramatic photos of huge ash plumes and lava flows in Hawaii
Newsweek subscription offers >
In a separate note, the Hawaii Civil Defense agency dispelled rumors of a tsunami concern. "According to the Hawaiian Volcano Observatory, there is no geologic evidence for a tsunami-generating earthquake at this time. Any such event is extremely unlikely," read a statement published Tuesday evening.
Hawaii Kilauea Volcano Red Alert: Major Eruption 'Imminent' as Ash Cloud Rises 12,000 Feet in the Air | U.S.