The devastating wildfires in Hawaii have brought a new conspiracy theory from climate change deniers who suggest that the destruction was orchestrated by the federal government's directed energy weapons (DEW).
Social media users are circulating photos of light beams and lasers that they claim were taken from Hawaii before this week's deadly fires burned down historic landmarks and killed at least 55 on the island of Maui.
"If the fires in Hawaii were natural, what in the h is this?" one user captioned a photo on X, formerly Twitter. The platform flagged the post with a warning that read, "Image captures an event that occurred in Michigan in 2018, not a current event in Hawaii."
"The Directed Energy Weapons (DEWs) being used on Hawaii are powerful enough to set the Pacific Ocean on fire," far-right online personality Stew Peters said.
DEWs involve "high energy lasers and other high power electromagnetics" that "use concentrated electromagnetic energy to combat enemy forces and assets," according to the U.S. Government Accountability Office (GAO).
Although the Defense Department has spent $1 billion annually on developing these weapons to take down missile and drone threats, an April 2023 GAO report says the department has had trouble deploying these technologies outside of labs because of a lack of transition planning.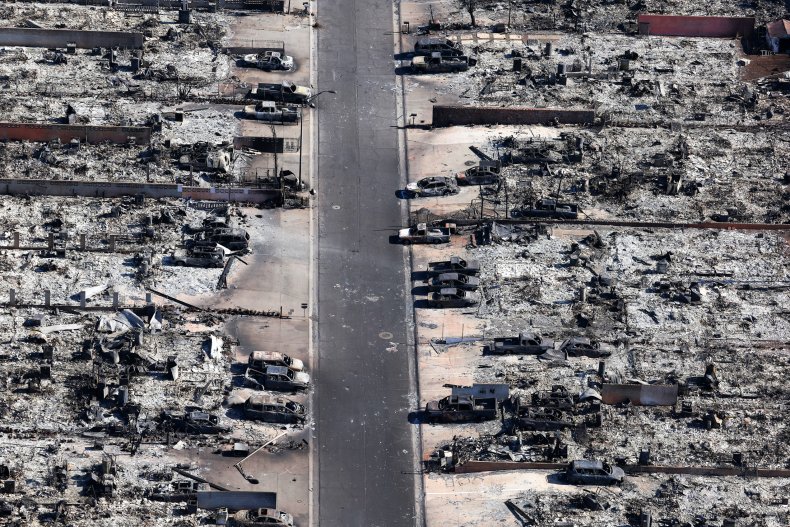 The new conspiracies seem to arise from the fact that the Air Force Research Laboratory had devoted a whole wing to developing DEWs "for all air traffic intersecting Hawaiian airspace and territorial waters" in 2007, according to a Wired story. The Directed Energy Directorate is located at the Kirtland Air Force Base in New Mexico.
Newsweek reached out to the Air Force Research Laboratory via the press inquiry form on its website for comment.
State officials have said that various forms of extreme weather, like dry conditions, low humidity and high winds, set Hawaii up for the extreme wildfires, but their exact cause remains to be determined.
"We don't know what actually ignited the fires, but we were made aware in advance by the National Weather Service that we were in a red flag situation. So that's dry conditions for a long time—so the fuel, the trees and everything was dry," Major General Kenneth Hara of Hawaii's Department of Defense said.
The blazes began as scattered brush fires at the beginning of this week, but a rapid spread fueled by the lack of humidity and strong winds from Hurricane Dora turned them into the most lethal wildfires seen in the U.S. since 2018.
Tens of thousands of people have been evacuated, and the death toll is expected to rise as rescuers continue their search and recovery efforts. With Dora, a Category 4 storm, moving farther away from Hawaii and 80 percent of the fires contained, people are expected to be allowed to return by the weekend.
"What we saw was likely the largest natural disaster in Hawaii state history," Governor Josh Green said Thursday in a social media post.