Hawaiian Wind Farm Protesters Arrested, Say Windmills Too Close to Homes, Citing Noise Pollution and Migraines
Over 20 anti-wind farm protesters were arrested Friday morning in Honolulu. They were protesting a proposed wind farm, which the protesters claim would create noise pollution and cause migraines in nearby residents.
Protesters blocked the road into Kahuku Agricultural Park, where the wind farm is slated to be constructed, and the exit along Kawailoa. Police also suspect protesters of cutting down a utility pole overnight in an attempt to stop the equipment convoy. This prevented the delivery of turbine parts, according to the Honolulu Star-Adviser and Hawaii Public Radio.
Protesters gathered late on Thursday, and at least a dozen settled under a canopy, where they participated in a peaceful protest overnight. More than 65 individuals in total were part of the protests, which were scattered across multiple locations— including Kalaeloa in Kapolei, where the heavy-equipment for the convoy was stationed.
Protesters near the Kahuku duct-taped and zip-tied themselves to one another, accompanied by protesters who circled them, chanting, singing and carrying Hawaii state flags. They were there for a half hour until arrests began, after police gave the protesters a half hour to move.
"Getting arrested for something that you believe is right, in our eyes, it's righteous. Enough is enough and we need to stand and rise," Kaukaohu Wahilani, a Waianae resident, told Hawaii News Now.
In all total, 16 women and 6 men were arrested, and their bail has been set at $100 each.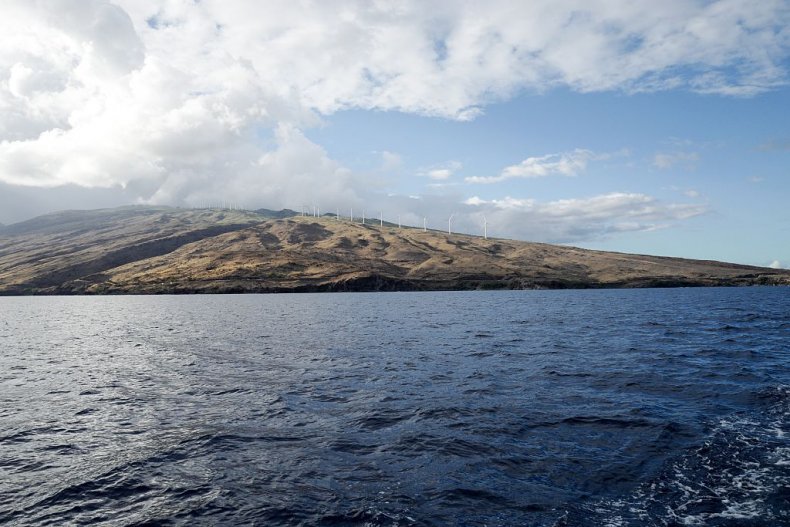 Local residents have been protesting the construction of the wind farm along Oahu's North Shore for over ten years, long claiming that the construction site is too close to school and residential areas on the island. They also say Kahuku residents were not consulted before the wind farms were approved.
Organizers of an October 13 peaceful protest against the turbines said that "the government failed to act to protect Kahuku residents from the harm these turbines will cause to residents and wildlife. This small town of 2,300 people will be surrounded by 20 industrial turbines and unfairly bear the burden of having 40 percent of all the existing turbines on O'ahu in its backyard." Organizers also called it an "environmental injustice."
Kahuku residents have also claimed that the turbines lead to health problems, such as nausea and migraines caused by the noise and light stemming from the turbines. AES, the company responsible for the turbines' construction, dispute this claim and say the turbines have no negative health effects.
The successful protest was led by Ku Kia'i Kahuku, or Protectors of Kahuku, who have declared their preference for an exploration of other energy sources, such as solar farms, which, according to them, would do no damage to local wildlife nor the health of the populace. The construction project is at a standstill, and AES has not tried to transport any further equipment since the protest.
"Our stand is just to stop the turbines and to make our voices heard for once," said Kamalani Keliikuli, vice president of Ku Kiai Kahuku. "We've been fighting this fight for 10 years."
"We feel comfortable with the work that we've done with the comprehensive studies that we've done to ensure that we are building a project that is safe, secure, and is going to ultimately benefit the state and its long-term energy goals," countered Mark Miller, chief operating officer for AES US Generation.
AES Corporation's Na Makani Wind Project would add eight turbines to the park and be the third wind farm on the island.
Correction (10/22, 10:44 a.m.): This story has been updated to correct Mark Miller's title. He was previously listed as the chief operating officer for AES. Miller is the chief operating officer for AES US Generation.