Hawaii's Kilauea Volcano Eruption: Dramatic Photos of Lava Fountains and Toxic Gas Clouds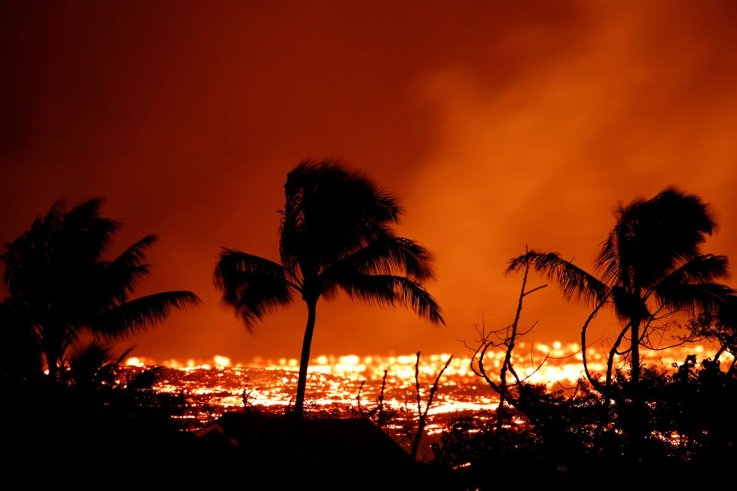 Deadly white clouds of acid and fine glass-like particles are hanging over Hawaii's Big Island as lava from the erupting Kilauea volcano flows into the ocean. The caustic plume, which can be fatal if inhaled, is the latest hazard in an eruption that shows no signs of stopping.
The cloud of "laze" (a combination of "lava" and "haze") could extend as far as 15 miles, mostly along the coast and offshore, geologists said. Even a wisp can cause eye and respiratory irritation, and it causes acid rain that has corrosive properties equivalent to diluted battery acid, the U.S. Geological Survey said.
Molten lava crept into the grounds of a geothermal power plant site, as workers rushed to shut down the facility to prevent the uncontrollable release of toxic gases. Crews worked into the night to cap the 11th and final well at the Puna Geothermal Venture (PGV) plant, which provides about 25 percent of the Big Island's power.
The plant has been closed since shortly after lava began erupting on May 3 through newly opened fissures in the ground running through neighborhoods and roads on the far eastern flank of Kilauea. Within a week, some 60,000 gallons of the highly flammable chemical pentane, which was stored at the plant, were moved from harm's way.
Geologists say Kilauea's eruption, which has already produced around two dozen lava-spewing fissures, has now entered a more violent phase, in which larger volumes of molten rock are oozing from the ground and traveling farther than before.
At least 44 homes and other structures have been destroyed in the Leilani Estates and Lanipuna Gardens area of the Puna district, and a man was seriously injured on Saturday (May 19) when a plate-sized chunk of molten rock shot out of a fissure and struck him on the leg.
Two thousand people have been ordered from their homes due to lava flows and toxic sulfur dioxide gas. The Hawaii National Guard has warned of more mandatory evacuations if more highways are blocked.
This Newsweek slideshow shows towering lava fountains erupting from fissures, while molten rock flows slowly downhill toward the sea, consuming trees and buildings in its path.
— Reuters contributed to this report.