'Hawkeye' Release Time: When the New Marvel Show Is Coming to Disney+
Draw those bows, Hawkeye fans: Clint Barton's Disney+ series is about to be released. The latest chapter in the Marvel Cinematic Universe (MCU) comes to the streamer this November.
In Hawkeye, Barton (played by Jeremy Renner) is dealing with the problems he created for himself during his time as Ronin, while also working with a new archer Kate Bishop (Hailee Steinfeld). As for what else Marvel fans can expect... as usual, Disney is keeping details under wraps.
What we do know, however, is exactly what time fans can expect the episodes of the show to come out. Here's when viewers can expect Hawkeye to be released on Disney+.
'Hawkeye' Release Time
The premiere of Hawkeye is set for Wednesday, November 24. The show is following the same release pattern as WandaVision before it, with Disney+ releasing two episodes the first week followed by one episode every Wednesday after that.
The show's first season has six episodes, meaning that Marvel fans can watch episodes every Wednesday until December 22.
What time are those episodes coming out? Like most streaming services, Disney+ releases its shows at midnight Pacific Time (PT). When it releases where you are depends on your time difference from America's West Coast. Here's when to expect episodes in the major Disney+ territories: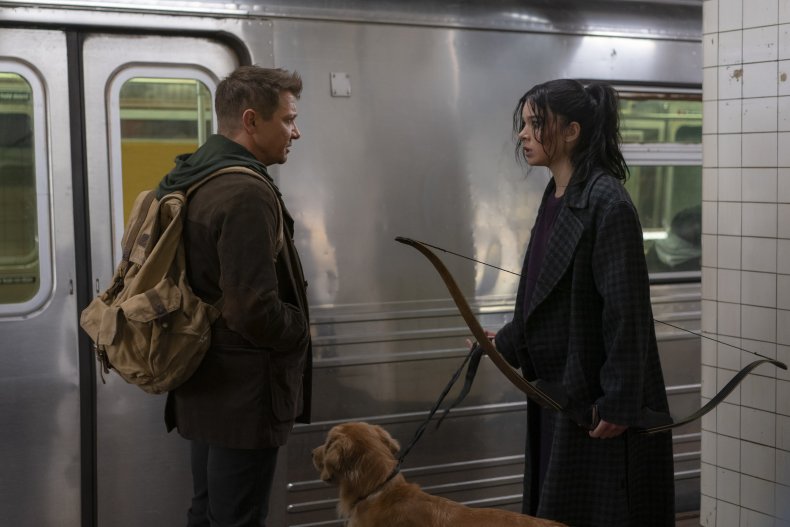 Argentina: 5:00 a.m. ART
Australia: 4:00 p.m. AWST / 4:45 p.m. ACWST / 5:30 p.m. ACST / 6:00 p.m. AEST / 6:30 p.m. ACDT / 7:00 p.m. AEDT/LHDT
Austria, Belgium, Denmark, France, Germany, Italy, Luxembourg, Monaco, Netherlands, Norway, Portugal, Spain, Sweden, Switzerland: 9:00 a.m. CET
Brazil: 5:00 a.m. BST / 6:00 a.m. FNT / 4:00 a.m. AMT / 3:00 a.m. ACT
Canada: 12:00 a.m. PST / 1:00 a.m. MST / 2:00 a.m. CST / 3:00 a.m. EST / 4:00 a.m. AST / 4:30 a.m. NST
Chile: 5:00 a.m. CLST / 3:00 a.m. EASST
Colombia: 3:00 a.m. COT
Costa Rica, El Salvador, Guatemala, Honduras, Nicaragua: 2:00 a.m. CT
Ecuador: 3:00 a.m. ECT / 2:00 a.m. GALT
Finland: 10 a.m. EET
Greenland: 4 a.m. AST / 5 a.m. WGT / 7 a.m. EGT / 8 a.m. GMT
India: 1:30 p.m. IST
Indonesia: 3 p.m. WIT / 5 p.m. EIT / 4 p.m. CIT
Japan: 5 p.m. JST
Mauritius: 12:00 p.m. MUT
Mexico: 12:00 a.m. PST / 1 a.m. MST / 2 a.m. CST / 3 a.m. EST
New Zealand: 8 p.m. NZST
Panama: 3:00 a.m. EST
Paraguay: 5:00 a.m. PYST
Peru: 3:00 a.m. PET
Puerto Rico: 4:00 a.m. AST
United Kingdom, Ireland and Iceland: 8:00 a.m. GMT
U.S.: 3:00 a.m. EST / 2:00 a.m. CST / 1:00 a.m. MST / midnight PST / 11:00 p.m. on Nov 23 AKT 10:00 p.m. on Nov 23 HST
Uruguay: 5:00 a.m. UYT
Venezuela: 4:00 a.m. VET
What to Expect From 'Hawkeye'
The official Disney+ synopsis reads: "Disney+ and Marvel Studios invite you on an unexpected holiday getaway with Hawkeye, a new series set in post-blip New York City. Former Avenger Clint Barton has a seemingly simple mission: get back to his family for Christmas. Possible? Maybe with the help of Kate Bishop, a 22-year-old archer with dreams of becoming a Super Hero [sic]. The two are forced to work together when a presence from Barton's past threatens to derail far more than the festive spirit."
Like the other Disney+ Marvel shows like The Falcon and The Winter Solider and Loki, the show is set after the events of Avengers: Endgame, and will explore the effects of that time on Barton's life. While WandaVision saw Wanda (Elizabeth Olsen) grappling with the death of Vision (Paul Bettany) and The Falcon and The Winter Soldier was about Sam Wilson (Anthony Mackie) deciding whether he was ready to take on the mantle of Captain America, Hawkeye has Barton wrestling with his time as the vigilante assassin Ronin. The character made plenty of enemies during that time—and some of them are sure to be out for revenge as he tries to get home for the holidays.