Christmas arrived in the final episode of Hawkeye and Marvel fans will be thrilled with their presents this year.
The hour-long finale featured almost non-stop action and a post-credit scene that fans have been clamoring for since Episode 1 of Hawkeye dropped. Jeremy Renner and Hailee Steinfeld's six-episode series has now come to an end, but there was plenty of drama and action saved for the final episode.
Episode 5 had unveiled the show's new villain, who was familiar to fans of the Netflix series Daredevil, and Episode 6, "So This Is Christmas?" showed us all why we should be so scared.
A lot happened in the finale, so with a spoiler warning in place, here's a recap of events from Hawkeye Episode 6 "So This is Christmas?"
Kingpin's Arrival
He just appeared in a picture in Episode 5, but the opening of the finale wastes no time in introducing Vincent D'Onofrio as Wilson Fisk, aka Kingpin. He meets with Eleanor (Vera Farmiga) who informs him that she wants out of their arrangement. It turns out she's the one who killed Armand Duquesne III then framed her fiance as the head of the Tracksuit Mafia.
Thanks to Yelena (Florence Pugh), Kate sees this conversation unfold and is shaken by the revelations. Clint calms her and in a very sweet moment tells her that they're in it together because they're partners, just like she'd always wanted. Preparing for the fight that's to come, he informs her that they're able to make more trick arrows too. It whets the appetite for the oncoming battle as we see them create arrows using Stark and Pym technology.
Meanwhile, with her conversation with Clint/Ronin still playing on her mind, Maya (Alaqua Cox) informs Kingpin that she's taking a break from their operation. Kingpin and Kazi (Fra Fee) see through her immediately though.
D'Onofrio is once again on tremendous form as Kingpin, and it'll be interesting to see if Disney+ dilute the character at all, considering how brutal and unforgiving he was in Netflix's Daredevil.
As is typical for Kate's high society life in New York, there's an extravagant holiday party happening at Rockefeller Plaza, so Kate, Clint and the LARPers infiltrate to try and protect Eleanor. This is where the episode's frantic action begins, with many characters coming into play.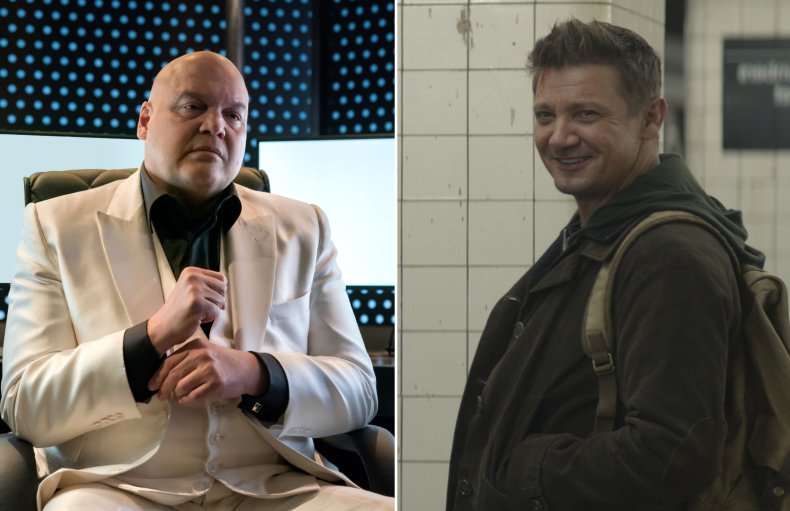 Yelena arrives at the party too, dead set on killing Barton for her assignment, and to get revenge for her sister Natasha. Kate does her best to stop her, and the pair continue to bond even while fighting through the floors and corridors of the Rockefeller Center.
It turns out heroes don't use stairs with both Kate and Clint zip-lining out of the building. Kate just about lands safely after following Yelena's wire, while Clint accidentally ends up in the Rockefeller Christmas Tree, where he also meets an adorable tiny owl living inside.
Jack Duquesne completes his character arc by helping Kate fight the onslaught of Tracksuit Mafia members with his sword. He'd somehow been released from jail and receives an apology from Kate for everything her mom had done to him.
The Tracksuit Mafia turn up in multiple "Trust A Bro" vans to fight Kate and Clint on the Rockefeller ice skating rink in an impressive set piece filled with violence and trick arrows. Much to Kate's delight, Clint is also wearing the new costume she and the LARPers made for him.
The final satisfying trick arrow we see is a Pym-Tech arrow that shrinks an oncoming van that was filled with Tracksuit Mafia members. Pondering what they'll do with it next, Clint says: "I'll have to ask Scott on that one," before the aforementioned owl emerges from the tree and takes the truck away.
Elsewhere, Maya has returned to the fight and goes one on one with her good friend Kazi. He refuses to back down and their altercation ends when she makes Kazi stab himself with a stray arrow.
Kingpin arrives on the scene too and threatens Eleanor before Kate arrives to save the day. Meanwhile, Clint is separated from her as he fights Yelena.
Clint and Yelena's battle ends as Yelena inevitably realizes Clint loved Natasha too, quashing her feud with him.
Kate's fight with Kingpin is far more interesting as we get to see the might of D'Onofrio's character once again. He takes an arrow directly to the chest and snaps it off as if it's nothing. He dusts himself off after being hit by a car Eleanor was driving, only to dominate Kate in a fight, his size and weight proving too much for her to handle.
Using the Coin Trick
After he snaps her arrows, it's looking bleak for Kate until she uses the coin trick Clint taught her to blow up a trick arrow underneath his feet.
Later on, a wounded Kingpin is running through the streets and bumps into Maya. Avenging her father, she pulls a gun on him and appears to shoot him dead. We only hear the sound of a gunshot as the camera pans away. Either Kingpin has gone and this is Disney not wanting to show the gore, or the shot wasn't fatal and Kingpin survived somehow. Either way, it would be a shame to have Wilson Fisk leave the MCU so quickly when his character has so much potential.
Kate does what a hero needs to do and has her mom arrested for her crimes, even though Eleanor bitterly pleads with her, pointing out she's having her mother arrested at Christmas.
Once all the mess is cleared up, Clint keeps his promise to his kids and makes it home in time for Christmas Day, with Kate and Lucky the Pizza Dog in tow. Reuniting with his wife Laura (Linda Cardellini), Clint gives her the Avengers watch that started this whole sequence of events back in Episode 1. It turns out to be her watch and contains the Shield logo and the number 19 on the back. Anyone interest in delving further in what that means should look up who Agent 19 in the Marvel Universe is.
Ending the episode and the series, Clint and Kate head outside to burn the Ronin suit. Kate then asks Clint what he thinks her superhero name should be, Clint says he has a suggestion for her, and the Hawkeye logo appears on screen for the final time.
Hawkeye Post-Credit Scene
Even Marvel TV shows have now become famous for containing post-credit scenes. While Hawkeye's extra scene wasn't what fans were expecting, it's a doozy of a crowd-pleaser.
Rogers: The Musical was briefly shown in Episode 1, with Clint unimpressed with the Broadway production. Fans wanting to see more of it will be delighted to see that the post-credit scene from Hawkeye is the musical number "I Can Do This All Day" in its entirety.
Hawkeye is now over, but all six episodes of the season are available to re-watch on Disney+ now.