Hawley Hammers Energy Secretary on Gas Prices: 'Your Answers Are Insulting'
Things got heated today during a Senate Armed Services Committee hearing, which Newsweek attended, when Republican Senator Josh Hawley of Missouri questioned Secretary of Energy Jennifer Granholm over rising gas prices.
Hawley asked Granholm whether she found the rising prices of gas "acceptable," and Granholm answered that the U.S. can "thank the activity of Vladimir Putin for invading Ukraine" for the rising prices.
That answer lit Hawley up.
"With all due respect, Madame Secretary, that's utter nonsense," Hawley said in response. "The average gas price in my state was $2.07. Eight months later, eight months later, long before Vladimir Putin invaded Ukraine, that price was up over 30%, and it's been going up consistently since."
"What are you doing to reverse this administration's policies?" Hawley asked.
"It is not the administration policies that have affected supply and demand," Granholm replied.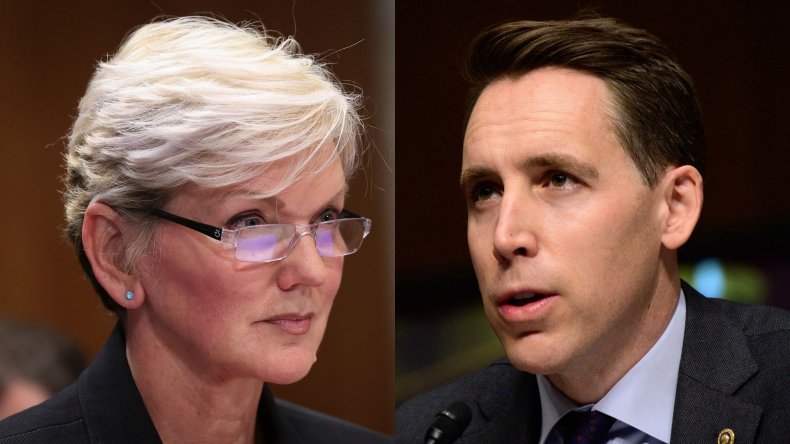 Hawley responded by rattling off a list of Biden administration decisions on climate, conservation and and energy, which included reentering the Paris Climate Accord, cancelling the Keystone Pipeline, suspending oil and gas activity in the Arctic National Wildlife Refuge, and issuing a 60-day suspension, early into office, on new oil and gas leasing and drilling permits for U.S. lands and waters.
Granholm addressed this comment by citing a survey of oil and gas executives issued by the Federal Reserve Bank of Dallas which she said found "that the administration's policies had nothing to do with the increase in the price of oil."
Hawley responded that information was something he was not "interested in." The senator pushed Granholm to answer whether she believed the administration's policies had "no effect" on the current prices.
"No, they did not," she answered. "The increase in demand and the decrease in supply [came] from pulling Russian barrels of oil off the market thanks to, rightly, the United States saying we're not going to take Russian oil. Coming out of COVID, there was an increase in demand because people were driving again. When there was no demand, the prices dropped. That is the basic law of economics."
"I have to say Madame Secretary, with all due respect, your answers are insulting," Hawley replied. "What are you doing to bring down the price of gasoline?"
Granholm argued that oil is traded on a global market. She said the U.S. is paying high prices, "just as they are in Japan, just as they are in Germany," but that the Biden administration is responding by calling for an increase of supply and "releasing barrels a million barrels a day" from the Strategic Petroleum Reserve to address the problem.
"We've called repeatedly for increases in supply from domestic oil and gas manufacturers, from international oil and gas manufacturers," Granholm said. "The Energy Information Administration has projected that they will have increased, in the United States, about a million barrels a day by the end of this year."