Hayden Christensen strikes back as he returns to the Star Wars universe, but does his recent appearance pave the way for his iconic character to return long-term?
Christensen first showed command of the Force in 2002 when he debuted as Anakin Skywalker in Star Wars: Episode II – Attack of the Clones. Now, 21 years later, he has appeared on the new Disney+ show Star Wars: Ahsoka, where fans were treated to a de-aged version of the actor, courtesy of some CGI wizardry.
He popped up at the end of Episode 4 and throughout Episode 5 of Ahsoka, where he met his old Padawan apprentice Ahsoka Tano, played by Rosario Dawson, in a mysterious realm known to Star Wars fans as the World Between Worlds.
Viewers were both happy and puzzled to see him. The villain Anakin eventually became in the series, Darth Vader was voiced by James Earl Jones throughout the original Star Wars trilogy — 1977's A New Hope, 1980's The Empire Strikes Back and 1983's Return of the Jedi, in which Vader met his demise, as well as in the prequel film Rogue One: A Star Wars Story, which took place before the events of A New Hope.
Hayden Christensen's Star Wars Appearances to Date
Christensen's Anakin Skywalker is pivotal to all of the productions in the franchise. Fans were first introduced to a young Anakin, played by Jake Lloyd, in Star Wars: Episode I –The Phantom Menace in 1999.
Christensen then played an adult version of Anakin in Attack of the Clones and 2005's Star Wars: Episode III – Revenge of the Sith. Corrupted by the Force, he later became the evil Darth Vader, although he realized the error of his ways in his final moments and was redeemed through his bond with his son, Luke Skywalker.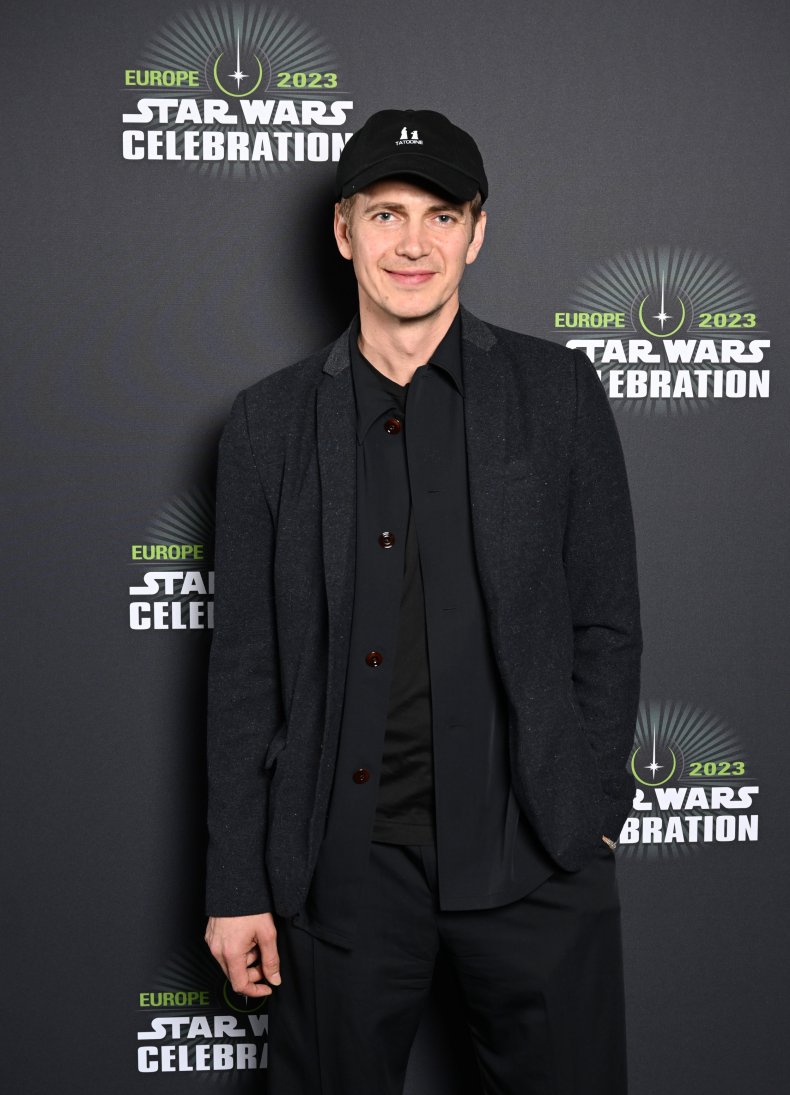 Christensen has appeared multiple times in the franchise in recent years, and with his CGI de-aged self in Ahsoka, fans are already expressing a desire for his version of Anakin to get his own spinoff series.
Not only does Christensen reprise his role in Ahsoka, but he also voiced Anakin in Star Wars: Episode IX –The Rise of Skywalker in 2019 and appeared in multiple episodes of the Disney+ series Obi-Wan Kenobi last year, facing off against Ewan McGregor for the first time since they shared the screen in Revenge of the Sith.
The character of Anakin was voiced by Matt Lanter in the animated series Star Wars: The Clone Wars, and by James Earl Jones when he returned as Darth Vader in Star Wars Rebels.
Christensen revealed that he was never asked to voice Anakin in The Clone Wars series while doing press for his film Jumper in 2008. "I never got the call...tell them to ask me about that and I'll be happy to lend my voice," he said at the time.
When Does Ahsoka Take Place in the Star Wars Timeline?
Ahsoka takes place several years after the events of Return of the Jedi and the animated series Star Wars Rebels, and the story is likely unfolding around the same timeframe as the events of The Mandalorian Season 3. Ahsoka made her live-action debut in The Mandalorian Season 2 and then cameoed in The Book of Boba Fett, which continued Grogu and Din Djarin's storyline.
In Season 2, Episode 5 of The Mandalorian, Ahsoka captured Morgan Elsbeth (Diana Lee Inosanto), who was subsequently broken out of New Republic custody in the first episode of Ahsoka.
In this period, Darth Vader is dead, Luke Skywalker (Mark Hamill) has begun training Force-sensitive children like Grogu in the ways of the Jedi, Princess Leia Organa is a senator alongside Mon Mothma (as revealed in a subtle namedrop in Episode 5 of Ahsoka). The New Republic has begun rebuilding the galaxy and trying to dismantle the remnants of the Empire left after the defeat of Emperor Palpatine and Darth Vader.
So how does Hayden Christensen's version of Anakin appear?
Through the magic of the Force, of course. Anakin appears in a realm known as the World Between Worlds, a plane that exists within the Force and outside of time. This is what allows Anakin and Ahsoka to revisit pivotal moments from Ahsoka's past as a test to see if she can overcome her fears and renew her purpose as a mentor for Sabine (Natasha Liu Bordizzo). Ahsoka has spent years haunted by the idea that she is too much like her master and shaped by the horrors of war, so she might someday succumb to the Dark Side as he did.
By choosing not to strike Anakin down in anger during their lightsaber fight, she proves—as Luke and Obi-Wan did before her—to have the heart of a true Jedi, even having renounced the Jedi Order during the Clone Wars. Anakin expresses pride in her growth, telling her, "There's hope for you yet."
As for why Ahsoka sees this version of Anakin instead of Vader at this point in the timeline: it makes sense from a character perspective, given that Anakin was Ahsoka's Jedi Master and trained her from childhood, so this is the version of Anakin she has the strongest attachment to and memory of—especially as she has always struggled to come to terms with his turn to the Dark Side.
Star Wars Fans Praise Hayden Christensen's Return as Anakin
Christensen's recent Ahsoka cameo became a major talking point on social media.
One fan on X (formerly Twitter) wrote: "Ep 5 was important for #Ahsoka character development, but Hayden Christensen truly shined here. His ability to convey both the warmth of #Anakin and rage of #DarthVader elevated the episode and showed his range as an actor. George Lucas really nailed this casting more than 20 years ago."
Another person said: "Hayden Christensen remains the King of Lightsaber Combat."
One X user wrote: "Okay hear me out, we need more Hayden Christensen in Star Wars."
Another posted: "Hayden Christensen was always great as Anakin Skywalker, and I'm happy he's finally getting that recognition!"
One fan pointed out how opinion of Christensen's performance has shifted in the years following the release of the prequel trilogy: "20 years ago the Star Wars Fandom hated Hayden Christensen. Now, he's so revered that they want a spinoff Vader series."
Although Christensen has played one of the scariest villains in the galaxy, many fans have embraced his return.
Earlier this year, at the Star Wars Celebration event in London, he was left "emotional" by the outpouring of support and love from Star Wars fans, to the point of tears.
Asked about the fans' reaction to his return as Anakin in Obi-Wan Kenobi, he said: "I can't tell you how much this means to me."
"To see all the love that you have for this franchise and to see all the incredible costumes, it's just a very unique thing we all get to be part of and I'm very grateful for that."
Variations of the Anakin Skywalker/Darth Vader character (or his voice) appear in eight of the 11 live-action Star Wars films as well as in the animated TV series The Clone Wars (and the animated film and micro-series of that name), the animated TV series Rebels, and the animated web series Forces of Destiny.
Would you like to see Christensen reprise his role as Anakin Skywalker again? Let us know in the comments.
Update 09/18/23, 2:38 p.m. ET: This article was updated with additional information.