Hayley Williams, Kehlani and More Release New Music: What You Should Listen to Today
There's a staggering amount of new music released every Friday—so much so that it can be overwhelming to try and keep up. Luckily, we're here to help. Every week, Newsweek will highlight a handful of albums that are hitting streaming services, so you can always be up to date on the most exciting new releases.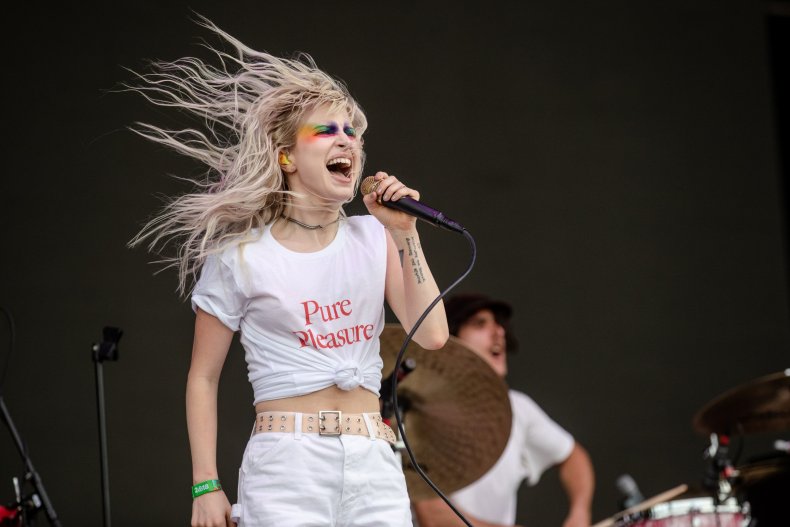 Hayley Williams, Petals for Armor (Atlantic)
The Paramore frontwoman built anticipation for her debut solo album, Petals for Armor, by releasing songs from the set via a pair of EPs (fittingly titled Petals for Armor I and II). Now, Hayley Williams has released the proper album, featuring all of the tunes from those EPs, and five more new tracks.
Taken together, the 15 songs prove that even without her Paramore bandmates backing her, Williams is a force to be reckoned with. She sings candidly about mental illness and overcoming adversity with both strength and calm. The 31-year-old gives voice to restrained but festering anger on the album's lead single, "Simmer," but still belts it out like longtime fans are used to on anthems like the romantic "Sudden Desire."
Elsewhere on Petals for Armor, Williams dabbles in a few different genres. The singer creates the most straightforward pop music of her career with songs like the instantly memorable "Dead Horse," and tries out goth-infused R&B on "Cinnamon." (Don't worry, there's emo, too, like on the aforementioned "Sudden Desire.")
While Williams has assured fans that Paramore is far from done in a recent L'Odet interview, Petals for Armor just shows what the band's fans have known for years: that Williams can stand on her own as a pop icon, transcending the pop-punk scene she was brought up in.
Listen to Petals for Armor on Spotify.
Kehlani, It Was Good Until It Wasn't (Atlantic/TSNMI)
On her sophomore album—which boasts features from James Blake, Tory Lanez and Jhené Aiko—Kehlani writes songs that find the point where seduction and heartbreak collide. On the on-off relationship anthem "F&MU," the singer opens up about being stuck in a relationship where "'I hate you' turns into 'I love you' in the bedroom." Kehlani lays out the dynamic in the opening track, "Toxic," in which she calls out a guy for being, well, toxic, and also laments getting stuck in the relationship's cycle.
Listen to It Was Good Until It Wasn't on Spotify.
Butch Walker, American Love Story (Ruby Red Recordings)
With his latest album, singer-songwriter and acclaimed producer Butch Walker crafts a rock opera about the division and struggles created by American politics. On the album's early singles, Walker details a number of different characters, including a man in a "Flyover State" where "Sexuality, religion politics: Nobody 'round here challenges that list," and someone who's just confused about the state of country, like on "Gridlock." In an interview with American Songwriter, Walker said, "I just want people to listen with an open mind and hopefully it will spark a conversation with their cousin or brother-in-law or coworkers or friends."
Listen to American Love Story on Spotify.
Choir Boy, Gathering Swans (Dais Records)
The second album from Choir Boy mastermind Adam Klopp features a dramatically moving vocal performance all throughout. Masterfully transitioning from deep moans to soaring falsettos, Klopp sings about romance and "overcoming nihilism" with a fitting sense of melodrama. Paired with dreamy instrumentals best exemplified on songs like "Shatter" and "Toxic Eye," Choir Boy's lyrics tickle a sweet spot that makes you want to scribble them all over a high school notebook. "I really should confide/Annie, I'm either prophetic or pathetic/I just can't decide," he sings at one point.
Listen to Gathering Swans on Spotify.