'Peacemaker' Cast on Making the HBO Max Show's Opening Credits Dance
Peacemaker, which launched on HBO Max on Thursday, January 13, features probably the most memorable opening credits sequence of any superhero show in recent years, simply for how ridiculous it is.
As the credits roll, the cast of the show put on their best dancing shoes and perform a hilarious number while in costume to the tune of Wig Wam's "Do Ya Wanna Taste It."
Showrunner James Gunn, and cast members John Cena, Jennifer Holland, Steve Agee and Robert Patrick spoke to Newsweek about the performance, with the creator calling it a "high point of the whole series."
James Gunn on Creating the 'Peacemaker' Opening Credits Dance
"Some of them understood it right away. You know, Jen Holland got it right away. And Steve, he got it right away, they've both known me for a long time," Gunn reflected on the impromptu musical number.
"John, I think, got it but was very uncomfortable with having to dance, but he worked on it. Danielle [Brooks] was like, 'What? I do not understand what is going on!' And she came in and she's like [waving her arms up and down], 'James, she's telling me to dance like this. What is that?'
"Just that's the plan, it's supposed to be over-the-top ridiculous, but remain completely serious. And she says,' OK, I guess.' And then after they started doing this, she was so into it."
Gunn explained it was "a long process" to film the opening credits sequence, before adding: "The cast put in a lot of work, most of them other than Robert Patrick, [who is] not the greatest dancer in the world, but most of them were pretty good dancers.
"Charissa Barton did the choreography for it. She was fantastic. We shot it in a high school auditorium in one day, and it was one of the high points of the whole series for me."
The 'Peacemaker' Cast on Filming the Dance Sequence
The toughest part about the dance number was not the moves themselves, but performing while wearing straight faces, according to the cast.
Agee described not smiling as "actually the hardest part," saying: "I mean, we had enough time to rehearse the moves [but it] is still difficult.
"But you know, on set, if you notice, none of us are smiling. We're all kind of dead faced. The biggest problem was people kept smiling and James had to be like, 'Alright, we're gonna take it again, do it again. Danielle, don't smile this time, you keep smiling.' That was the hardest part of the number was not smiling while we were shooting it."
Patrick concurred, saying: "It was a lot of pressure on us when we were filming it, because none of us wanted to screw up. We didn't want to be that guy! [There] was a lot of care involved with pulling that dance number off."
Holland said of the opening credits: "For me, it's about as hard as keeping a straight face throughout the entire series. But no, I mean, we all, I think, practiced that a lot.
"We worked with the choreographer Charissa Barton and she just had such a great energy. And she was so down to create this weird thing. And everyone was really just 100% in and dedicated themselves to it, and it came out exactly as it was supposed to be, just the weirdest thing you've ever seen."
"I love it so much, might be one of the coolest things I've ever taken part in, which was unexpected when I, you know, signed on to this thing," she added.
Cena agreed, saying: "I agree as well, and what a—not a happy accident because it was written into the script 100% as Jen said—but what a wonderful moment when someone's like, 'I was pleased with the opening credit sequence.'"
The first three episodes of Peacemaker are available on HBO Max now, and it will air weekly on Thursdays on the streaming platform.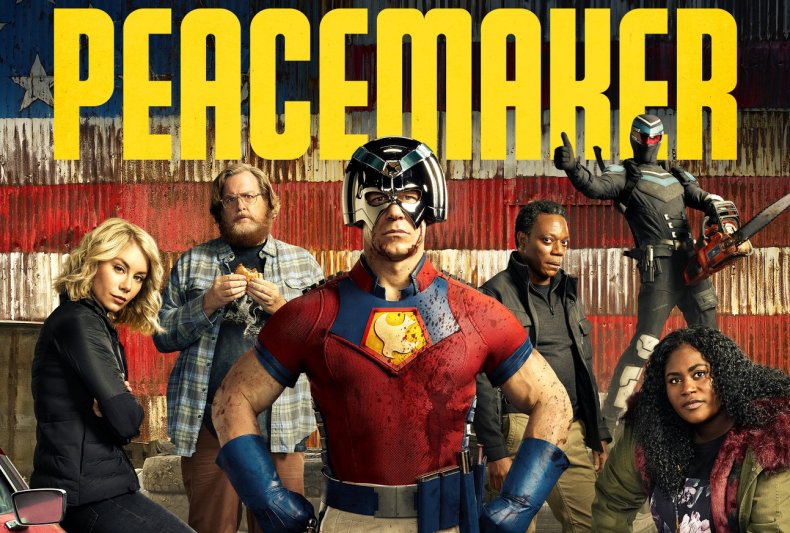 UPDATE 01/13/22 7:30 a.m. ET: This article has been updated to include links to related Peacemaker articles.