HBO 'Watchmen' Casts Six Lead Actors, Series Described as Nasty, Electric and Absurd
HBO's Watchmen has decided on at least six lead actors. Deadline reports Regina King (The Leftovers), Don Johnson (Miami Vice), Tim Blake Nelson (O Brother, Where Art Thou?), Louis Gossett Jr. (An Officer and a Gentleman), Adelaide Clemens (Rectify) and Andrew Howard (Hatfields & McCoys) will star in the upcoming series, which is expected to head into production this year. Damon Lindelof (Leftovers) penned the pilot and will executive produce the series.
The roles for each actor are being kept under wraps. Considering Lindelof said in a lengthy, heartfelt Instagram post to expect new characters in addition to to those introduced in Dave Gibbons and Alan Moore's classic, it's hard to speculate. According to Deadline's report, King is believed to be playing Angela Abar, Gossett Jr. as Old Man, Howard as Red Scare and Clemens as Pirate Jenny.
Lindelof used Instagram as an opportunity to explain how Watchmen profoundly impacted the way he thinks about the world, in addition to how he plans to respectfully bring the comic book to TV series.
"I am also looking for an elegant way to escape from this device of quantum observance, a device appropriated from Mr. Moore so that I can speak to those fans from the bottom of my cold thieving heart," he said. "I owed him an explanation as to why I'm defying his wishes and to humbly ask him not to place a curse on me because he knows magic and apparently, he can do that. His response, or whether he responded at all, is between he and I. Suffice to say, even before I sent it, Mr. Moore had made it abundantly clear that he doesn't want anyone to 'adapt' his work. To do so is hubris. Worse yet, it's unethical."
Lindelof continued, explaining how he interprets the creative process when it comes to the inspiration behind the characters Watchmen is based on. "So am I not allowed to do the same? No. I am not. I am not allowed. And yet...I am compelled."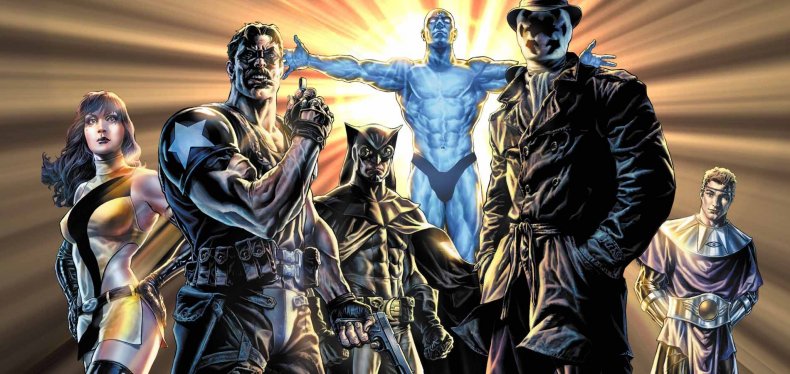 "Understanding its potential through the perspectives of women, people of color and the LGBTQ community has a been as eye-opening as it has been exhilarating," he continued "We are committed to doing the same in front and behind the camera."
Lindelof reiterated he has no desire to adapt Watchmen in the traditional sense of the word. He prefers to call it remixed. "The bass lines in those familiar tracks are just too good and we'd be fools not to sample them." he said.
The series, he described as absurd, nasty and electric. "Many describe Watchmen as dark, but I've always loved its humor--worshipping at the altar of the genre whilst simultaneously trolling it."
Lindelof concluded, "I want your validation. I also want to not want it. I've given up the opioid highs of Twitter, but continue to score my methadone in the threads of reddit and the hot takes of morning-after recappers."
Tom Spezialy and Nicole Kassell, both of Leftovers, will also serve as producers. Kassell will direct the pilot. HBO has not specified a release date.