Sharon Horgan is Ready to Take America Penning HBO's Divorce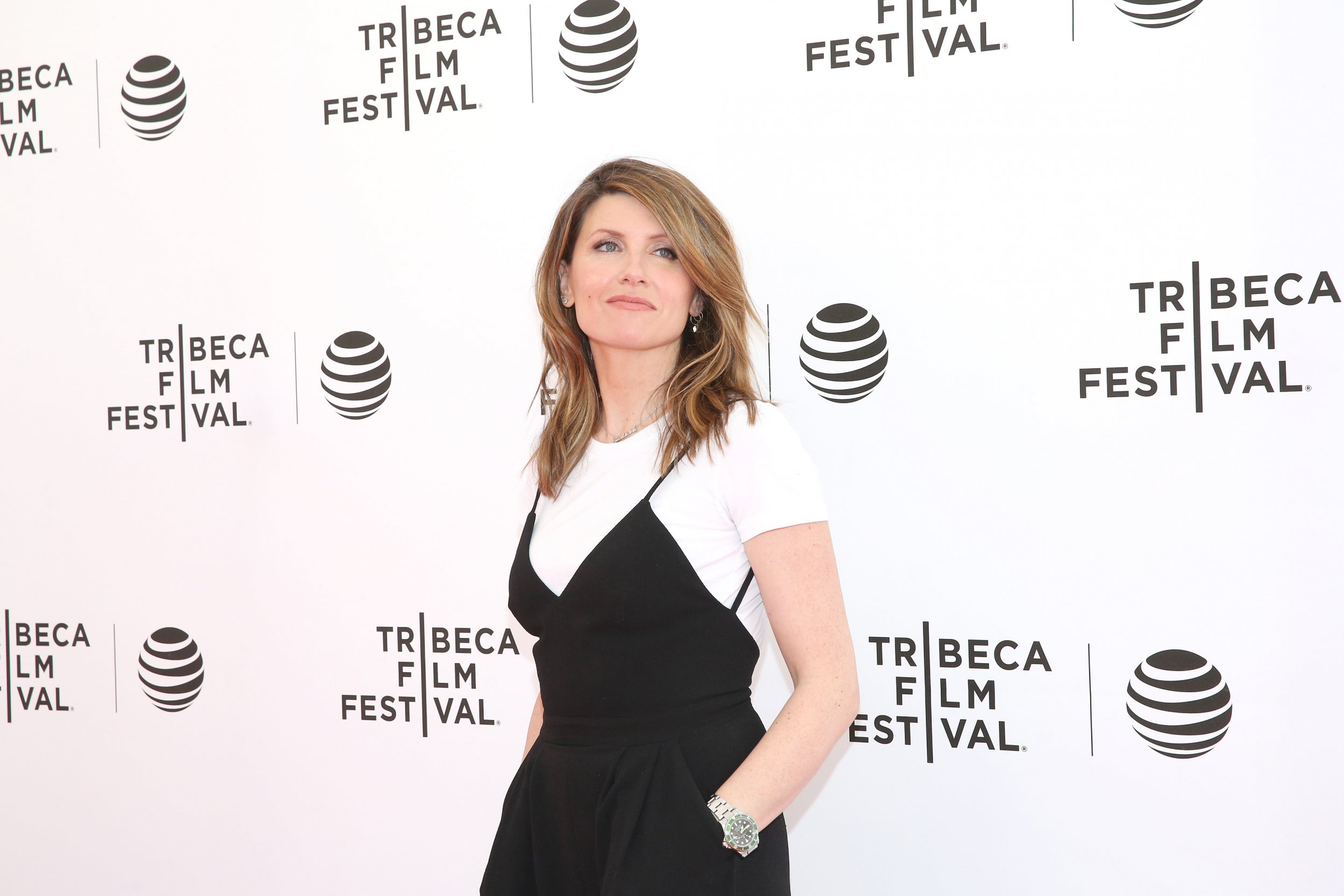 "It's actually really hard to do your game face. My face doesn't work on those terms—it tells you exactly what's going on in my brain. It's a real affliction," Sharon Horgan says with a laugh. She is talking about the Emmy Awards in September, where, upon losing the Outstanding Writing in a Comedy Series category to Aziz Ansari and Alan Yang for Master of None, the Catastrophe co-creator dramatically threw her head against co-creator Rob Delaney in faux outrage (see below).
"It was funny because Rob didn't follow through on our plan; I was like: 'I'm going to throw myself into your arms, you're going to cover my head with your hand and then push the camera away to stop rolling with the other hand.' It looked like I was like: 'Oh my God!' But I didn't mind, at least it looked like a real response… It's kind of funny."
"It's very hard for me to do the smile-and-clap thing," Horgan tells Newsweek. "Of course you're kind of gutted, not just because you didn't win, but because you then have to sit through a three-hour ceremony as a loser—all that shows in your face if you've got a face like mine."
It's this unabashed honesty, atypical of the behavior you might expect of an Emmy nominee, mixed with self-deprecation that makes Horgan one of the most exciting voices in British comedy. In many ways she is the successor to the late Victoria Wood, the trailblazing female comedian who, like Horgan, wrote and starred in her own television programs, and died in April.
Horgan first broke through in the U.K. with Pulling, the BBC Three sitcom about three single female friends navigating their complicated love lives, which she both co-wrote and starred in from 2006 to 2009. The series was a hit with viewers and critics and earned Horgan her first British Academy Television Award nominations for Best Sitcom in 2007 and Best Comedy Performance for her portrayal of Donna in 2009.
But it's Catastrophe that has become her biggest global calling card to date. First screened on Channel 4 in the U.K. in January 2015, and later acquired by Amazon for U.S. distribution, the comedy, about the aftermath of a one-night stand that results in Horgan's character falling pregnant, was in competition for both the BAFTA TV Awards and Emmys this year.
The dynamic between Horgan and Delaney, her co-creator and co-star, is electric on-screen: Rob and Sharon, the characters this time, can fluctuate from appearing as the sweet family at the end of the street, complete with white picket fence, to the couple trading most uproarious screaming matches that teeter precariously to crossing the line of good taste in the space of a scene. ("Is your email still impatientshithead@mean.jerk?" asks Rob in one of the show's most memorable scenes. Replies Sharon: "Yeah, is yours still fatidiot@badbreath.c**t?")
The performances are buoyed by a strong supporting cast that includes Extras' Ashley Jensen and Mark Bonnar as a bitter married couple and Star Wars veteran Carrie Fisher as Rob's interfering mother Mia, and, therefore, Sharon's mother-in-law. Put Sharon and Mia together and they make a Donald Trump versus Hillary Clinton presidential debate look like a meet-cute.
I ask, curiously, just what it is like to be able to scream all manner of vulgarity at the top of one's lungs to Princess Leia and get away with it? "It's one of the best things that's ever happened to me," Horgan laughs. "Getting to shout in Carrie Fisher's face is fun… She seems to like it. She gives as good as she gets as a character—she's got balls."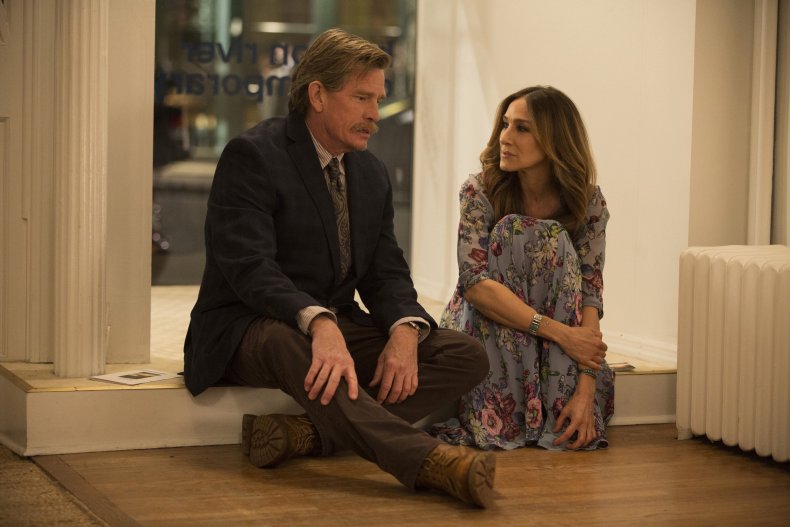 In truth, it would be easy to spend the whole of my allotted time with Horgan ruminating—and fawning—over Catastrophe, but that is not the project she joins me to talk about. She is currently promoting the new dramedy she's created, Divorce , which the public may know better as Carrie Bradshaw's triumphant return to HBO.
Parallel to shooting the pilot for Catastrophe with Delaney in 2014, Horgan, 46, was also taking meetings in New York with Sarah Jessica Parker to flesh out an idea the latter had for her television comeback a decade removed from Sex and the City's final televised outing (two movies would follow its HBO run).
"It didn't really exist as a project until we spoke," says Horgan of the woman she refers to as 'Sarah Jessica' with a casual coolness, but whom, to the rest of the world, is still the embodiment of the idyllic Manolo-wearing, Big Apple-dwelling, Vogue-writing Carrie Bradshaw. "She wanted to make a show that focused on a long-term relationship in demise," continues Horgan. "HBO wanted to team her up with someone; they had commissioned me to [write] something for them and it never got made, but they gave her a couple of those scripts and she responded to them. I think the tone was in line with what she was thinking she'd like to do."
Over lunch in New York—something, one might picture, similar to a scene from Sex and the City—they talked about their ideas for the show before Horgan went off to devise the pace of the half-hour program and the characters. What resulted was the story of Frances Dufresne (Parker), who, after decades of a seemingly perfect marriage, complete with two children and a house in the suburbs, comes to the realization she is no longer in love with her husband Robert, played by an unexpectedly hilarious Thomas Haden Church.
Horgan thought the idea of dissecting "the mechanics" behind divorce—the expeditious way lawyers, marriage counsellors and even real estate brokers operate—"would be interesting to watch… How different industries feed off the carcass of a dead relationship." One such example is the ruthless woman-hating lawyer Robert hires to represent him, Tony Silvercreek (Dean Winters).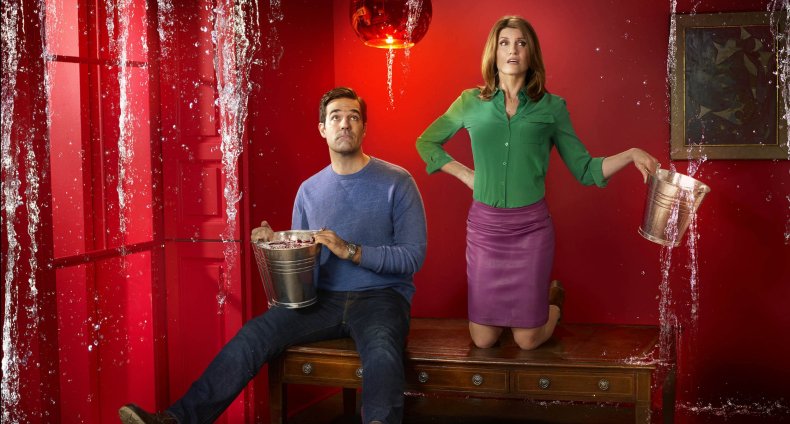 Divorce stands on its own merit, as the best HBO comedies do; it is funny, heartening and chockful of strong performances (Molly Shannon as Frances' erratic friend Diane)—but one cannot ignore the intrinsic, perhaps overwhelming, connection it has to Sex and the City . Working on a program starring Sarah Jessica Parker and airing on HBO is bound to draw comparisons between the two, yet, according to Horgan, "it was never a thing."
"Carrie, you watch and there's a wish-fulfillment [element], you aspire to be like her and want to live that life. Carrie always got what she wanted—an enviable job, an apartment in Manhattan," she explains. "But Frances never got to have the things she wanted. She put herself second, or last, for her family. She's got to a point where she's not her best self anymore."
There was, however, a self-imposed pressure on herself "but I had to shut that down and not think about it. I had to think of it in terms of writing any script and any show."
Intended or not, a lot of Divorce's ratings and critical success will be riding on its reteaming of Parker and HBO, but Horgan has already won—she has her name attached to one of the current television season's most talked-about shows. This in addition to Catastrophe's Emmy nomination last month.
Ask Horgan how her newly raised profile in the U.S. has changed her life and she'll admit, once again exhibiting that unabashed honesty, "it makes me a bit more cautious about what I do next. Not selective…" she takes a beat, "but careful."
Thankfully, what's immediately on the horizon is familiar ground: Catastrophe's third season, which has been "killing us for the last four months," Horgan says with good humored dramatism. "It's been hardcore. One day we'll go: 'It's a breakthrough,' and then we'll go: 'Oh no, it's a piece of shit.'"
The problem, she explains, is writing "not very happy" scenes stemming from the season two cliffhanger, which saw Rob discover Sharon cheated on him. "It's hard to write comedy about something that's not very happy. It's been a huge challenge, it's keeping us up at night."
In November, Horgan and Delaney will be back on set to film to film the third season of Catastrophe. Incidentally, this is around the time that she will also find out the fate of Divorce. Will viewers embrace it with the same warmth as Sex and the City and her own series? Or will it be a quickie for HBO, like the one-and-done Vinyl? At least Horgan can take some solace in being back in her happy place: screaming in Princess Leia's face. Bliss.
Divorce premieres on Sunday 9 October at 10 p.m. on HBO in the U.S. and Tuesday 11 October at 10.10 p.m. on Sky Atlantic in the U.K.