He Moved Into a New House And Inherited The World's Cutest Neighbor
A short video of a cuddly box turtle became an instant viral sensation after Reddit user, calabazadelamuerte, posted today about her adorable pet named Terry on social media.
Over on the Aww subreddit page, Terry's sweet origin story started when calabazadelamuerte and husband moved into their new home. The couple discovered the reptile pet lounging around in their backyard. Supposedly, Terry slowly crawled out of their yard-based burrow, a hole in the ground.
Reddit users became enamored with Terry as they watched him eat his delicious meal, which may or may not have been a cricket. Users, such as physx_rt and TreeCalledPaul, couldn't decide if Terry was eating a plum, a blueberry, or a cricket. But they all agreed the turtle is an omnivore, an animal that could eat plants and animal matter. Box turtles are known to eat vegetables, insects, and mice as part of their diet.
Calabazadelamuerte jokingly teased, "I had to get my husband to bring some more crickets!"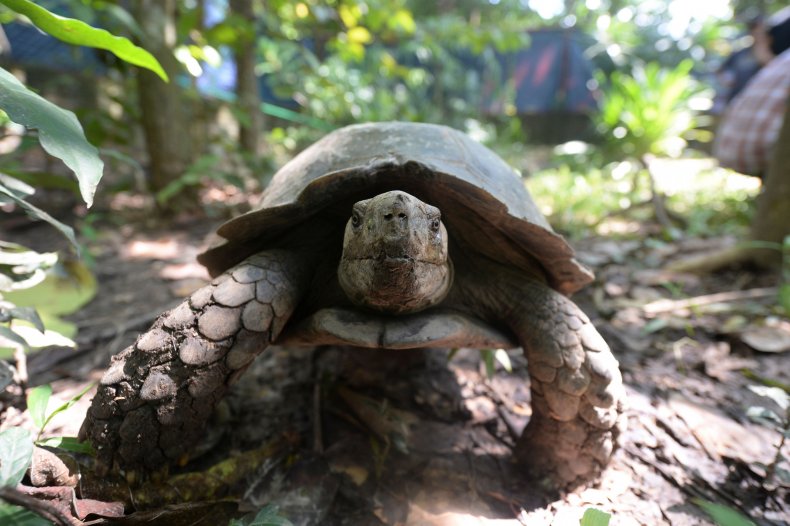 On calabazadelamuerte's Reddit page, user atomic_tigris asked, "Did you create an Instagram for him?"
calabazadelamuerte responded, "I haven't yet but maybe one day!"
I would definitely watch a collection of Instagram stories, or even even a livestream, just about Terry doing nothing, chilling all day, and eating crickets. Even though Terry isn't really a ninja turtle, I bet he would look super cute wearing a yellow bandana mask.