'He Nailed Jesus on a Crossing Pattern!': Pray for the Keenan Revue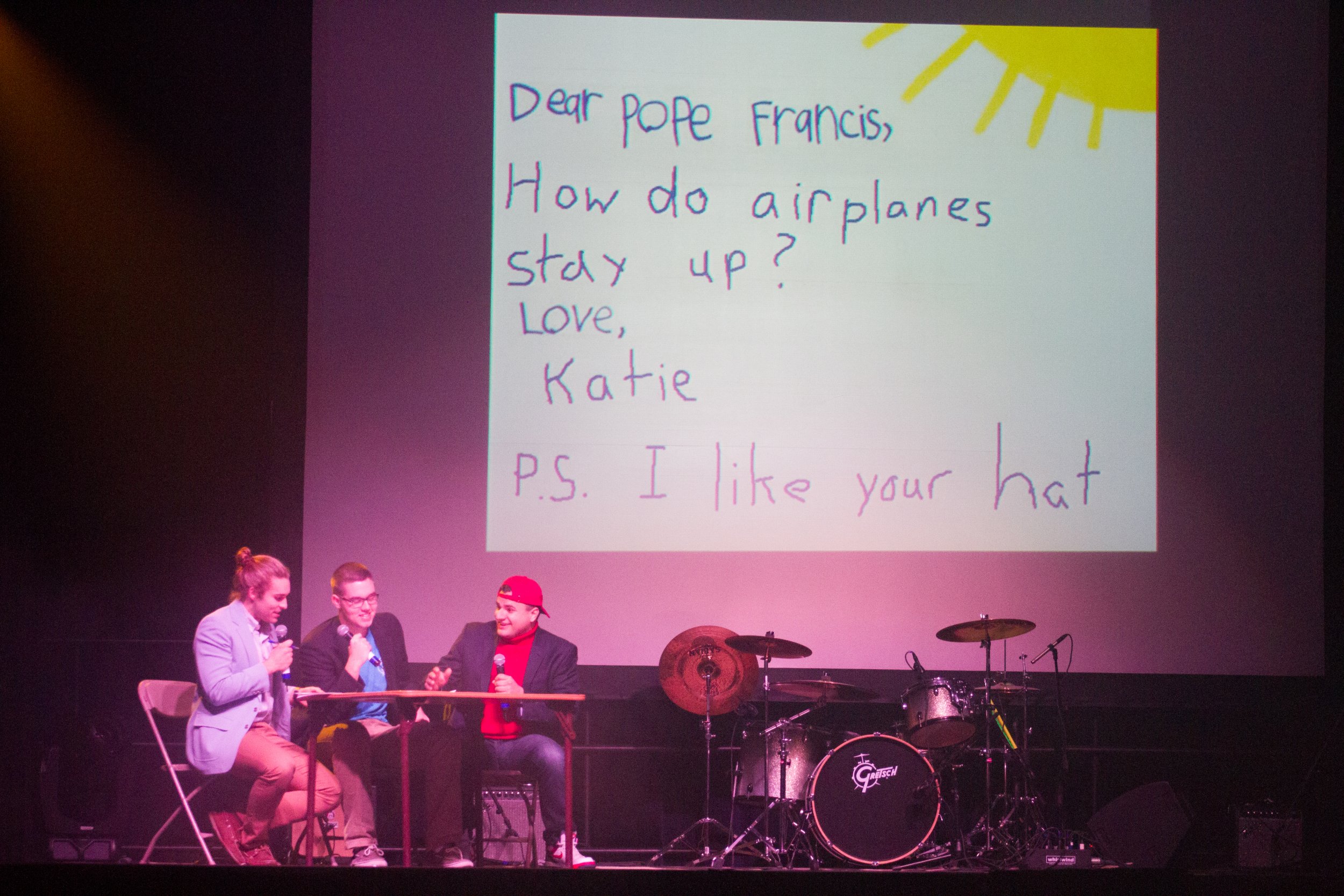 Tacking hard against the prevailing winds of political correctness that blow on college campuses these days, the Keenan Revue sets sail again this weekend. An annual tradition at the University of Notre Dame dating back to 1976, the Keenan Revue gleefully lampoons priests, female students, Fighting Irish football players, socially inept classmates, female students at neighboring St. Mary's College and Catholics: In short, it strafes its core audience which, as has always been the case, attends the show for free.
"We're reprising a skit from 1993 this year, a broadcast of a football game between Old Testament figures and New Testament figures," says the show's producer, Ryan Rizzuto. "So, for instance, you're going to hear a line like 'He nailed Jesus on a crossing pattern.'"
Notre Dame is a school of traditions far beyond what football-addled NBC viewers see on fall Saturdays. An annual campus boxing tournament, the Bengal Bouts, has been staged each winter since 1920 (Rudy Ruettiger–yes, that Rudy–was a two-time champ) while the world's largest five-on-five hoops tourney, Bookstore Basketball, is an annual rite of April extending back to the early '70s. The Keenan Revue, which is put on entirely by one men's dorm, Keenan Hall, was hatched 40 years ago by a pair of resident advisors (RAs).
"A student in our dorm was struck by a car and killed hitchhiking back from a bar across the state line in Michigan [where the drinking age was 18]," says Rick Thomas, one of the revue's co-founders. "It got me to thinking that the social atmosphere on campus was too bleak. Notre Dame had only begun admitting females a few years earlier [1972]. So that summer I phoned a friend of mine who was also an RA, Tom Lenz, and I suggested we put on a variety show."
"And I said, 'Let's do it,'" recalls Lenz.
The inaugural Keenan Revue was staged on November 6, 1976, in front of a packed house inside Washington Hall on campus. The opening number, performed completely in earnest, was "That's Entertainment." "We were completely agnostic about the kind of talent we had in our 300-person dorm when we first set out to do the show," says Lenz, who is now a community organizer based in Evanston, Illinois. "We soon learned that we had a poet, a juggler, a violinist. We even put together a pit orchestra."
"In a dormitory of approximately 300 men, I'd say at least 270 of us were somehow involved in that first show," says Thomas, who served as the MC. "The crowd spilled out onto the quad and listened on loudspeakers. We thought it would be a one-off, but the administration asked us to perform it again the following week. For a few months afterward, we were rock stars on campus."
Thomas was already somewhat known beneath the Golden Dome, as his older brother, Bob, had kicked the winning field goal against Alabama in the 1973 Sugar Bowl, the de facto national championship game. "Bob got all of the athletic genes in the family," says Thomas of his big brother, who went on to a 12-year NFL career. "I played freshman football in high school, but I was terrible. All I remember is that I got a roughing-the-passer penalty: I tackled the quarterback as he was walking back to the huddle."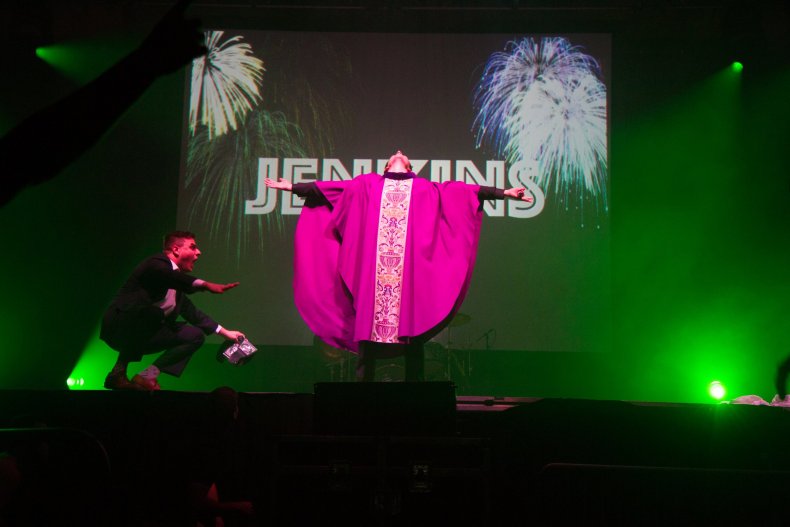 The original revue was inspired by Saturday Night Live, which had launched a year earlier. "We were certainly swept up by the zeitgeist that SNL was out in front of," says Lenz. "We even did a 'Weekend Update' in the middle of the show, which has become a staple of every show since."
The 2016 edition—dubbed "The 40-Year-Old Version"—will again resemble SNL (which, like Notre Dame home football games, airs on Saturdays on NBC). "We're doing a cold open with all the presidential candidates, in part because we have one guy who does a dead-on Bernie Sanders impression," says Jon Wiese, the revue director. "Donald Trump is going to suggest bombing Carroll Hall," a men's dorm that, geographically and metaphysically, has always existed on the South Bend campus's outer fringes.
All three shows for this year's revue technically sold out in one minute. "We had ticket distribution at 4 p.m. last Wednesday, but there was a crowd line snaking outside the student center by 1:30 p.m.," says Rizzuto. "It was raining and just above freezing. So we started handing out tickets for all three shows at 3:30 and they were gone by 4:01."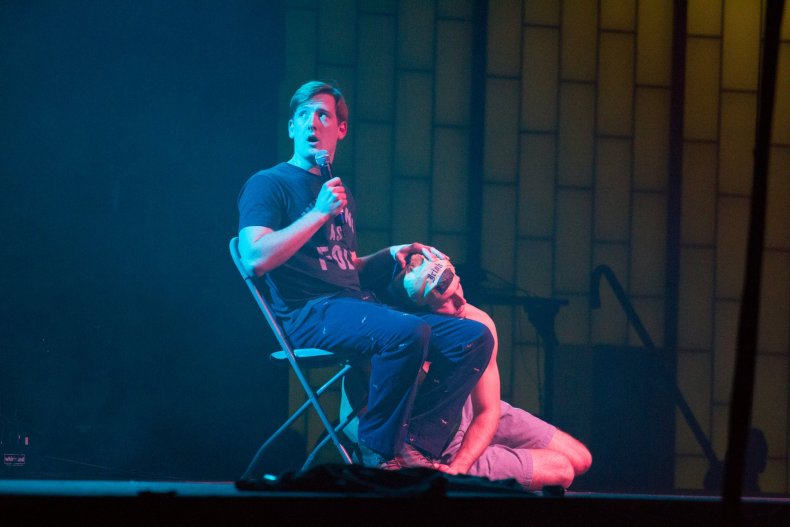 Like NBC's late-night comedy staple, the revue cast frantically writes and rewrites skits up until the curtain drops. "Every year during dress rehearsal inside Stepan Center [the on-campus venue] we have this horrifying realization," says Rizzuto, "that none of these jokes are funny."
Some of the punch lines fall flat, but many land solidly. Last year's revue featured a skit, written by Wiese, in which Notre Dame president the Rev. John Jenkins, who is an alum, boasts about his, i.e., the school's, "massive endowment." "We try to make fun of our lives here," says Wiese. "So there are frequent targets, such as the lame social life or the football team, which always is a source of disappointment."
Unlike SNL, the people who stage the Keenan Revue are still college students. "There was an accounting exam on Tuesday night so many of our sophomores missed rehearsal," says Rizzuto. "And we can't even begin setting up the 1,500 chairs in Stepan Center for opening night until a Thursday morning chemistry exam lets out."
That's showbiz. Thomas, by the way, found that the Keenan Revue unleashed an inner performing bug. He went on to be a performer and instructor at Second City in Chicago for years, mentoring the likes of Stephen Colbert and Amy Sedaris. Both he and Lenz will return to South Bend this weekend to watch the show they launched in 1976.
"It's very humbling," says Lenz. "There's not much you do in life that lasts 40 years. Marriage, maybe?"