'He Thought He Was Staying With Me': Woman Praised for Ending Online Date
Commenters stood firmly on the side of one woman who explained why she shut down a presumptuous date in a popular online forum.
In a viral Reddit post published on r/AmITheA**hole, Redditor u/DiscardedSandwiches said she recently used a dating app for the first time, and recounted how she reacted when her date assumed he would be spending the night with her. Titled, "AITA for telling a first date at the end of our 'date' he couldn't stay with me," the now-deleted post has received nearly 8,000 votes and 1,000 comments.
Writing that she is new to meeting people on the internet, u/DiscardedSandwiches said she refuses to reveal where she lives to anyone she is just meeting, and that she lets potential dates know that in advance. But during a recent first date, the Redditor said she had to repeat her boundaries multiple times.
"I had told this guy who I have only been messaging for 4 days that I did not allow strangers to stay at my place and I thought that was that," she wrote. "Well when I arrived to have a drink with this man, he mentioned staying at my place and I reiterated I do not allow strangers to stay and I also do not have a spare bed."
"I assumed he must [have] had other arrangements because he didn't push the issue," she added.
Around 11 p.m., however, her date again insinuated that he would be spending the night at her home.
"I have had a delightful time with this guy but it's late and I'm tired...it got awkward as I realized he thought he was staying with me," u/DiscardedSandwiches wrote. "I apologized to him and explained that it wasn't him, it was a blanket rule I have for all men, all people actually, I will not take them to my home until I know them."
"He seemed disappointed and I just changed the topic, called my taxi and went home," the Redditor added.
Boasting 55 billion matches and 51 percent of paying dating app users, according to Statista, Tinder is (by far) the most popular dating app in the United States.
On Tinder's website, the dating app provides recommendations for first encounters, as well as guidelines for avoiding potential financial scams. Advising users to never send money to anyone they meet on the app, and to never share sensitive personal information, Tinder recommends that dates meeting in person for the first time do so in public places.
"Meet for the first few times in a populated, public place — never at your home, your date's home, or any other private location," Tinder's website reads. "If your date pressures you to go to a private location, end the date."
Tinder also recommends that users are in control of their own transportation, and that if either party feels uncomfortable, the date should end immediately.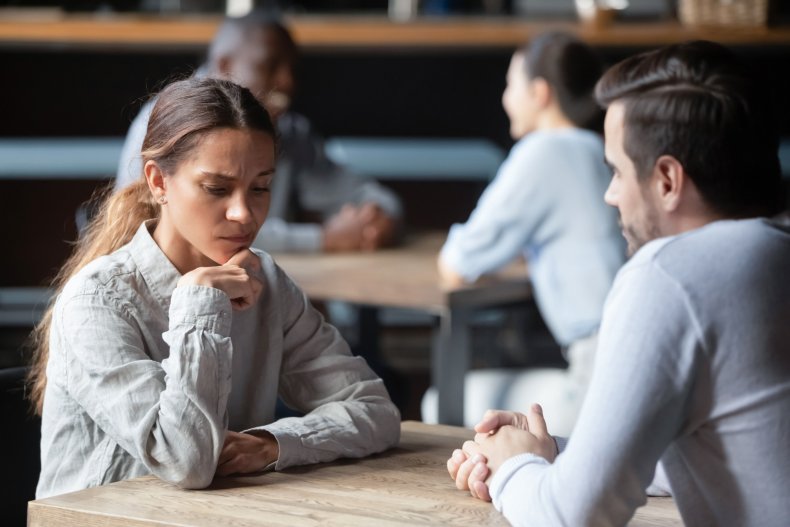 "We want you to be in control of how you get to and from your date so that you can leave whenever you want," its website reads. "It's okay to end the date early if you're feeling uncomfortable. In fact, it's encouraged...if your instincts are telling you something is off or you feel unsafe, ask the bartender or server for help."
Despite the Redditor's uncomfortability with her date assuming he would be spending the night with her, u/DiscardedSandwiches asked r/AmITheA**hole's 3.6 million members if she was wrong to deny him a place to stay.
"Perhaps I gave him the wrong impression and because of this a guy may be sleeping in the park," she wrote. "I should [have] been more stern about the seriousness of my no stranger policy."
However, Redditors responding to the viral post assured her that she was absolutely justified in keeping her date away from her home, and that asking to stay at a first date's house is not usual behavior.
In the post's top comment, which has received nearly 21,000 votes, one Redditor said that u/DiscardedSandwiches did exactly what she was supposed to, and dragged her date in the process.
"There was not a terrible miscommunication. You did not give him the wrong impression. You did not need to help him find accommodation," they commented. "You made it perfectly clear from the start and he insisted on trying to push his luck, either because he wanted the chance to get physical or that he simply couldn't be bothered to sort it out himself."
"You did nothing wrong," they added.
Echoing those sentiments, Redditor u/No-Setting764 said the date attempted to manipulate his way into staying with the original poster.
"You stated multiple times he wasn't to stay over," they commented. "He ignored that and tried to guilt you into letting him stay."
"It's weird to have an expectation of staying with you after one date," another Redditor added. "Don't feel guilty."