'He Was Cool as a Cucumber': 9-Year-Old Stumbles Across One of the World's Deadliest Snakes in His Own Backyard
A nine-year-old Irish boy was casually hanging out with one of the world's deadliest snakes and had no idea. The child, Fionn Kilmurray found the interesting reptile in his backyard. Though he was apparently fascinated with the animal, he alerted his mother, and any potential crisis was averted.
But it was what they found out next about young Kilmurray's discovery that left them truly petrified of the danger they had unwittingly managed to evade.
Kilmurray's mother covered the snake with a box until professionals arrived to remove the creature. At the time, neither Kilmurray or his mom, Aoife Kilmurray, had any idea what kind of snake was resting in the yard. And neither expressed fear, it seems. "He was acting as cool as a cucumber," Aoife told RTÉ News.
It wasn't until professionals identified the creature as a saw-scaled viper, one of the deadliest snakes in the world. According to RTÉ, it's responsible for the most human deaths by snake globally. It was just happenstance the nine-year-old stumbled on such a dangerous reptile in his own backyard, let alone somewhere the snake isn't found naturally.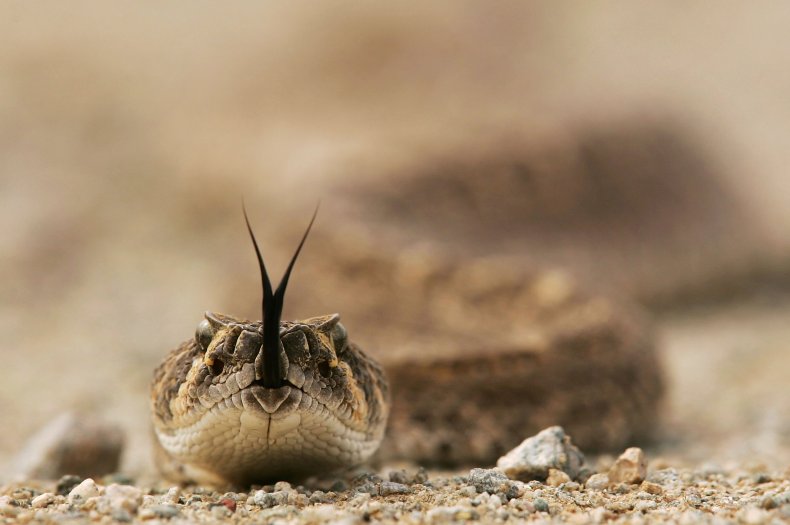 National Reptile Zoo director, James Hennessy, immediately saw that the snake was a giant danger to the family. He theorized that it had likely hitched a ride on a shipping container from India to Ireland. This would make sense, as the saw-scaled viper is native to both the Middle East and Southern Asia.
The viper was removed from the yard safely, and no one was injured. And to make matters sweeter for a certain nine-year-old, Kilmurray now has a series of photos of the snake to show off to his friends.
The snake may end up as a research prop in venom studies in the UK, Hennessy revealed, though the animal's fate had yet to be decided at the time of publishing.
Newsweek reached out to the National Reptile Zoo to inquire about how often non-native snakes are found in Ireland, and how this can be avoided in future shipping transactions. We didn't hear back at the time of publication.
Saw-scaled vipers are not necessarily easy to identify to the untrained human. They appear to have brown or red, diamond-like patterns throughout their bodies. Humans can die from a saw-scaled viper bite due to the poisonous venom. "Toxins in the venom can break down the membranes that line our blood vessels, and max out our ability to clot, leading to catastrophic bleeding," according to National Geographic in 2016. The magazine noted this specific viper as an "exception" to the fact that most snakes aren't truly harmful to humans.