'He Was Lynched': Ahmaud Arbery's Father Talks Outside Courthouse Where 3 Men Are on Trial
Ahmaud Arbery's father described his son's killing as a lynching while speaking outside the Georgia courthouse where three men are on trial.
Talking to reporters on Wednesday, Marcus Arbery thanked the attorneys working to "get equal justice" for his son. "Because he was lynched," he said about Ahmaud. "He was terrified."
Arbery, a 25-year-old Black man, was shot three times and killed while jogging on February 23, 2020, in southern Georgia. Graphic video of the shooting, later shared online, sparked nationwide outrage over police brutality and racial injustice.
Father and son Gregory and Travis McMichael have been charged with murder and aggravated assault. The McMichaels have said they thought Arbery was a burglar, and their attorneys contend Travis shot Arbery in self-defense while making a citizen's arrest.
Their neighbor William "Roddie" Bryan, who filmed the fatal shooting on his cellphone, has been charged with felony murder and criminal attempt to commit false imprisonment.
All three men have pleaded not guilty.
Their trial began last week after a controversial jury selection. Eleven white people and one Black person were selected to serve on the jury. Superior Court Judge Timothy Walmsley acknowledged there was "intentional discrimination in the panel" but said state law limited his power to intervene.
On Wednesday, Glynn County Police Sergeant Roderic Nohilly read aloud a transcript of a recorded interview Gregory McMichael had with authorities just hours after the fatal shooting.
"He was trapped like a rat," McMichael said of Arbery, Nohilly testified. "I think he was wanting to flee, and he realized that something, you know, he was not going to get away."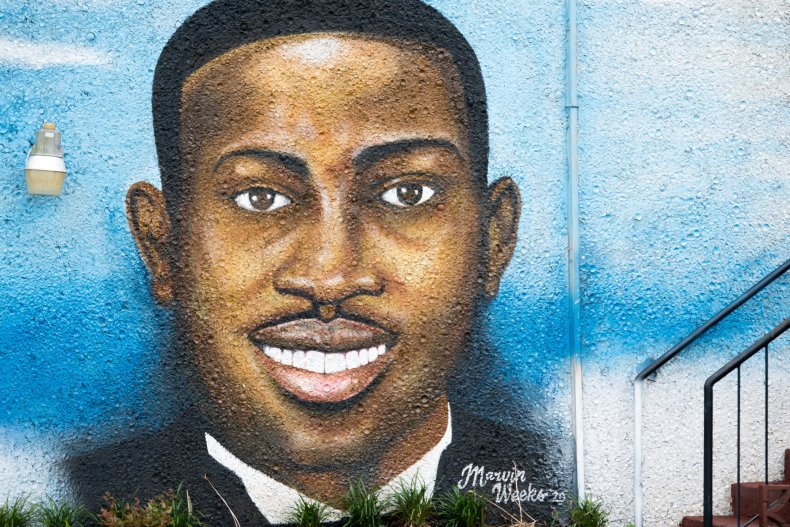 Prosecutors this week have taken aim at the defense's claim that the McMichaels were trying to carry out a citizen's arrest.
On Tuesday, prosecutor Linda Dunikoski asked Glynn County police patrol officer Jeff Brandeberry whether Gregory McMichael ever used the words trespass or arrest or said the men were trying to detain Arbery.
"Did he ever tell you while you're talking to him that he was attempting to make a citizen's arrest?" she asked.
"No, ma'am," Brandeberry said.
Ricky Minshew, a former law enforcement officer who arrived at the scene when Arbery was killed, testified that he never heard Bryan say he was making a citizen's arrest.
Arbery's father told reporters on Wednesday that his son didn't take or steal anything.
"My boy got killed for his skin color, lynched," he Arbery said.
Update 9/10/21, 4:35 p.m. ET: This story has been updated to include additional information about the trial and remarks from Marcus Arbery.