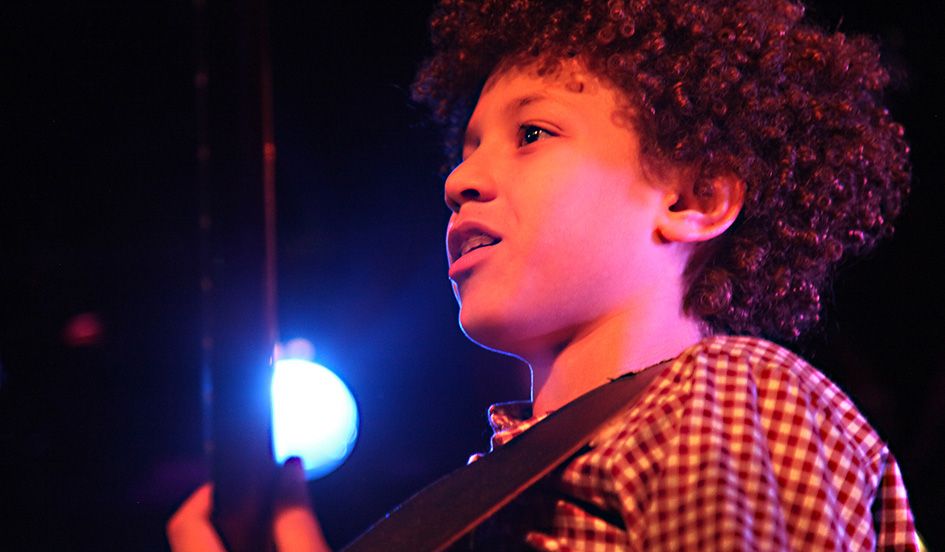 When Brandon Niederauer was 8, he asked his father for guitar lessons—but with a catch. "He said, 'Yeah, but you gotta find me a teacher like that guy in the movie, who's cool," Gary Niederauer recalls. Brandon had just finished watching School of Rock—the 2003 Richard Linklater movie that stars Jack Black as a con-substitute teacher who forms a rock band with his prep school wards—for about the 20th time, his father says.
Brandon, now 12, has been playing the guitar for four years, and his life is starting to resemble the movie's plot more than he could have dreamed. On December 6, he made his Broadway debut as Zach in the Andrew Lloyd Webber-scored, Julian Fellowes-penned School of Rock musical. The show has been met with resoundingly positive reviews, and USA Today commented on Niederauer's "irresistible gusto" in the role. Niederauer spoke animatedly to Newsweek, guitar in hand at his family's Manhattan apartment following a 12-hour day spent working and performing, about the path from bedroom guitarist to Broadway guitar hero.
"Zach was obviously my favorite character and that's what got me into playing guitar, and the movie came out the year I was born," Brandon tells Newsweek. "And now a couple of years later, I tried out for School of Rock the musical and I got it, and I don't know what's more ironic than that?"
Maybe the fact that this isn't the 12-year-old's first high-profile gig. Niederauer is a guitar prodigy who's played onstage with the likes of Gregg Allman and George Clinton and has appeared on both The Ellen DeGeneres Show and Stephen Colbert's Tonight Show.
How Brandon got here is a story that still amazes the Niederauer family. Certainly he's got talent beyond his years, but the pre-teen's ability to end up in the right place at the right time—and to catapult his career forward as a result—has taken on an almost mystical quality. No kid should be this good, either at playing the guitar or at maneuvering in the music business.
Niederauer, who is from Dix Hills, on Long Island, started playing guitar seriously when he was 8 years old. He attended All Music's Rock-n-Roll University—a program in Hauppauge, Long Island, that focuses on group lessons and prepares children for a concert performance at the end of three months. It was because of the school's 2013 performance before a baseball game at Citi Field that Niederauer was covered by a local ABC affiliate—a story that, in turn, wound up on Good Morning America, which then earned Niederauer a guest appearance on The Ellen DeGeneres Show, his father recounts.
Things moved quickly from there. A chance meeting at a music camp with a photographer who'd documented The Allman Brothers Band in their prime diverted Niederauer to New Orleans, where he met George Porter, Jr.—the bassist of storied New Orleans funk band The Meters. When Neiderauer was later invited to attend Jam Cruise 2014, a cruise where jam bands like Galactic and jazz-influenced artists like Dr. John and Trombone Shorty populate the ship's several stages, Porter (who was also in attendance) introduced him to the dozens of musicians who were playing. He ended up sitting in and soloing during mainstage performances by the likes of Robert Randolph and Warren Haynes before the ship returned to port. Many of those artist introductions resulted in tour date sit-ins, during which Brandon would be asked to solo over a song or two whenever a band he knew personally played a New York venue.
"He's playing with these men and he transforms into a different person," his mother Alexandra told ABC News when it interviewed Brandon in 2013. "It fascinates me." But it's nothing unexpected for Brandon, whose main focus has been his guitar playing even as opportunities like School of Rock arise. "I've always wanted to be a musician that's popular—or a musician, period," Brandon admits.
In fact, he got the call for the musical during a trip to California at the beginning of this year, for a music industry trade show (and a few gigs—one with former P-Funk collaborator Eric McFadden, during which McFadden's old boss, George Clinton, ended up taking the stage with Brandon). School of Rock's casting directors had seen a video of him in a school play and wanted him to try out for the role of Zach. He accepted.
Though the grueling rehearsal schedule for the musical has cut down the number of guest appearances Brandon is capable of making—Gary estimates his son has had to decline 10 invitations from headlining artists—he's managed to squeeze in a few high-profile appearances: Scorpions, the band behind the '80s hit "Rock You Like A Hurricane," invited Niederauer onstage during their performance at Brooklyn's Barclays Center in September. In October, he sat in with Jon Batiste, leader of Stay Human—the house band for The Late Show With Stephen Colbert—at a concert at New York's Webster Hall.
That first time they met, Batiste told Brandon, "We're gonna do a lot of work together in the future," Gary Niederauer recalls. He explains that linking up with the bandleader—via a woman Brandon met on a plane after the New Orleans Jazz Fest in 2014 and whose mother happened to be Batiste's piano teacher—was typical of how opportunities present themselves for the young guitarist. Brandon and Batiste reunited in mid-November when Andrew Lloyd Weber was a guest on Colbert's show and Niederauer, fresh off his year of high-profile sit-ins and packing additional acting chops after endless rehearsals for School of Rock, sat in with Batiste's band the whole night.
"That was definitely one of my favorite memories ever," Niederauer says. "I think that was probably one of the best times I've ever played. It was very different from what I usually play, and I think I was just focused in the moment and I was playing some stuff that I've really, like, never played before, and it just felt all natural."
And while the young guitarist is arguably busier at the age of 12 than most musicians are throughout their entire careers, the progression has been a natural one. He's not the over-managed product of stage parents, and it seems that with School of Rock and beyond—his band Lions on the Moon just released its debut album—he'll define his own direction as an artist.
"No one in the world could force me to do this." Brandon says. "I've been listening to music I don't know for how long. I think on the ride home from the hospital The Allman Brothers was on or something." He pauses, thinking. "I've always wanted to play the guitar, and now I am. I've always wanted to perform, and now I am. It's just, dream by dream by dream by dream are coming true. And I'm thankful for that."