Head of Crimea Says 'Prepare for War' as Ukraine Seeks to Reclaim Territory
Sergey Aksyonov, the Russian politician acting as head of the Russian-annexed Crimea since 2014, said that the territory should "prepare for war" against Ukraine.
According to Russian state-owned news agency Ria Novosti, Aksyonov's statement was more of a warning than a straight-out declaration of intent. "God protects the safe. And I always stand in the position: if you want peace, prepare for war," Aksyonov said during an interview with Ria Novosti.
"Therefore, we'd better be ready. Both the Crimeans and all of Russia will sleep peacefully in this regard," he added.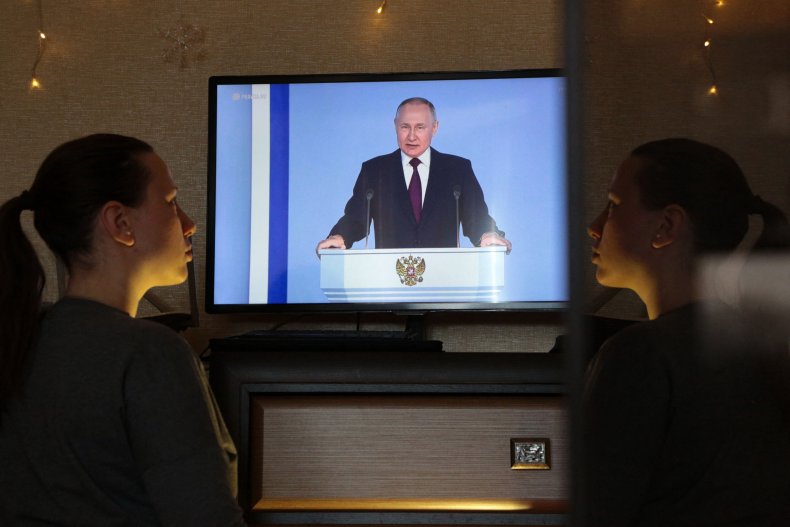 Aksyonov's comment comes after Ukraine's President Volodymyr Zelensky renewed its vows to retake Crimea. In February, he said that the war with Russia started with the territory and "by returning Crimea, we will restore peace."
Zelensky added: "This is our land. Our people. Our history. We will return the Ukrainian flag to every corner of Ukraine." This hard "red line" for both Zelensky and Russian President Vladimir Putin is what the more-than-a-year-long conflict is now approaching.
To "prepare for war," Aksyonov said that local authorities have ordered fortification work on the peninsula to make sure of the safety of its inhabitants. He added that construction is now underway and on schedule and is supported by Putin.
"Everything is moving according to plan. And, in fact, we are acting outside the box there," Aksyonov said. He added that a large number of people are working on building defensive line facilities. However, he refused to share details on the fortification work, saying it cannot, for safety reasons, be discussed.
"But I can say that, taking into account all the experience of hostilities, we are acting non-standard, asymmetrical, one might say. Therefore, we are not just following the plans that were 100 years ago, they were conditionally worked out there. By, I mean, technologies. Therefore, everything is moving. The decisions of the leader, our president, will be implemented," Aksyonov said, as reported by Ria Novosti.
Retaking the territory of Crimea would not only have cultural and political significance for Kyiv. The annexed peninsula is also of military importance for both Ukraine and Russia. Moscow has the base for its Black Sea fleet in the Crimean city of Sevastopol, and the territory offers a crucial link to the Mediterranean.
Crimea is also a key base for Moscow troops to attack southern Ukraine—which is a crucial reason why Kyiv wants to retake the annexed peninsula.