There's very little President Donald Trump could do to lose the backing his pro-life supporters—including, hypothetically, having paid for an abortion himself.
In an interview on Politico's podcast "Pulse Check," Marjorie Dannenfelser, the head of the anti-abortion group Susan B. Anthony List, said such a revelation would hardly shake her faith in the president: She would treat the news the way she would if she heard it about anyone else.
"I would go, I would sit down, I would talk with them and hear what happened," Dannenfelser said. "I think every person that we deal with in politics is just as human as you and I sitting here, so I would want to know the circumstances. And I would take it from there."
Trump scored major points with the pro-life movement this week, when he announced a domestic gag rule that would block health care providers from receiving federal family-planning funds if they provide their patients with information about abortion. The president made the announement during his keynote address at SBA List's 11th annual Campaign for Life Gala Tuesday night, calling it a "bold action to protect religious liberty."
The same night, Dannenfelser lauded Trump as "the most pro-life president" the country has ever seen, a dramatic reversal from her stance on candidate Trump during the 2016 election. At the time, Dannenfelser led the group in actively discouraging pro-life conservatives from voting for Trump, saying they were "disgusted" by the candidate's treatment of women like former Fox News host Megyn Kelly and ex-2016 GOP candidate Carly Fiorina, and warning voters that Trump couldn't be trusted to champion a pro-life agenda.
"I was mistaken in my early comments in the beginning of the primary, that this was someone we couldn't trust," Dannenfelser told Politico on Wednesday's podcast. "This is one of my favorite mistakes. History is changing because this man is keeping his promises."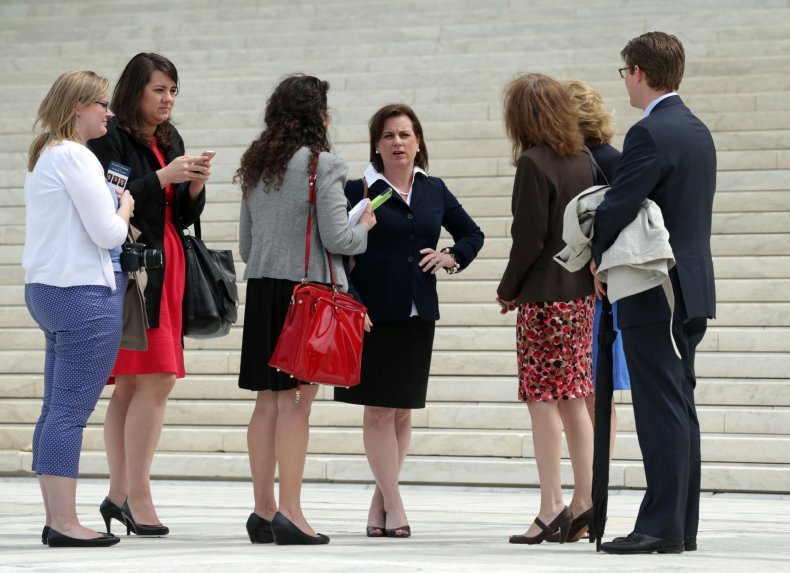 Dannenfelser said Trump won her support when he made four commitments to her and the pro-life movement: Trump promised he would push for a 20-week abortion ban, make the Hyde Amendment—which blocks federal funds from paying for abortion services—permanent, defund Planned Parenthood and, finally, appoint only pro-life justices to the Supreme Court.
The Trump administration has made significant strides toward realizing almost all of these objectives, the domestic gag rule being just the latest attempt to restrict abortion access and disqualify women's health care providers like Planned Parenthood from receiving government funding. In one of his first executive orders, Trump reinstated the global gag rule, blocking federal funds from going to abortion providers overseas. In April 2017, the president gave states the green light to withhold federal family-planning funds from any health care provider that also offers abortion services, the administration's first significant attack on Planned Parenthood. Days earlier, the Senate confirmed Supreme Court Justice Neil Gorsuch, whose appointment conservatives consider one of the legacy-making accomplishments of the Trump presidency so far.
As Republicans in Congress work on Dannenfelser's requested federal 20-week abortion ban, legislators on the state level have been hard at work on their own anti-abortion bills, which, taken together, could accomplish the pro-life movement's biggest goal: overturning 1973's landmark abortion ruling, Roe v. Wade.
"We're on the cusp of making history," Dannenfelser told Politico. "Not since 1973 has there been a more significant, more pivotal moment to change things. We're one Supreme Court justice away from allowing states and the nation to pass laws that reflect our own values on life. This is the strongest position the pro life movement has ever been in since 1973."