Head Transplants: Sergio Canavero Says First Patient Will Be Chinese National, Not Valery Spiridonov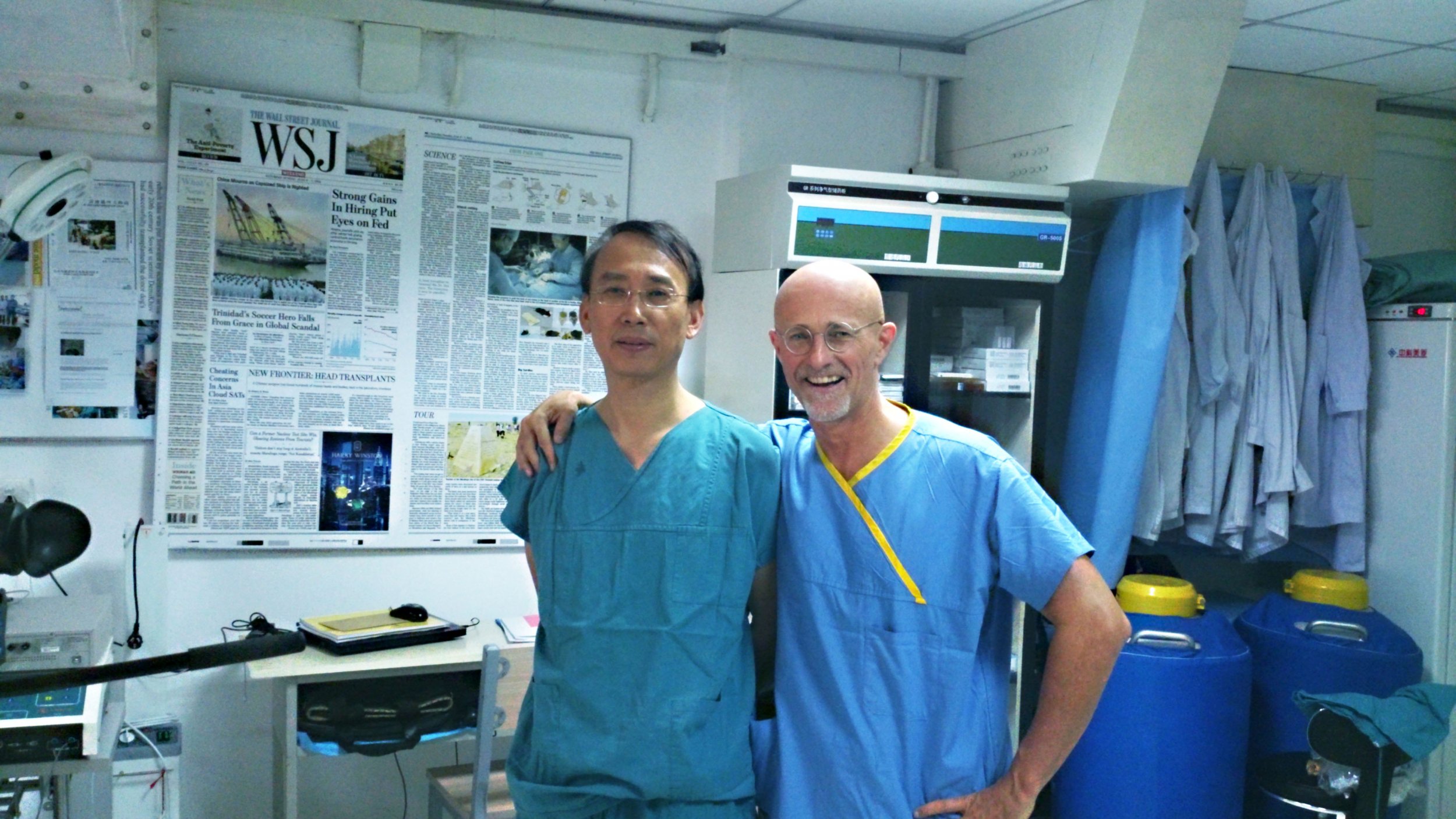 Updated | Italian neurosurgeon Sergio Canavero has announced further details about the plan to carry out the world's first head transplant surgery. In a turn of events, the operation will no longer be performed on Valery Spiridonov, a Russian man suffering from the muscle-wasting Werdnig-Hoffman's disease, with whom Canavero has been working for almost two years.
Instead, the operation will take place in China on a currently unselected Chinese national. A news release put out Thursday by OOOM, the media company handling Canavero's press announced that Spiridonov, "who for a long period was considered for being the first transplant patient, will not be the first person whose head will receive a new body."
It was unclear why Spiridonov was no longer involved. Georg Kindel, publisher & editor-in-chief of OOOM, tells Newsweek it was simply about where the surgery will be taking place. "Because the head transplant will be conducted in China it's much easier to get a Chinese donor," he says. "That's the main reason. I'm not sure if Professor Canavero has talked to Valery in the meantime. I don't know the reaction of Valery. However, if the head transplantation succeeds—and we all hope and are confident that it will succeed—then it will not be the last, so it will only be a question of time when Valery will get a new body."
Canavero, in an interview with OOOM, said the first human head transplant will take place within 10 months. He did not specify a date for the surgery, but Kindel said the team is on track to carry it out at the end of the year: "They have a tight schedule but the team in China say they are ready to do it. Professor Canavero always said we will be ready at the end of 2017 and—if there is a strong power in China behind the project — it seems it definitely will be at the end of this year or the start of next year that the entire procedure will be conducted."
At present, Canavero and Xiaoping Ren, of the Harbin Medical University in China, have presented little evidence to convince the scientific community their plan will be a success. Canavero previously has provided a brief outline of what they intend to do, but with relatively little detail of the steps involved. Research outlining experiments on animals have also failed to convince critics, many of whom say we are nowhere near having the technology required to undertake such a complex procedure.
In the press release, Canavero said they have several papers relating to head transplants that are currently under peer review and will appear in "renowned scientific medical journals"—although he did not specify which journals. "I can only disclose that there has been massive progress in medical experiments, which would have seemed impossible even as recently as a few months ago," he said. "The milestones we have reached will undoubtedly revolutionize medicine."
Asked about why Canavero and Ren are keeping their research such a closely guarded secret—something they have been criticized for in the past—Kindel said it is to do with the technologies they are developing: "Are these procedures that can be patented? If this is the case then it will be done," he says. "It's the same as with pharmaceutical companies. They conduct research for years and don't publish anything, then at a certain stage they go out and inform the media and public."
Responding to criticism from other scientists, he added: "There are so-called experts who have no experience because they have never done this before. They say 'no this will never happen.' Canavero has just one goal—he says 'I work on it. We have the scientists, the experts, the teams in the U.S., South Korea and China working it and when we are ready to inform the public, we will do it.'"
Several people working in the field have also criticized the scientists on the basis that if they have the technology to repair spinal cords—one of the key parts of the surgery—then they should be developing this to treat people who are paralyzed, instead of holding it back for a surgery many believe will not work.
"[Repairing the spinal cord] was part of the entire research for the head transplantation," Kindel says. "At the beginning they were just trying their technique and thought, well maybe it works—but it does work. It was astonishing for the entire team. It's just part of the entire process. And if it is the case they can help tetraplegics and paraplegics, then this is really a huge step forward in medicine."
Kindel said he and the team know of no legal restrictions or regulations that would prevent them from carrying out the surgery. In China, surgeons are now waiting for journals to approve the studies they have submitted—after which point the findings will become public."This is something that is completely new and could change medicine," he says. "If this works—and all the studies seem to show it will work—then this is really a major step forward for medicine in general."
Correction: This article previously referred to Michael Sarr, editor of the journal Surgery, as a neurosurgeon when he is a surgeon. The interviewee also referred to quotes previously made by Sarr which were incorrect. All references to Sarr have now been removed.