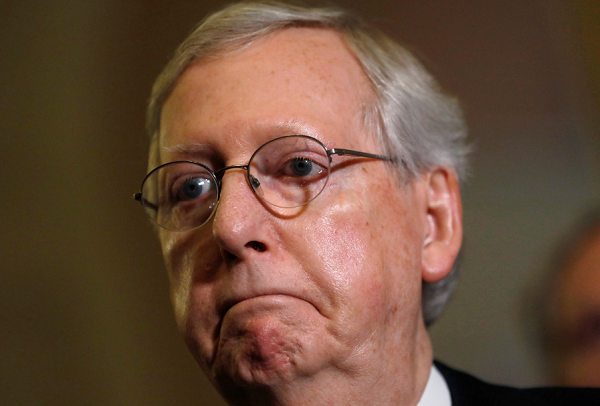 Even with Obamacare, the U.S.'s health care system doesn't come close to being considered one of the world's best. And while Senate Republicans have yet to pass the latest version of a reform bill—Senate Majority Leader Mitch McConnell decided Tuesday to ditch plans to pass legislation before the July Fourth recess—provisions that are being considered will most likely drop America's ranking on the world's public health care list.
Currently, the U.S.'s health care system lands at No. 15 out of 60 countries on a 2016 best countries ranking. Released by U.S. News & World Report earlier this year, the report found that Denmark offers the best system, followed by Sweden, which has some of the world's highest life-expectancy rates. Canada had the third best system.
The report, which also named Denmark as the happiest country, cited residents' willingness to pay higher taxes for mostly free medical care and other social benefits, like free education, as one of the main reasons for the country's high ranking. Denmark has a notably progressive and transparent government and bases its economy on a "flexicurity" model that combines a flexible labor market with special policy provisions for the unemployed. Denmark also has a corporate tax rate of 24.5 percent and one of the highest income tax rates in the world, which allows it to maintain a broad and flexible health care system.
In the U.S., taxes are just one of the many issues Republican senators are struggling to agree on to pass their health care reform, which aims to dismantle Barack Obama's Affordable Care Act.
McConnell met with a number of Republican senators on Wednesday to strategize ways to get more party members to support the legislation, Reuters reported. Some top Republicans suggested making more changes to Obamacare to gain conservatives' support, while others urged maintaining certain aspects of the 2010 law, like the tax provisions.
Senators Mike Rounds and Bob Corker proposed maintaining Obamacare's 3.8 percent tax on high earners' investment income, which the Senate plan would abolish. While Corker suggested that keeping the tax would help lower-income Americans afford health coverage under the legislation, Rounds said the tax would allow more Americans to receive tax credits that could help them cover the cost of insurance.
As it stands, the current Senate proposal (President Donald Trump recently called the House's version "mean") would result in an estimated 24.7 million more uninsured people by 2022, according to an Urban Institute analysis. The Congressional Budget Office estimated a smaller figure: 22 million more uninsured by 2026.
Along with eliminating enhanced federal funding for Medicaid programs and limiting federal support for Medicaid, the Senate bill would cut a number of federal premium tax credits, which could make insurance plans too expensive for many Americans.
So far, the Senate bill's latest version lacks the necessary 50 votes to pass, which has essentially sent Senate Republicans back to the drawing board.