Health Care Workers in 10 States File Complaints About PPE Shortages During Coronavirus Pandemic
Health care professionals in 10 states who are working on the front lines in the COVID-19 fight are filing complaints with the Occupation Safety and Health Administration, claiming their hospitals aren't protecting them from exposure during the novel coronavirus pandemic, according to a Daily Beast report.
OSHA representatives have been inundated with reports from hospitals citing a severe lack of personal protective equipment, or PPE, needed to keep health care professionals from being exposed to the novel coronavirus, the report said.
One of those complaints came from a nurse at Steward Hillside Rehabilitation Hospital in Warren, Ohio which claimed as many as 35 nurses working with COVID-19 patients in two units were imminent danger of infection.
Sherri Dayton, a nurse employed at Backus Hospital in Connecticut, complained the hospital is not providing the needed N95 surgical masks for those working in close contact with unmasked patients suffering from the novel coronavirus.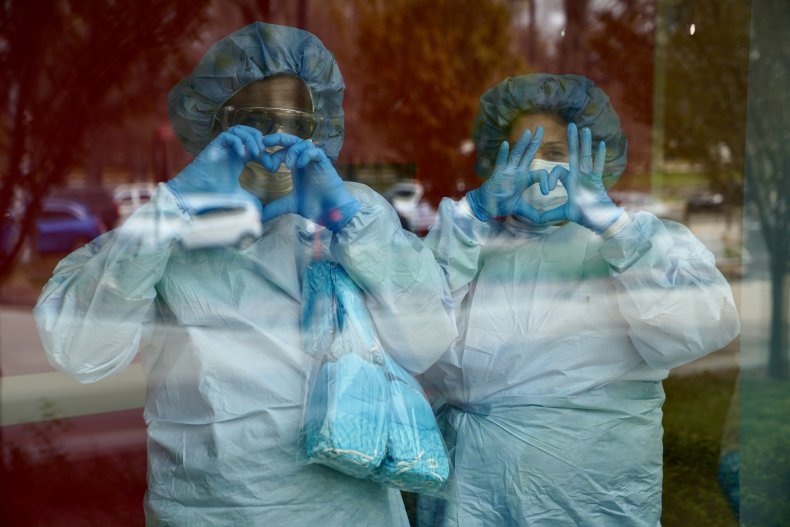 "The hospital has surgical masks for every patient, but is not requiring patients to wear them in the room," Dayton wrote in her report to OSHA officials. "The hospital also has N95s but is not giving them to employees who are caring for unmasked patients."
Dr. Ajay Kumar, Chief Clinical Officer of Hartford Healthcare, which runs Backus Hospital, told The Daily Beast that the safety of health care professionals is of paramount importance to the hospital.
"Hartford HealthCare provides staff with personal protective equipment, or PPE, to keep them safe and our patients safe," Kumar told The Daily Beast. "All employees have masks and N95 respirators. They are used consistent with or better than CDC guidelines. While we are confident in our current preparedness and work every day to secure PPE for the future, there is a worldwide shortage of PPE. In order to protect colleagues now and into the future, we are asking everyone in our organization to be disciplined, but always safe, in the use of PPE."
Earlier this month, OSHA officials launched an investigation into the deaths health care workers at 34 separate facilities in the U.S., many that originated as complaints on social media sites, with most citing a lack of PPE while treating COVID-19 patients, or being told to work while they are themselves sick.
However, some fear the agency will only flag those health care organizations that have the most flagrant violations, according to a Kaiser Health News report.
One of the cases OSHA is investigating involves Rose Harrison, 60, a nurse who died after contracted COVID-19 while working at the Marion Regional Nursing Home in Hamilton, Alabama last month.
When Harrison began experiencing symptoms of the novel coronavirus and told her supervisor, Harrison's family claimed she was told to come to work unless she had a fever of 100 or more.
Rose, who began caring for COVID-19 patients on March 25, worked up until April 3 when her daughter drove her to the hospital, where she died two days later from COVID-19 at the North Mississippi Medical Center in Tupelo, Mississippi.
"The time that she was exposed, they weren't wearing the protective masks. They weren't required to wear the protective masks, because they hadn't had a case yet. And that's one thing that I fear with other nursing homes if you haven't had a case yet, it doesn't matter," her daughter Amanda Williams, said in a CBS 42 report.