Health Care Workers Go Above and Beyond to Use COVID Vaccines Before Expiration
Health care workers in Seattle, Washington administered more than 1,600 doses of the COVID-19 vaccine before it expired due to a Thursday storage issue.
According to information from the Centers for Disease Control and Prevention (CDC), 49.2 million doses of COVID-19 vaccines have been distributed throughout the U.S. as of Friday. Both iterations of the COVID-19 vaccine, manufactured by Moderna and Pfizer, must be kept in refrigerated units. The vaccine is only viable for approximately 6 months in a frozen state. The relatively short shelf life of COVID-19 vaccines has caused health workers in some states to rush to administer vaccinations before the COVID-19 vaccines become non-viable.
Patients in Seattle lined up at health care facilities on Thursday after a freezer malfunction at vaccine provider Kaiser Permanente threatened to spoil 1,650 doses of Moderna's COVID-19 vaccine. Kaiser Permanente divided the vaccine between the University of Washington and Swedish Health Services. After a tweet alerted residents to the availability of the vaccine, people showed up at 10 overnight clinics to receive the shots.
"Teams worked vigilantly and in close partnership through the night and early morning to ensure all doses were used and no vaccination lost," a Kaiser Permanente spokesperson told KING.
Priority was given to high-risk health care workers, residents of long-term care facilities, individuals 65-years-old or older and individuals over the age of 50 that live in multi-generational households. All of the available doses were administered in less than 4 hours.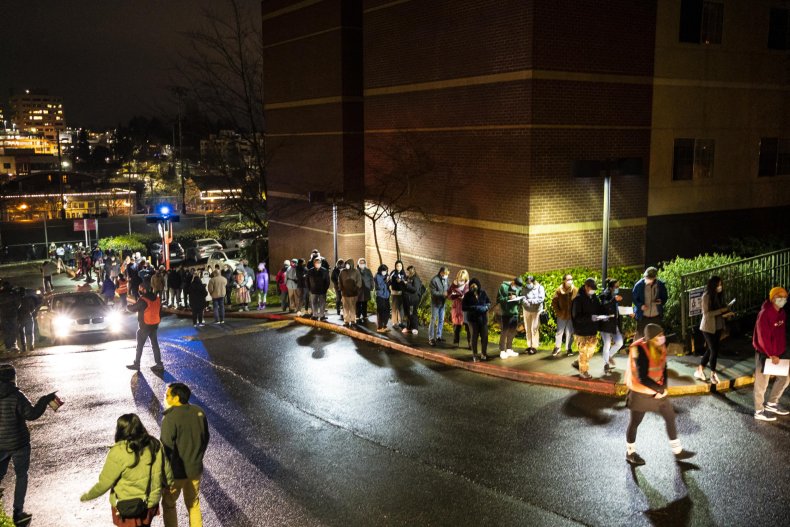 Newsweek reached out to the office of Washington Governor Jay Inslee for comment.
After completing a vaccination event on Tuesday, about 20 employees of Josephine County Public Health (JCPH) in Oregon found themselves stranded in a snowstorm with 6 doses of COVID-19 vaccine left. The doses had been earmarked for residents in a neighboring town, but the remaining doses would have expired before the JCPH team arrived.
Members of the JCPH team knocked on the windows of other stranded vehicles, asking if the people inside the cars wanted to be vaccinated. All six doses were administered, including one to a member of the Josephine County Sheriff's Office who had missed that day's vaccination clinic.
According to a JCPH Facebook post, JCPH Director Mike Weber said the vehicle vaccination was "one of the coolest operations he'd been a part of."
Moderna's COVID-19 vaccine can be stored in a standard freezer at a temperature of approximately -4 Fahrenheit. Pfizer's vaccine must be kept at a temperature of -158 Fahrenheit, requiring a type of commercial freezer. Once thawed, the vaccines cannot be refrozen.
Information from the CDC showed that 27,884,661 doses of the COVID-19 vaccine had been administered as of Friday. Since the beginning of the pandemic, 25,615,268 cases of COVID-19 have been reported in the U.S. with 431,619 fatalities attributable to the virus.