Health Care Workers Need Better Bedside Manners to Prevent Trauma | Opinion
On Jan. 6, 2021, I watched my incredible mother die on a FaceTime call, alone in an intensive care unit bed.
The COVID-19 pandemic has magnified an existing problem, one of inadequate training and efforts to ensure physicians and nurses know how to minimize trauma for their patients' loved ones through empathy and compassion. If I had received the empathy, compassion and proper communications from physicians and nurses during her stay, I might be contending simply with common grief patterns. Instead, I have been suffering from post-traumatic stress disorder (PTSD), traumatic grief and post-intensive care syndrome-family (PICS-F). I am not alone.
Studies published in Critical Care Medicine and Current Opinion in Critical Care have shown how critical-care hospitalization can lead to PICS-F for family members of ICU patients, which can include depression, anxiety and PTSD. Symptoms include "nightmares, flashbacks, or frequent intrusive thoughts about the circumstances of the loss" in addition to feeling detached from life, lacking positive feelings, irritability and challenges with sleep. According to psychologists, traumatic grief is "defined by 6 or more months' persistence of the problems and the degree of enduring functional impairment in individuals complaining of difficulty recovering from loss."
My mother passed away after two-and-a-half weeks on a ventilator, unable to have visitors by her bedside except for one 20-minute visit. She did not have COVID-19. She had stayed home during the pandemic, strictly protecting herself because she had interstitial lung disease, a terrifying illness that progressively causes one's lungs to lose function. She was diagnosed in 2017, but it was May of 2020 when she started the process for a lung transplant approval. It took six months due to delays caused by the pandemic. One week after she was approved, a sudden fractured vertebra made it almost impossible for her to breathe. Because hospitals were full of COVID-19 patients, she was taken by ambulance to a hospital we had never heard of, away from the care of her pre-transplant team and her regular doctors.
One doctor called a few days in to pressure me to give up and let her die. I had never heard of him before and when the call got cut off after two minutes and I called back, I was told that he would call me back later. He never did.
I would text and call the doctor she was assigned. He rarely called to give updates, and if he did they were one-word answers, refusing to transfer her to the hospital where her pre-transplant team oversaw her long-term care, even when the doctors there agreed to it. He told my father he was afraid of being sued because of the transfer, asked him to sign a waiver and then suddenly withdrew that possibility.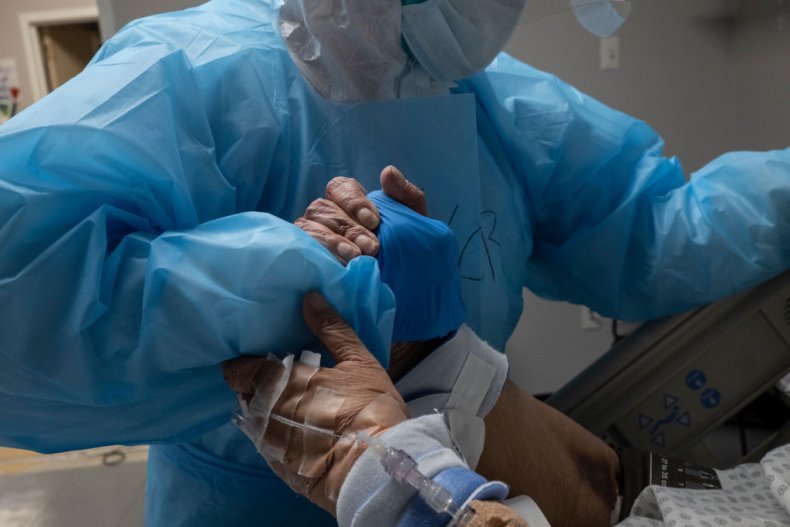 One day we spent eight hours asking the hospital staff to put us on FaceTime with my mother. The staff was irritated by our request. Out of the many nurses who cared for my mom, there were only two who said hello on the screen. We never once saw a doctor onscreen. After two weeks, my mom developed a bacterial infection and was no longer transferable. Days later, when she took her final breaths, a nurse came in and matter-of-factly told the 10 of us on the FaceTime call that the monitor was beeping and that it meant her heart was stopping. We never heard from a single doctor after she died.
A study in the American Journal of Respiratory and Critical Care Medicine found that following a loved one's stay in an ICU, 48 percent of family members "felt information was incomplete," 60 percent of those "whose relatives died after end-of-life decisions" and 82 percent of those "who shared in end-of-life decisions" had PTSD symptoms. With over 789,000 COVID-19 deaths, over 250,000 COVID-19 hospitalizations and a 33 percent increase in both direct and indirect mortalities related to the pandemic, according to research from Stanford University and MIT, our hospitals have become a familiar place for millions across the country. There are countless people currently experiencing PTSD and traumatic grief as a result.
I empathize with how hard it is for physicians and nurses to face so much loss. Many are fatigued and burned out, understandably. But I also know that's not an excuse for treating patients' loved ones dismissively or apathetically. While some health care workers have an innate ability to communicate empathetically, communication skills cannot be assumed. If doctors are coming out of medical schools or starting jobs unaware of this part of their role, then it is up to both schools and hospitals to ensure that they are properly trained. Empathy should not only be a priority, but standard practice.
Providing health care is more than medical. It is personal, emotional and intertwined with mental health. I have become all too aware that we cannot change the past, but we must create a better model to reduce harm and move toward healing in the future.
Maya Paley is a gender and social justice advocate who became a full-time caregiver for her ill mother and two young children during the beginning of the pandemic.
The views expressed in this article are the writer's own.