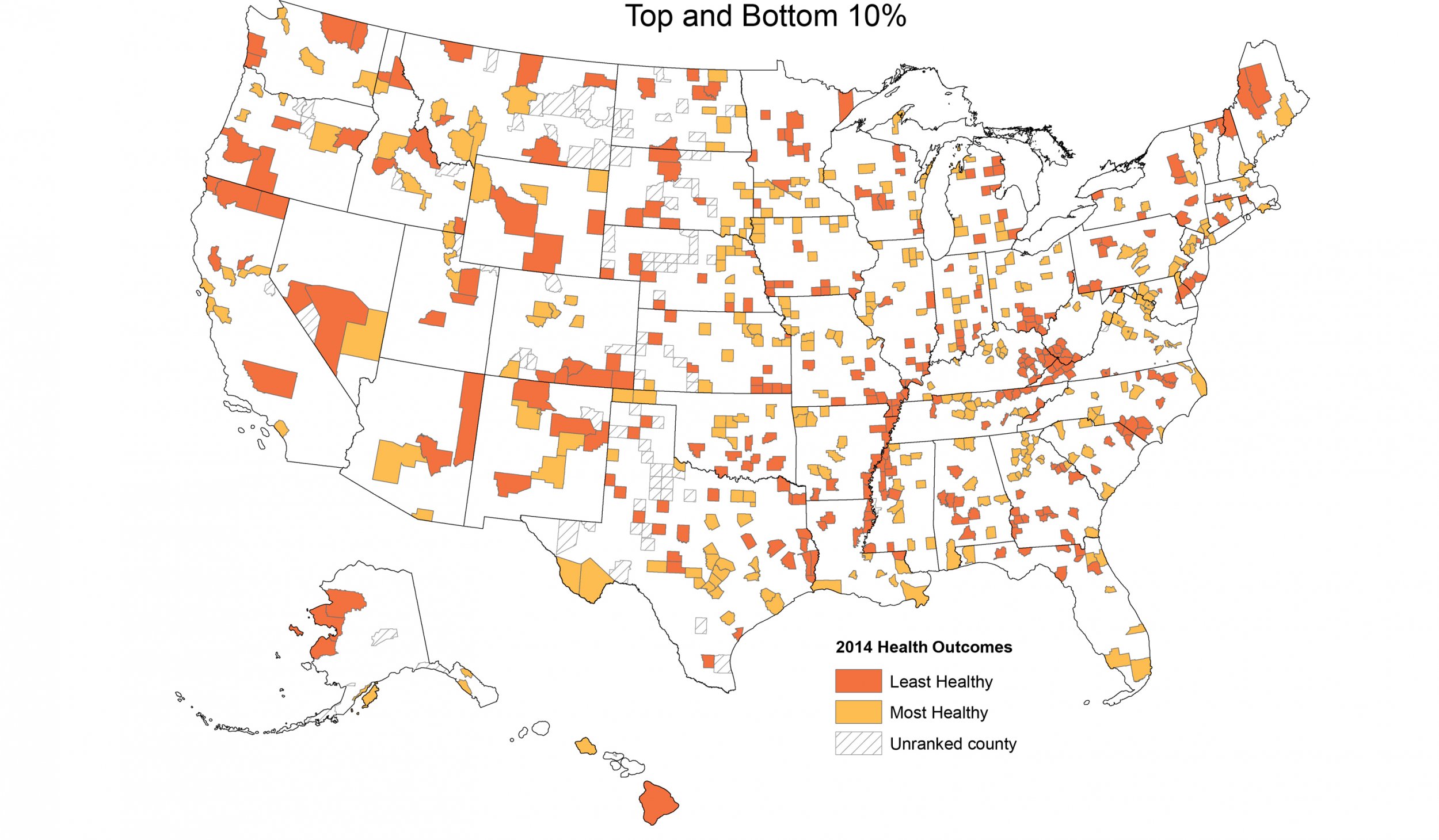 Even within a single state, Americans' ability to lead healthy lives can vary wildly and depends significantly on which county they live in. Large gulfs exist between the least healthy and the healthiest U.S. counties. For example, one county has 55,969 people per mental health provider, while another has only 72 people per provider.
In the latest edition of County Health Rankings, researchers from the Robert Wood Johnson Foundation and the University of Wisconsin Population Health Institute analyzed local data to paint a holistic picture of the quality of health in each U.S. county. The heath rankings are based on 29 factors, including smoking, high school graduation rates, housing problems, physical inactivity and access to healthy foods.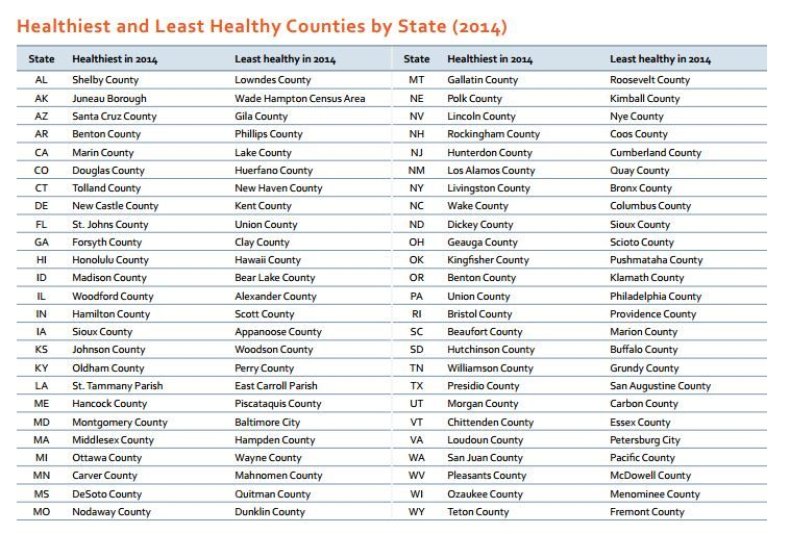 Maps of 11 health factors, below, highlight the geographic distribution of health nationally. The county-level data produced several interesting national statistics. By 2012, teen birth rates had decreased about 25 percent since 2007. Smoking rates also dropped, from 21 percent in 2005 to 18 percent in 2012. Violent crime has dropped by almost 50 percent over the past two decades, and obesity rates appear to be leveling off in recent years.
Other parts of the data are less sunny. The proportion of children living in poverty has gone up, from 18 percent of all children in 2007 to 23 percent in 2012. Sexually transmitted infections like chlamydia and gonorrhea increased from 2009 to 2012. Smoking rates dropped, from 21 percent in 2005 to 18 percent in 2012.
Driving alone to work: Over 75 percent of workers in the U.S. drive to work alone, and a third of them have commutes of longer than 30 minutes each way. Driving long distances to work, especially alone, was considered a detriment to health in the report, because "dependence on driving leads to thousands of deaths and injuries and exposes us to air pollution. It also contributes to physical inactivity, obesity and social isolation," the report says.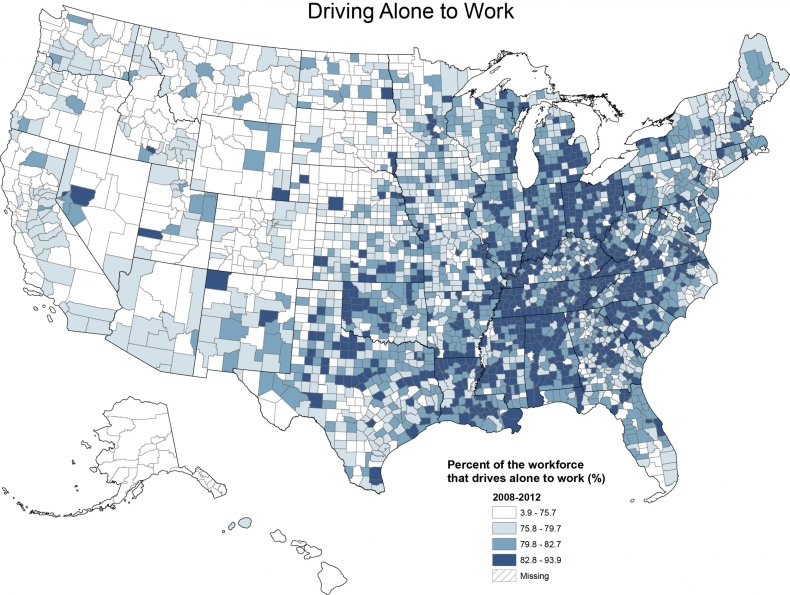 Severe housing problems: Almost 1 in 5 households in the U.S. have "severe housing problems," defined as the percentage of households in a county that are overcrowded; lack facilities for cooking, cleaning or bathing; pose severe cost burdens to the residents; or a combination of those factors.
Depending on the county, severe housing problems affect anywhere from 3 to 69 percent of the county's population, with the most severe housing problems clustered on the East and West coasts, parts of the South and Alaska.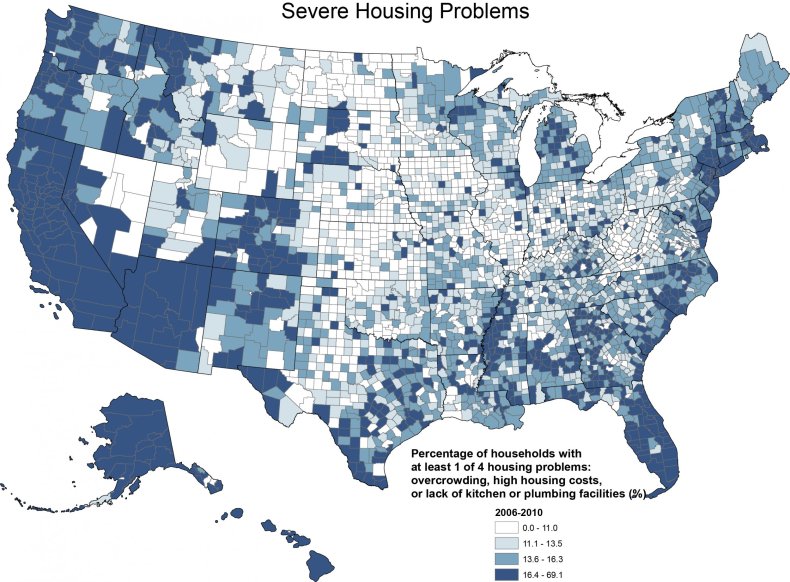 Mental health: In the least-mental-health-friendly county (which is unnamed), there is one mental health provider per 55,969 people, and on average there are 1,620 people per mental health care provider. Access to mental health care is best in the West and the Northeast.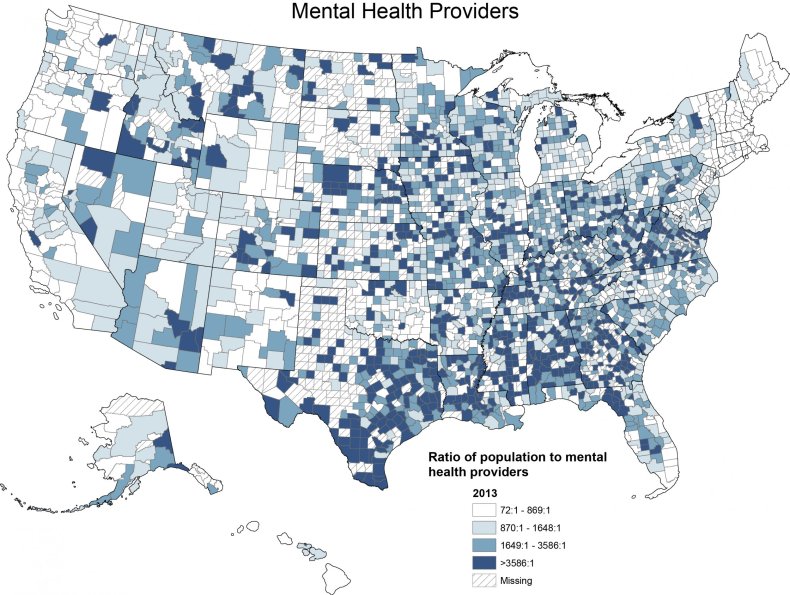 Food environment: The index for this map is based on a combination of two factors: limited access to healthy food and food insecurity. Darker colors correspond with a worse (lower number) food environment index, and lighter colors correspond to a better food environment (higher number).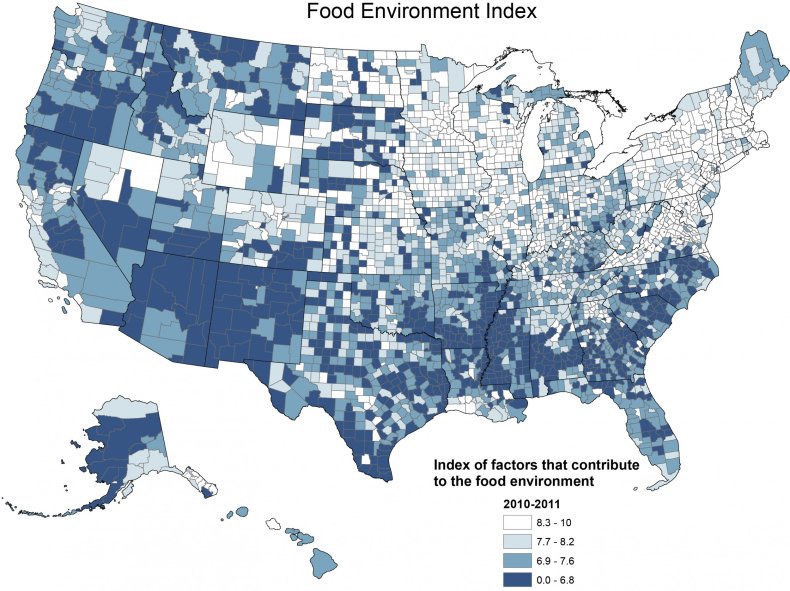 Children in poverty: Within Kentucky alone, the percentage of children living in poverty ranges from 8 to 27 percent, depending on the county, which is the biggest range of any state. Among all U.S. counties, the percentage of children living in poverty ranges from 3 to 60 percent, and 10 percent of counties have child poverty rates of 37 percent or greater. In 2012, 23 percent of all U.S. children under 18 lived in poverty.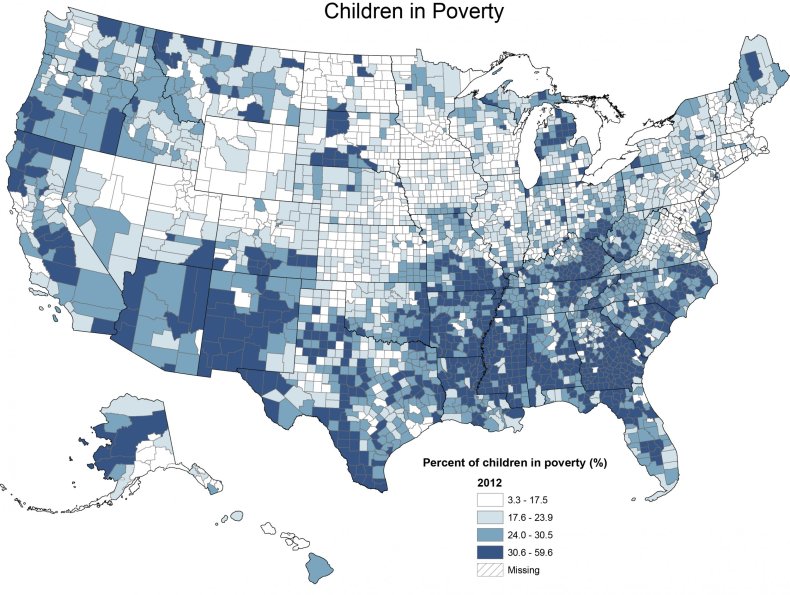 College: College attendees tend to live longer, according to the report. The counties with the lowest rates of "some college attendance" are located in the South, and the rates for college attendees in counties across the U.S. range from 18 percent of the population to 88 percent.