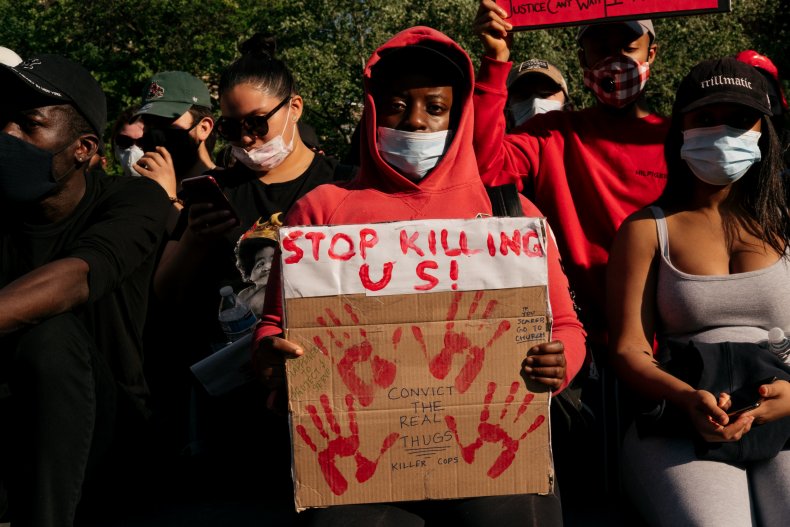 Groups representing health care professionals have deemed police brutality associated with racism a public health crisis amid widespread protests over the killing of George Floyd.
Multiple groups have spoken out about the health impacts of racism and police brutality since the May 25 killing of Floyd, a black man who died in police custody after his neck was kneeled on by a white officer who ignored his pleas for help. The American Medical Association (AMA), the largest association representing U.S. doctors, was one of the groups to speak out against police violence.
"Excessive police force is a communal violence that significantly drives unnecessary and costly injury, and premature morbidity and death," AMA President Dr. Patrice Harris and Board Chair Dr. Jesse Ehrenfeld said in a statement. "Our country—our society—demands more."
The statement called violence by police a "striking reflection of our American legacy of racism," while citing a study that showed black men were three times more likely to be killed in encounters with police than white men. The group also noted that being "over-policed" is associated with higher levels of stress and anxiety, with increased deaths caused by conditions like high blood pressure, diabetes and asthma.
Newsweek reached out to the AMA for additional comment. This article will be updated with any response.
The American Nurses Association (ANA), a group representing millions of registered nurses, highlighted the death of Floyd and others believed to be victims of racially motivated killings in a statement issued on Monday. The group also noted that black communities have recently experienced additional stress due to being disproportionately impacted by the COVID-19 pandemic.
"As a nation, we have witnessed yet again an act of incomprehensible racism and police brutality, leading to the death of an unarmed black man, George Floyd," ANA President Ernest J. Grant said. "This follows other recent unjustified killings of black men and women, such as Ahmaud Arbery and Breonna Taylor to name a few."
"Racism is a longstanding public health crisis that impacts both mental and physical health," he added. "The COVID-19 pandemic has exacerbated this crisis and added to the stress in the black community, which is experiencing higher rates of infection and deaths."
Another large group representing U.S. nurses, National Nurses United (NNU), condemned the preliminary findings of a Minneapolis medical examiner that suggested Floyd's death may not have been caused by asphyxiation or strangulation, while hinting that "underlying conditions" could be responsible instead. The findings of the medical examiner were updated on Monday, ruling the death was a homicide caused by the police officer placing pressure on Floyd's neck.
Shortly before the medical examiner's update, NNU Executive Director Bonnie Castillo said that the only "pre-existing condition" that caused Floyd's death was "the legacy of racism." She said racism is a "deadly disease" and insisted that protests prompted by Floyd's death were caused by "years of inaction" from leaders who have failed to address the issue.
The American Psychiatric Association (APA) also said that the ongoing protests were the result of racism that has "never been properly addressed" in a statement condemning police brutality on Monday.
"The horrific death of George Floyd has affected the mental well-being of everyone who has witnessed this senseless tragedy," said APA President Dr. Jeffrey Geller. "When Americans are already suffering under the emotional toll of COVID-19, this blatant act of police brutality threatens to undermine the sense of stability of so many Americans."
Several other medical groups have strongly condemned police violence and racism in the wake of Floyd's death. One of the first to do so was the National Medical Association, the largest and oldest U.S. group representing African American doctors and patients.
"The killing of George Floyd is another reminder of the lingering effects of institutional racism in many communities throughout these United States," the group said in a statement on May 27.