What Is Ammonium Nitrate and What Are the Health Impacts of Gases from It After Beirut Explosion?
At least 100 people have died and more than 4,000 injured following a huge explosion near the port of the Lebanese capital of Beirut on Tuesday, the Red Cross told the country's The Daily Star newspaper.
Lebanon's prime minister Hassan Diab said in a statement the explosion was linked to 2,750 tons of ammonium nitrate stored without adequate safety measures in a port warehouse, CNN reported.
President Michel Aoun tweeted, according to Reuters, it was "unacceptable" the chemical had been stored unsafely for six years. He said those responsible would be handed the "harshest punishments."
Ammonium nitrate, an odorless, colorless crystal salt, is a common fertilizer, but is also used to make explosives, matches, and antibiotics. The substance is not flammable itself, and not harmful when handled correctly. But it can cause combustible substances like wood, paper, and oil, to ignite. Under the right conditions of heated pressure in an enclosed space, it can explode. This can release ammonia, carbon dioxide and nitrogen oxides into the air.
According to Gabriel da Silva, a senior lecturer in chemical engineering at the University of Melbourne writing in The Conversation, photos from the scene show plumes of red smoke rising from the area of the blast above the city—a color characteristic of a type of nitrogen oxide called nitrogen dioxide.
High levels of nitrogen oxides can be particularly problematic for those with respiratory issues, he said, as they can be irritants: "The fumes in Beirut will present a health risk to residents until they naturally dissipate, which could take several days depending on the local weather," he wrote.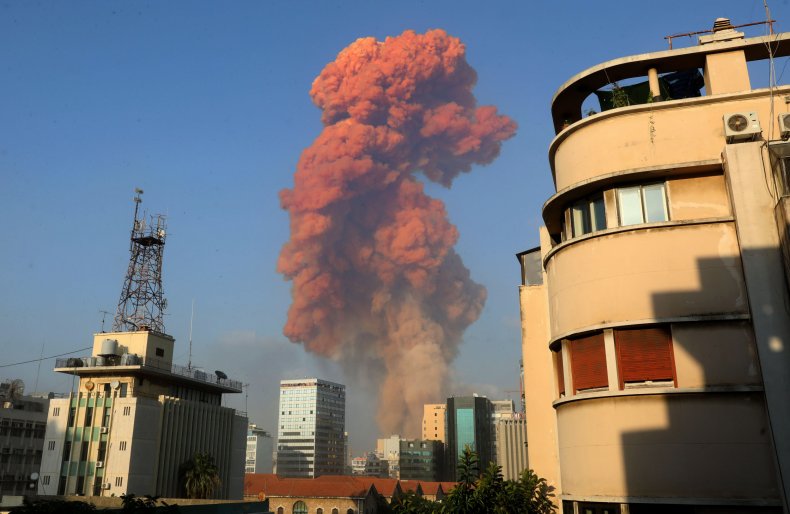 The health effects of nitrogen dioxide exposure include inflamed airways, worsened coughing and wheezing, reduced lung function, increased change of asthma attacks, the American Lung Association states.
The gas has also been linked to cardiovascular problems, lower birth weight in newborn babies, and a higher risk of dying prematurely.
Nitrogen dioxide is usually made when fossil fuels, like coal, oil, gas or diesel, burn at high temperatures, meaning vehicles are the biggest sources.
Ammonia, meanwhile, is a corrosive gas which can damage cells in the body. Encountering high levels of ammonia in the air can cause a person's eyes, nose, throat, and respiratory tract to burn. It can cause blindness, lung damage, and death. When breathed in at lower levels, it can prompt coughing, and the irritation of the throat and nose.
Being exposed to high levels of carbon dioxide can cause headaches, dizziness, a tingling feeling in the body, restlessness, breathing problems, and sweating. It can also increase the heart rate, caused the blood pressure to rise, causes comas, suffocation, and convulsions.
Dr. David Caldicott, an emergency consultant and senior clinical lecturer in Medicine at the Australian National University, said in a statement: "This is clearly a very significant explosion, and the reported number of deaths is likely to be far higher than currently identified.
"This explosion can be considered as a 'high order' explosion, with an obvious blast wave seen to be propagated from a massive secondary explosion, that followed on from the event. This has significant implications for the number and types of casualties that might be expected."
As well as injuries from the force of the explosion, those nearby could suffer problems from inhalation, he said.